If you are old enough and lucky enough to have seen Bob Fosse's original run of Pippin when it first premiered on Broadway from 1972-75—a run of 1,944 performances—you may have seen a boyish looking John Rubinstein—complete with an unforgettable '70s perm—playing the title role.
Fast-forward 40-plus years and Rubinstein is once again involved in the Tony-winning show— in the touring production currently playing at the National Theatre—this time with a little less hair, a little less pressure, yet having just as much fun.
"It's sort of like being in a dream. It's very much like going back to your childhood home and those really informative years and now you're back there more than 40 years later and it's all redecorated and modernized and there's new people living in it," he says. "There's a new family living there and it's completely different, and yet, it's your home. It's a wonderful feeling and I am loving every second of it."
This time around, Rubinstein is playing the role of Charlemagne, king of the Holy Roman Empire and the papa of Pippin. "King Charles" was played in the original production by Eric Berry, but Rubinstein's take on the role is more "rascally" and less domineering.
"I remember every second of his performance but I don't think I am consciously thinking about what Eric did, but I do feel every now and then that I am channeling him," Rubinstein says. "Our production back in 1972 was very different. It was much darker, had a really sinister evil almost overcast and Eric's character, while comical in his one big number ("War is a Science"), it was laced with a scary, cynical, minstrel show made by Fosse to be over-aggressive."
The way it's choreographed now, Rubinstein says, is more comical and a "sarcastic statement about war."
Rubinstein is frank when he talks about his thoughts of the original production, saying he didn't think people would enjoy it.
"I felt like I was the only one in the company who didn't feel it was going to be big. They would say, 'this is fantastic,' and I thought, 'really?' I didn't think people would go for it," he shares. "But I was wrong!"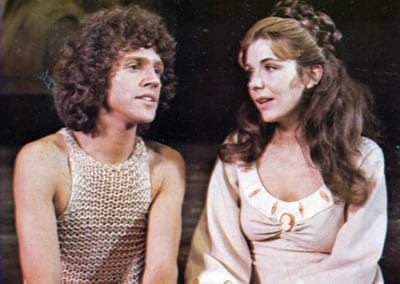 Was he ever! The show is considered a favorite among many in the theater world and the recent revival took home the Tony for Best Musical last year. Songs like "Corner of the Sky" and "Magic to Do" are classic Broadway tunes and the show is one of the most popular musical performed in schools around the country.
"It resonates still because it's a beautifully crafted piece of work. It didn't get very good reviews and people called it a lightweight, and weren't impressed by the music, but it survived because the audience took to it," Rubinstein says. "Pippin was the story of all of us."
As the only one in the touring cast to have worked with Fosse, Rubinstein shares that his fellow cast members do pepper him with questions about his experience.
"People are curious and we do talk about him, especially here in Washington, D.C., because this is where Pippin originated—the Kennedy Center Opera House was our out-of-town tryout—so we did an enormous amount of the work on the show right here, and those memories do come back," he says. "Bob also died here. He had a massive heart attack while working on Sweet Charity at the National, where we are now. So, he's very much with us."
Not only do people ask him about the infamous director, but Rubinstein says he often volunteers stories when things remind him of the early days, sharing anecdotes to an eager audience. Fosse, he shares, is mentioned with great respect and reverence frequently. (There's even a subtle tribute to Fosse in the show's finale.)
Playing Pippin in this touring production is Kyle Dean Massey, and Rubinstein says he doesn't feel the need to offer him any advice about his take on the title character, because he does it so amazingly.
"The role has changed since the days that I was doing it," he says. "If I were to audition for the Pippin of today—if I were in my twenties—I would be laughed out of there. I don't sing anywhere near as beautifully as Kyle Dean does, I certainly am not a dancer like he is, and if they had asked me to do all the acrobatic feats that he has to do, I would have attempted them but boy, that wasn't my thing," Rubinstein says. "It's a different world now and the young leading man is a different kind of young leading man that was allowed to be back in the '70s and god bless Bob Fosse for allowing me to play the role when he did."
Outside of Pippin, Rubinstein has had the stellar career achieving success in film, TV and on the stage.
__________________
PIPPIN
Closes January 4, 2014
The National Theatre
1321 Pennsylvania Avenue, NW
Washington, DC
Tickets: $48-$98
Tuesdays thru Sundays
Details
Tickets
__________________
He won a Tony award for his work in Children of a Lesser God, was up for an Emmy for his 5-year run as Jeff Maitland on the TV classic Family, and has guested on shows such as Friends, Desperate Housewives, Bones and Supernatural.
Still, his love for the stage constantly brings him back to the theater.
"It's being in the room with the person you're telling the story to," he says. "I have five children and for me that's been the most rewarding and exciting and emotional and committed experience of my life, and a big part of that is telling them stories. Not only reading to them when they were little and telling them about the Three Bears and Goldilocks, but telling them stories of your life and bringing them to places and introducing them to the world. Telling it to their faces and watching them absorb it or reject it or question it or being surprised by it…it's communication of life. Being in live theater, that's what you get to be with an audience of strangers. They get the truth of you telling them the story. That's what draws me back."