The latest in our area's world premiere productions takes us back to a literary classic. The Turn of the Screw, now onstage at ArtSpace Falls Church, is the inaugural production in Creative Cauldron's initiative to create new plays for smaller venues.
Written and directed by two of the busiest guys in Washington theatre, Matt Conner and Stephen Gregory Smith, this world premiere musical features a standout cast including Susan Derry, Sherri L. Edelen, Ryan Sellers, Caitlin Shea, Ethan Miller, and Libby Brooke.
It's true that the Gothic novella is often considered dark. With productions like Night of the Living Dead: The Musical to Conner and Smith's credit, Turn of the Screw seems solidly in their wheelhouse. Yet Henry James's tale of a governess and her two young charges, in Conner and Smith's hands, is more stylized mystery than spooks and nightmares.
"I once had someone ask me, 'Why are you always drawn to such dark stories?' Well, I said, I was raised in church," laughs Conner. Without the dark there is no light, no salvation. Every epic story begins with an obstacle, whether it's trying to get to heaven or whatever. What draws me in is the array of human emotion that can be a part of a show like this. There's a huge spectrum."
Conner and Smith looked to Henry James's The Turn of the Screw at the suggestion of Laura Connors Hull, Creative Cauldron's Founder and Producing Director. Since it was first published in 1898, the novella has been subject to countless interpretations, ranging from the literary to the psychological, as a result of the text's ambiguous tension. It might be a ghost story, but it might be a tale of madness. It might be something else altogether. However you choose to see it, the gothic mystery is certainly compelling and rife with unexpected twists.
"It's such a psychological roller coaster," says Smith. "It's a fantastically crafted mystery, and it's become one of our favorite stories."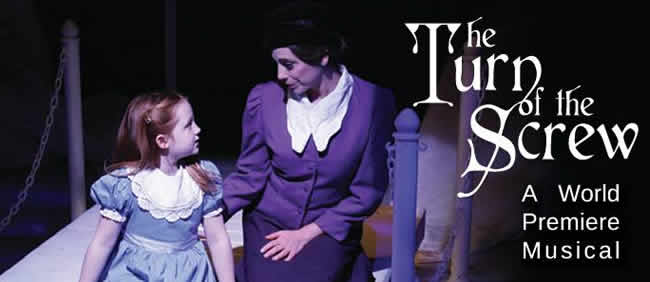 Conner stresses that you don't have to be a Henry James enthusiast to appreciate the piece. The tale stands on its own. "It's a testament to his work that over a hundred years later, it's still a subject of conversation and it still resonates," he says. And, while the book has been adapted for the stage in different ways over time—including an opera by Benjamin Britten, two ballets, and Harold Pinter's well-known play, The Innocents—Creative Cauldron's new production is, remarkably, the only musical version in the world.
Conner and Smith have been longtime staples of Creative Cauldron's work. Both have served as teaching artists with the company since it was founded in 2002. They have been fixtures of the Learning Theatre program, in turns writing plays, performing, and directing. Sometimes independently, sometimes together. And, through this project, Hull sought to nurture that artistic partnership.
"I thought, wow. These two have the magic touch when they work together. And I don't see them having that opportunity outside of Creative Cauldron. So I thought it could be a unique thing to do, for them and for us."
Turn of the Screw is the first production in Creative Cauldron's "Bold New Works for Intimate Stages" program, which seeks to develop plays specifically for small playing areas, such as the 80-seat theatre at ArtSpace Falls Church that has been Creative Cauldron's artistic home since 2009.
"We look first of all for intimate stories," explains Hull. "Stories that have smaller casts, because of the limitations of this space. I'm always looking for something unique, something that hasn't been done to death, that is at its essence good storytelling filled with imagination." And, she continues, in order to do this, you get back to the elements that need to be in place for an audience to make that leap. "It's all about good storytelling. Often, less is more."
THE TURN OF THE SCREW
Jan 30 – Feb 22

Creative Cauldron at
ArtSpace
410 South Maple Avenue
Falls Church, VA  22046
Tickets: $25
Fridays thru Sundays
Details
Tickets
—————–

"We can't make chandeliers fall from the ceiling here," she says, "but we can provide writers a space to experiment with work and focus on the core story."
As is often the case with married couples who work together, the conversations that begin at work tend to follow them home.
"We joke that our house has turned into a creative factory," said Conner. "Not a day goes by without getting involved in one project or another." They have a piano on each level of their three-story house, he explains, and it's not uncommon that all are in use at the same time. "We'll have friends over playing with us, and someone will be singing, someone will be at a computer, others playing instruments. We're always working on something."
And that doesn't look like it will stop anytime soon. Creative Cauldron has committed to developing a Bold New Work every year for five years, and it's likely that the Conner/Smith duo will be at the helm of each one.
Hull says she has an idea in mind for 2016's Bold New Works project, but the idea is still in the embryonic stage. Right now, they continue to polish and refine Turn of the Screw.
"The program gives us the opportunity to create and nurture original work that fits our space, which could also be of interest to other intimate theatres around the country." In essence, good storytelling filled with imagination.