A funny thing happened on the way to the Folger. Outside the front door, I saw a poster for its production of Mary Stuart. I was there to interview the actors playing Mary, Queen of Scots, and her rival monarch, Elizabeth I of England. I had assumed that Holly Twyford was playing Mary and that Kate Eastwood Norris would be Elizabeth. From the poster, it quickly became clear that my assumption was the opposite of the fact.
I mentioned this to the two of them, once we had settled into their dressing room, and said that I could imagine casting either actor in either role and wondered if any consideration had been given to my imagined version.
"Way back, there was a cockamamie scheme," Twyford said, "that we would play both and switch off." "I never heard about it," Norris corrected, adding that someone had told her later that such an option had been considered. Twyford remembered hearing about the London production of Old Times in which Kristin Scott Thomas and Lia Williams had switched off in the play's two female roles. "Inspired by that," she continued, "we toyed with it."
" 'We' being not me," Norris reiterated. She then recalled the recent production at Folger of Henry IV. "Hotspur and Hal switched off, and the amount of rehearsal was out of control. It was exciting for others, but I was playing Lady Hotspur, rehearsing the scene with two different husbands. The reverberations are immense. It would be fun — with unlimited budget and time, I could play either. But Holly gets the throne. And the clothes."
If the play had already been rehearsed one way and had opened and was running, that would make it easier to switch roles, wouldn't it? "If it were a long run," Twyford said, "that would be interesting." "Really neat," Norris concurred. "At that point, I would just do what Kate does," said Twyford. "'Cause it's working," Norris teased. "Mary was taller," Twyford observed, so this casting is "historically accurate," she said, laughing.
The production has now indeed opened and to rave reviews for both actors. In The Washington Post, Nelson Pressley proclaimed: "Norris's proud Mary, chin lifted in defiant argument, and Twyford's complicated yet powerful Elizabeth are rock-solid as the core of Richard Clifford's dark, majestic staging." The headline of Tim Treanor's notice on DCTS.com trumpets: "Norris and Twyford are brilliant in Mary Stuart."
Since I was talking to them before opening, I asked whether the production is presented as a period piece, Elizabethan costumes and what-not. "It's suggestive of the period," Norris answered. "Period-ish costumes. There're no pumpkin pants. Richard's really interested in paring down set and costumes." Twyford pointed out that, during the period, "it was overwhelming what they wore."
I asked whether they had worked before with the director, Richard Clifford, who is London based, but works frequently at The Folger. Norris replied, "I did a couple of shows with him — She Stoops to Conquer, The School for Scandal — but those were comedies of manners, so this is a departure for Richard and me." Twyford "did Helena for him in All's Well That Ends Well and assisted when he directed Elizabeth the Queen."
"I plunged into biographies," Norris said in response to the question of how much research they had done into the history, "and the dramaturgy packet in an Internet dropbox would fill this room. [Michele Osherow, Resident Dramaturg] kicked it pretty hard. But I didn't watch other versions of this story — plays, films, other representations. I tend to try to avoid that."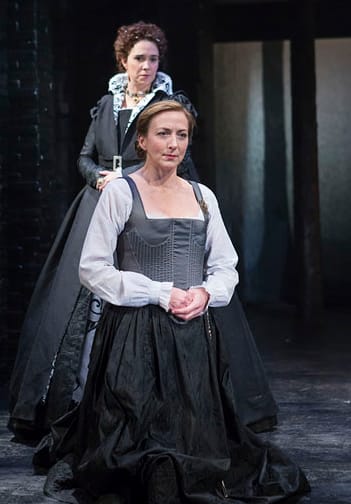 Twyford picked up that thread: "There's a little bit of a catch there, playing historical characters. Many things in the play did, in fact, happen, but it's got a slant to it, a point of view, and a lot of things never happened." Norris explained that this reference is to "the core scene, the big scene in the play," the imagined meeting between the two queens that is the play's climax. The two never met. "In my prison cell, I have a stool. She had sixteen servants and carpets. The play is more pro-Mary than history usually is."
Twyford sighed, "That's my cross to bear. I mean, Elizabeth reigned for decades, which was kind of unheard of back then. One of the things [that made that possible], I believe, is actually never naming a successor, not getting married. You could make that a negative, 'She never made up her mind,' but she really succeeded in keeping power, the throne, by doing it. She knew that's what it took. The second she married, her power would disappear. She did amazing things for that kingdom. When her sister [Mary Tudor] left the throne, it was a bloody mess. So to speak. And that is a big theme in this play, for me, is her trying to keep things at bay, keep control over things, with so many forces working against her." "There's a great speech to that effect," Norris observed.
"In a nutshell," Twyford continued, "she discovers that she is a servant to the people, to her councilors. She has what looks like power, but she is at the mercy of what's best for the kingdom, for the people." Norris pounced on how Elizabeth's delicate balancing act affected her Mary: "That characteristic defines half of my life. She couldn't decide what to do with me. That was really helpful for England, but it sucked for Mary, never knowing her fate for over half of her life."
Twyford continued: "One of the things that we and Richard want people to walk away with is the question, Did she have a choice? Did the right thing happen? Was Mary guilty? There are questions that still remain about guilt or innocence. I feel like that's something I want the audience to think about: whether I shouldn't have done it, whether I had no choice, and did I make the choice."
"Even if you had no choice," Norris countered, "that's what the play's about: complex, independent women who are figureheads, who are Queen Regents, held responsible for actions even if they can't, often, control those actions. In that time, Regents [it was believed] were appointed by God, and Mary's defining characteristic, in a way, is that she can't understand why someone wouldn't accept her." Twyford: "But I am protected by God." Norris: "Both, you see, absolutely would say that." Twyford: "And both would be absolutely right when they say it." Norris: "Fantastic." Twyford: "Great."
We talked about how unusual it is in classic historical plays that there are two female leads. "I didn't know this [play] was there to look forward to," Norris said. "Now, I feel like some sort of gift has been given that I never expected, this amazing role I had no idea was there." "Even better," Twyford went on, "two female roles." "Yes," Norris concurred, "That's the best. It gives us the chance to be human beings. We're not the lone woman; there's another woman there." Part of the burden of playing Shakespeare's women is that it is perceived that they "represent all women. That's why everyone gives Shakespeare's heroines such a hard time, as if they are representing every woman." "And they're not," Twyford agreed. "It's a relief, as well as a daunting challenge, that these roles are very different," said Norris.
"The bummer is that they only have one scene together," Twyford said, which provoked Norris' observation that "I would watch Holly's scenes at rehearsal and think, 'What she does, I need to match. We need to be in the same world, as different as we are, we need to try and follow the same rules of movement and what not.'" "I have a throne," Twyford pointed out. "I just kneel," Norris countered.
After people leave a meeting with Elizabeth, Norris observed, "they complain about her as a woman. It comes up as a topic of complaint: our sex, other than what we're doing or how we're doing it. I think that's true now. A man can be a person. What one says to complain about a man doesn't involve his sex."
"Another bit of irony, of course," Twyford said, "is, yes, there are two great roles for women, but everyone else is a man. There's one other woman." (Mary's confidante Hanna Kennedy is played by Nancy Robinette, making the cast a trifecta of top-drawer D.C. women actors.) So this one play, Twyford continued, "doesn't have anything to do with finding more work for actresses, and there's an endless supply of talented young women."
The conversation turned to grim statistics about how much more opportunity there is for men, and how much more usual it is to see male-to-female cross-gender casting than to see women play men, and, Norris exclaimed, "how ridiculous that is. An actor can play anything, by definition. I've always had a ball when I've been able to play a man. I'm using all my skills, which feels good."
"One thing women can do," Twyford segued down a different path — "Kate knows all my little tricks. If she were to say, 'You know what you could try with this line, why it's not working?'" Norris agreed: "I can count on it, that Holly knows my skills, and how to push me." "We could say the same about Nancy," Twyford picked up. "It's not the same for men." "No," Norris concurred, "They're not giving each other thoughts in the actor house. I don't hear that happening much."
Roles they've played. Roles they'd like to play
We talked about the roles they've played out of the classical canon. Both actors have played Rosalind in As You Like It and Beatrice in Much Ado About Nothing. They shared the role of Hamlet in Joe Banno's 1999 Folger production (which split the title Dane into four; Cam Magee and Steven Carpenter rounded out the quartet). "I've never done Midsummer," Twyford surprised us by saying. "Helena was my signature role when I was young," Norris countered: "Awkward, tall, a nerd. I played it, like, three times in different places. As well as Puck, Wall, Oberon, Snout."
Norris suggested, "We'd have been a good Goneril and Regan, but that's over. Maybe in a really large house." "With a really old Lear," Twyford added, before continuing: "Some roles never appealed to me. Cordelia is one." "No interest," Norris agreed, before Twyford added to the list Ophelia and Hero (in Much Ado). "No, we're just not…we're too loud," Norris concluded, triggering a shared guffaw.
Twyford continued: "I loved playing Juliet. I loved that. And that should have followed in the list of roles I don't care about. Is this mean to all the actors who play those roles? Make this sound really nice." Norris provided this insight: "It's fortunate that we aren't interested in those roles because we wouldn't get cast in them."
Iago was Twyford's immediate response to the question of dream roles; Edmond in King Lear was Norris' first response. "I'd like to do Gertrude," Twyford continued. When Norris mentioned the clowns in The Tempest (Stephano and Trinculo), it triggered Twyford to mention Prospero.
"I'd really like to do Richard III again." Norris mentioned her role in the Shenandoah Shakespeare Express production. "I'd like to do that," Twyford said. "You were so wonderful in that."
Male roles in Shakespeare continued to fall from their lips. Norris: "Hal. Hotspur. Never happen." Twyford: "I'd love to do the Crispin's Day speech just once." Discord! Although Hal grows into King Henry V, of Crispin's Day fame, Norris protested: "Not that one! He turns into such a jerk! The speeches are interesting, though."
[ezcol_1third]

MARY STUART
Jan 27 – March 8
Folger Theatre
201 East Capitol Street, SE
Washington, DC
Tickets: $30 – $75
Tuesdays thru Sundays
Details
Tickets or call 202-544-7077


———————[/ezcol_1third]I asked Twyford about her recent career swerve into directing, and she was enthusiastically grateful for this new opportunity: "Thank you Studio Second Stage, Factory 449, and No Rules. I'm gearing up to direct Mary-Kate Olsen is in Love. It opens in early June at Studio. It's awesome. So fun. The playwright calls this kind of Greek chorus 'The Amazing Girls.' I'm hoping to cast actual high-school girls. I'm looking forward to having a lot of fun with that."
Twyford traced the impulse to direct from "so many times I'm opening my big fat mouth in rehearsal and wanting to be heard." ("You've got that eye," Norris observed.) "It helps that people I respect — Joy Zinoman, Aaron Posner…Kate said it, too — told me, 'You should direct.'"
I asked if it's hard for Twyford to separate her director impulse when she is acting. "That depends, I guess. This play is so divided, clearly between my stuff and Kate's stuff, so I'm watching this whole other world going on, and I have so many ideas."
"Cody is a director now, too," Norris said, referring to her husband, Cody Nickell, who is playing the Earl of Leicester in Mary Stuart, "and I see him in rehearsal behaving differently. I say, he has his director's hat hair, because he's interested in that side." "If you asked him about something," Twyford offered, "he'd have an idea. I'm still learning to read a play as a director. I haven't learned that yet." ("I hate reading plays," Norris interrupted.) Back to Twyford: "I read Mary Stuart and thought, 'I'm playing Elizabeth.' So I'm tracking what she says and does, the comments about her. Reading a play from the perspective of a director, that's a muscle that's not well-developed yet."
Norris has had her own career swerve, as she has begun teaching, which has provoked a different perspective from her attitude as an actor. She is "learning how to teach a play in a classroom. So I have that going on now in addition to my regular job as an actor." She is having to cut Shakespearean texts to make them shorter for children, and "when you cut, you have to know what you're looking for, you have to have a sense of the whole. I'm almost done with a Masters degree so I will be able to teach more. I've learned so much; I'm really excited."
With that, the off-stage comrades playing rival Queens readied themselves for a long week leading up to their triumphant opening. The resultant "bodice-ripper for the brainy" [Treanor] runs at The Folger until March 8th.