Saycon Sengbloh is a huge Bob Marley fan. As a child, she listened to his music all the time, read books about his life and saw numerous documentaries about the Reggae giant. So, when she heard that there was a Baltimore casting call for a new musical about his life, the New York-based actress knew she wanted to be a part of it.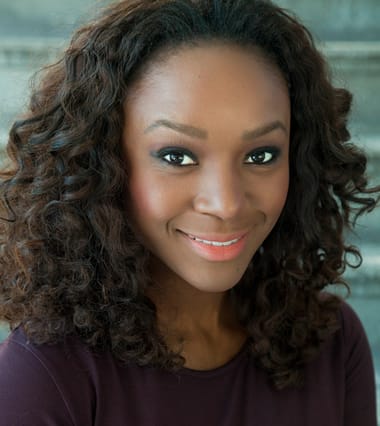 "One of the coolest things about this play is they did this huge search to find people who could create an authentic feel of the roots culture. One of my mentors called me about it, and as soon as she did, I sent it to my agents," she says. "I had told them that I wanted to stay in New York and wasn't looking to go out of town, but as soon as I found out about Marley, I told me to get me an audition."
Sengbloh tried for and landed the role of Rita Marley, the Cuban-Jamaican wife of the legendary singer, who herself was a gifted performer. Ten years earlier, Sengbloh had read Rita's biography, "No Woman, No Cry: My Life with Bob Marley" so she was very familiar with the type of woman she was.
"I knew after reading that book that I wanted to one day play this woman," she says. "Truthfully, I thought it would be in a movie, not in the theatrical sense, but once this came along, I was so excited about it."
Marley was written by Center Stage artistic director Kwame Kwei-Armah and contains much of the music that made Bob Marley iconic. The script touches on Marley's surviving a 1976 assassination attempt and the events that followed, including his spending two years in exile.

MARLEY
May 8 – June 14
Center Stage
700 North Calvert St
Baltimore, MD  21202
Tuesdays thru Sundays
Tickets: $19 – $64
Details and Tickets
Tickets or call 410 332-0033
———————
After landing the role of Rita, Sengbloh says she was somewhat of a "geek" in terms of doing research, getting her hands on anything and everything to do with one of the 20th Century's most important cultural figures.
"I watched several documentaries and read books and watched lots of videos that are out there," she says. "There's a lot of great stuff online and I saw a number of interviews with Rita, his daughter, and just so many people connected to him. It really gave me a great sense of who he was and who Rita was, as well."
Sengbloh developed a much greater appreciation for Rita, her songs and for her as a strong woman.
"I admire her position as a matriarch and a woman figure—a mother figure. She came from the roots up. The Marleys were not a very rich people and to go through all they did with this extreme love of music and harmony and musical structure, it was all very powerful," she says. "Bob and his music and what he represented from such a small island country that made such a big impression on the world…he's just extraordinary."
Sengbloh admits that she now has a different type of understanding of the Rastafarian culture—especially as a woman.
"I did not truly understand what it all meant before," she says. "I learned a lot about its origins and have a respect for it as its own religion."
She also took new meaning from some of the songs she has loved all her life, with everything from "One Love" to his early "Soul Revolution" tunes.
Playing Bob Marley is international singing sensation Mitchell Brunings.  "When I first saw the YouTube clip of Mitchell singing 'Redemption Song' on 'The Voice,' I was mesmerized. I jumped on a plane and dashed to Holland to see him immediately. Having auditioned actors around the world for this role, I knew right away that he was a natural," Kwei-Armah says. "His soulful, gorgeous voice and deep respect for Bob's music and life make him the perfect fit for this production."
Even if you're not a Bob Marley fan, Sengbloh believes you will still get a lot of enjoyment out of the play.
"If you're a person who enjoys learning about people and new cultures, I think you will enjoy the show," she says. "I liken it to "Anthony Bourdain's Parts Unknown" on CNN. Here's a guy who goes to a different country and tries different food with a different person each episode, and to me, that's fascinating. I can't take my eyes off it. I think Marley will be like that for people who aren't familiar at all with Bob Marley. I think people who are hungry for something different, they will absolutely appreciate this show as if he was alive and performing today."
Center Stage is so sure fans will want to jam along with the show, they have added some $25 "dance seats" in the mezzanine.
Sengbloh, whose Broadway debut came in 2003 in Aida, isn't unfamiliar with performing in a musical based on songs from legendary artists. She's appeared on Broadway in Motown the Musical, Holla If Ya Hear Me and Fela.
"I've done shows that featured the music of Tupac Shakur, Bob Marley, Fela Kuti and Berry Gordy, which has been amazing," she says. "To be a part of the legacy of all these great entertainers has been breathtaking. Before I was a part of them, I was a fan of their music."
"My first time on Broadway, it felt exactly like where I was supposed to be," she says. "The only time I get nervous is during rehearsal, or post-show when I have to come out and see my manager and friends and family and maybe take a photo with a celebrity. When I'm doing a show on stage, I feel right at home."
And, for a while, she's right at home in Baltimore, where Marley is heading into previews, and opening night is May 13th.