Solo performer CJ is looking to answer some big, serious question Who are we, as humans? What drives the choices we make? What's the fundamental equation for human behavior? If this seems grounded, weighty, and pretentious, you've got the high-octane The Human Algorithm wrong. Instead, CJ manages to work up the dirtiest, zaniest stories with a sly smile and earned wisdom, leaving the audience contemplative and humored alike.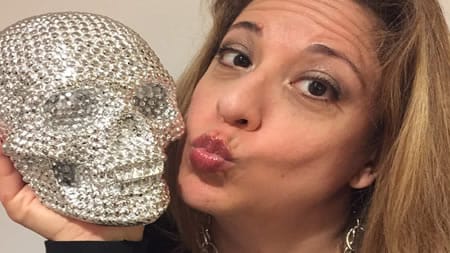 Not many people would be ready to kvetch about dog pee, the president of Turkey, and Meg Ryan in the same performance, but CJ is shamelessly honest. Her anecdotes are meant to weave together four themes that CJ has determined makes up "the human algorithm" of behavior. The themes are inane in just the right way, incorporating topics like "your inner asshole" along with how much a person can laugh at themselves. It's a touch standup comedy, a little bit theatrical, and definitely perfect for the festival circuit.
The material is endlessly amusing. Raucous laughter and applause emanated from the audience throughout the breezy one-hour performance. Of particular note is a recurring story about a Muppet, whose repeated occurrence allowed the audience to understand the depth of human growth and change. Another self-referential tale lampooned the Fringe Festival itself and the notoriously stern venue managers, which managed to be teasing without being overly offensive.
Plainly said, the girl can tell stories.

The Human Algorithm
Written, directed and performed by CJ
Details and tickets
What was most impressive about CJ was her ability to work a room. Crowdwork in comedy is notoriously difficult, and CJ nailed her audience interaction. With The Human Algorithm, I felt an intimacy in being in CJ's audience – not just listening to her, but relating together as a group. This human touch is likely what the show was going for, and it is equal parts poignant as comic.
For those expecting traditional comedy, CJ will give an audience more. Imagine Mike Birbiglia's narrative style – just a little more crude, a little more political – but just as thoughtful, relatable, warm, and hilarious.