Une Soirée au Cabaret is a pleasant evening of dance and music. I wouldn't have gone far out of my way to catch it, but I found it an entertaining and distracting change of pace from the wackier Fringe fare.
Five dancers and a vocalist went through fourteen numbers over the fifty minutes of the performance. As the name indicates, the evening was an evocation of and a tribute to the sort of cabaret fare that one might have experienced in early 20th Century Paris.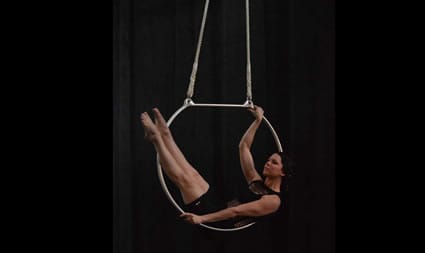 The music included songs made famous by the likes of Edith Piaf ("La Vie en Rose" opened the show) and Josephine Baker, and some of the dances were inspired by Baker, the expatriate American who was a sensation between the wars in Paris. These Baker songs included "Cape Dance," during which Sandra Davis, adorned in a structured cape, moved with the suggestion of a butterfly, and "Jai Lu dans les Etoiles," during which Davis maneuvered impressively as she was spinning in and posing in a string hammock-like device. Both were danced to taped vocals by Baker, clearly a significant muse for the creators.
Other highlights included a witty turn by Sophie Malin and Kate Rast to a number by Jean Sablon called "Two Sleepy People." This was the dance that got closest to telling a story, about two young people staying out as late as they can manage. The two young dancers made the piece a lot of fun.

Une Soirée au Cabaret
Created, choreographed and directed by Diane Sharp-Nachsin
Details and tickets
"Hymne a l'Amour" featured Davis and Miguel Quinones, who seemed the two most seasoned and confidant of the dancers, and their work then was a high point. "La Congo Blicoti" is a Piaf song that let the company have fun with a conga-infused number.
"C'est Si Bon (It's So Good)" was by Eartha Kitt and found the dancers on metal folding chairs. Generally, when dancers use chairs, they are wooden and don't threaten the danger of collapsing, as these are designed to do when stored, so it was impressive that they handled those without any problem. Jacques Brel's "Ne Me Quitte Pas" (sung by someone other than Brel) involved all five dancers (the fifth is Emily Coulson) and was a strong, pleasing finish to the evening.
Between dance numbers, vocalist Jen Hallman sang live. Her first number was "Cry Me a River" and it was a knockout, her strongest by far. She also did the Cole Porter standard "Let's Do It (Let's Fall in Love)" and a couple other songs with which I am not familiar.
I'm not a dance critic, so I can't speak with as much authority as others about the movement. I did sense that some of the synchronized sequences could have been tighter, and so I enjoyed more the routines that involved the least amount of unison work.
If the piece is to be further developed or is to tour more, there are a few aspects that I would suggest changes, in hopes of making the piece feel less like a recital and more like a fully-conceived thematic whole.
Chiefly, the long, silent gaps between numbers could easily be filled with some kind of connective tissue that could cover the clumping of footwear during scene shifts, while re-enforcing the motifs of the unifying theme.
Singer Hallman (whose four numbers comprise a good third of the program) was definitely a value-added component. Her rendition of "Cry Me a River" was my favorite part of the show. That said, the recorded music which we otherwise heard was all in French or in heavily-accented English, so her American accent took us out of the Paris milieu established by the other numbers. Even if her songs were from French sources, without being sung in French, the incongruity of her accent might have distracted less from the whole.
Also, I don't understand the decision, in a piece categorized as dance, not to have her songs always accompanied by dance. That would have integrated her more fully into the rest of the act and made the whole seem less disjointed. It was also disorienting when the one song of hers that included a movement component used a recorded version of the song ("I'm Feelin' Like a Million") that had a taped vocal, which was like a bizarre, ghostly echo. Finally, Hallman eventually engaged in some patter, but it came so late and was so brief that it felt strange.
The evening was from SHARP Dance Company, who are from Philadelphia and who have a long history of touring to Fringe festivals around the country. Diane Sharp-Nachsin is the Artistic Director of the company and the evening's choreographer, though Davis is credited with the choreography for "Cape Dance." Sharp-Nachsin took a bow with the performers at show's end, adding to the sense of the troupe being a personable, inviting group who enjoy what they are doing: dancing and touring together, and exploring pop cultural idioms from a fascinating, vanished era.
Take me back to the DC Capital Fringe Guide