Scott Fitzgerald famously wrote that "There are no second acts in American lives." F. Scott Fitzgerald never met Barbara Cook, the beloved Broadway star and singer who passed away on August 8, 2017 at a youthful 89 years of age.
Theatre-lovers still revere Barbara Cook's legendary Broadway performances as Cunegonde in Leonard Bernstein's Candide (1956), Marian the librarian opposite Robert Preston in The Music Man (1957), and Amalia in She Loves Me (1963).  Unfortunately, I either wasn't around or my kindergarten allowance was not sufficient for me to see her when Cook was Broadway's leading ingénue.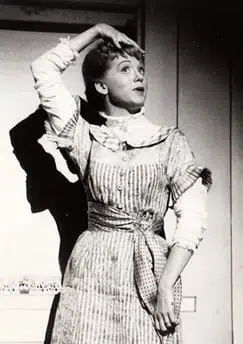 Find more photos from Barbara Cook's career on BarbaraCook.com
Like many others, I grew to enjoy and admire the second phase of Barbara Cook's career as the nation's leading cabaret and concert performer.  After the stage roles started drying up, Cook kick-started her career through some famous concert performances such as "Barbara Cook at Carnegie Hall" (her classic first concert album in 1975) and a concert performance of Follies (captured in a 1986 documentary  that aired as part of the PBS "Great Performances" series).
Hearing Barbara Cook sing was an experience like no other.  Cook sang in a clear and heartfelt soprano.  Her voice was even more remarkable by its undiminished beauty even into her 80's.
When I last heard her perform in a 2012 cabaret at the Kennedy Center, she still had the same enthusiasm and boundless energy that women half her age would envy.  Only when she told a classic story of working with the likes of Leonard Bernstein, Robert Preston, Hal Prince, and others, or when she crossed the stage with the use of a cane, did you realize her age.
Cook had the rare gift of great performers to make it feel that she was singing directly to you.  She also had an appealing honesty, both when performing and when detailing her earlier struggles with depression, alcohol abuse, and weight gain in her 2016 memoir Then and Now.
Cook had a versatility that allowed her to sing any song in a touching and memorable manner.  She had the technical skills to sing songs as difficult as "Glitter and Be Gay" in Candide.  She could belt when needed, but also had the subtlety to make captivating her numbers in the 2002 Mostly Sondheim revue on Broadway.
Cook was mostly known for her Broadway numbers, but she could handle the entire American songbook.  I still remember her lovely renditions of "Georgia on My Mind" (she was born and grew up in Atlanta) or John Lennon's "Imagine" (performed without a microphone).
Cook had a huge influence on generations of Broadway performers.  When she was honored at the 2011 Kennedy Awards, the performers who lined up to pay tribute included Patti LuPone, Glenn Close, Kelli O'Hara, Audra McDonald, Sutton Foster, and Laura Osnes.  She was such a skillful teacher that people bought tickets just to observe her conducting a master class for aspiring vocalists.
Barbara Cook was the exemplar of the highest pinnacle of cabaret performance.  Ten years ago when the Kennedy Center decided to establish an ongoing series featuring the nation's best cabaret singers, it asked Cook to serve as its curator and namesake for the performances.  The continuing series is a fitting legacy for Cook's incredible career.
Cook only retired from performing in May of this year and she lived life to the fullest to the end.  I smiled to read that that her last meal was a bowl of "Vanilla Ice Cream," which is the title of a song she originated in the musical She Loves Me that became a cabaret staple.  Enjoy it for yourself and reflect with appreciation on the life of a true American original.