Jon Jon Johnson is getting ready for the closing performance of Tarot Reading III on October 22, created by The Tarot Reading and based on the ancient Tarot cards. It's a unique experience for audience and performer alike, so we asked the actor and DCTS interviewer to change seats and talk about himself in the role as Medium.
————
I'm no stranger to "devised" plays, having been involved with a group in divising my own brainchild, Apotheosis, back at the Capital Fringe 2014 as my first foray into the technique. I've devised several shows now with Flying V, LiveArt DC, and now with The Welders' Hello, My Name Is (which is semi/somewhat devised).
How do you prepare for working with a collective that is creating a performance?

Delving into devised work is entirely about building your "toolkit". You gather techniques, ideas, methodology, while practicing flexibility, openness, and collaboration. There is a science to it; constantly engaging in the trial and error of "what works" and "what doesn't". This rings all the more true when it comes to "participatory theatre", because there now exists an element of chaos: the audience's reaction. There is a methodology to predicting how various audiences will respond. There is also a technique for embracing the pure unpredictability of it. I like to think that I walk that thin line between the two.
I think it was these qualities that led me to The Tarot Reading  in 2016, courted by Quill Nebeker and Alan Katz. The two had set about trying to create a show that involved 21 pieces by 7 performers, known as Mediums, for a few nights of performance. Much inspiration had been drawn from models such as The Neo-Futurist's Too Much Light Makes the Baby Go Blind, and other such micro-theatre models.
Tell us how The Tarot Reading works.
The Tarot Reading's 21 pieces are derived from the 21 Major Arcana (minus the Fool, which belongs to the Emcee of the night, known (shockingly) as "The Fool"). Mediums draft the cards, and are allowed to use whatever about it inspires them, from the name, the meaning, the artwork, the artwork from any other version of that card, or even alternative names. For instance "The Hanged Man" is also known as "The Traitor", "Odin", or in my most recent iteration, "Sacrifice".
So upon receiving their three cards, each Medium sets about creating a unique piece of performance, designed to be performed for a single audience member, known as "The Seeker". The audience enters the space, and those with "Seeker" tickets, receive one of the major arcana cards. The rest, known as "Witnesses", still get to watch the performance, but the experience of the Seeker is unique to that Seeker, and the card they receive. The cards are revealed randomly, and thus the order of the performance is random. The pieces therefore must be quick to set up, facile in their performance, and equally quick to break down.
With that in mind, there are a few ideas on how to generate a piece. Quill, Alan, and Joan Cummins (who is in charge of the beta-testing process), help you find a few entryways into the piece should the Medium require it. They also ask that we be an "ally" to our seeker, and provide them with a "gift", either tangible or intangible, as a reminder of their experience. (Which I will get into later).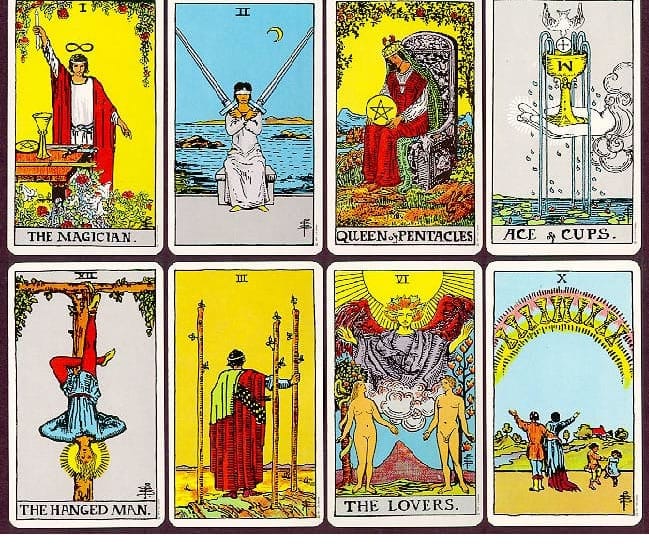 There are many entryways into a Tarot Revelation. Many Mediums use personal experiences, sometimes masked, but sometimes quite directly, which in turn leads to wonderfully human interaction with their Seeker. The Seeker, in turn, may be asked to share something personal about themselves, to which they can choose the level at which they participate. It leads to beautiful moments of human sharing, of connection, and catharsis.
——–
Tarot III
from The Tarot Reading
last performance: October 22, 2017
Details and tickets
——–
Mediums draw on their expertise and personal experiences. We work closely with one another, both during rehearsal and outside in our daily lives. Communication is open and free, and questions and ideas bounce around various Facebook messages, emails, and in-person conversations. In the room, Quill, Alan, and Joan ask us to hone our ideas down to a razor's edge, and provide us with knowledge, background, and history to help us inform our choices. We dig deep into our lives, experiences, and skills, building a fascinating Venn diagram with circles that read: "My Skills/experiences", "The Card", and "A Gift". The intersection of "Skills/experiences" and "The Card" reads, perhaps, a story. "The Card" and "The Gift" could perhaps leave you with a premonition or an omen. "The Gift" and "My skills/experiences" is a lesson or a memory. But the intersection of all of these? That's a revelation, and that's why each individual piece of the overall Tarot Reading is known as such.
Let's talk about you as a Medium.
I approach each card differently. Most often, there is a skill set that I am uniquely qualified for. For instance, for The High Priestess, which I drew in the first iteration of Tarot – as of now there have been three – I used a skill taught to me by my grandmother: The ability to read eyes.
That skill seemed perfect for "The High Priestess", who is a card that governs and reveals the inner world of people. My ability to "read eyes" allows me to see images hidden behind people's eyes, allowing me to see a bit of their dreamscape through hazy metaphor. What spills out is a form of poetry as I journey around.
For The Lovers, which was my second card, I wanted to bring a piece of my own personal experience by writing a polyamorous love poem. As a poly person myself, having multiple partners, I realized that there was almost no love poetry that worked for people who loved many people. So much of our poetry is for a lover and their beloved, and that didn't sit well with me. So my piece was designed around that concept.
The World was my final piece for Tarot I, I had less of a clear concept, so I began with the idea of a "Gift". What was a gift that I could give my seeker that would be meaningful, as well as a reminder of their experience with me, their Medium. The World is a card that talks of fulfillment, achievement, and completion; it's the last card of the major arcana, after all. So I built my piece around the idea of "Dream Coupons", which would hopefully allow the seeker to pursue their hopes and dreams, perhaps ones they'd put aside. The piece turned into "An interview", where I'd ask them questions and fill out their "dream Coupons". They would, thus, say things like: "I give myself permission to eat ____________ later", and "I give myself permission to change _______________ about myself", or "I give myself permission to change _______________ about the world." The notion was that we often have all these hopes and dreams, but we never give ourselves permission to pursue them.
This time around, during the draft of Tarot III, I was dead set on selecting The Devil as one of my cards, as it was one of the Tarot cards that represents me, personally (The other being Temperance). and during the draft, I found myself drawn to The Star as well, as it is a card that, to me, represents healing after catastrophe. During this time, I had gone through a very rough period of my life, involving horrid roommates and an intense triggering of my childhood trauma, leading to a veritable upending of my life. While I had no idea what to do with The Star, I knew that it resonated with me, and that I wanted it. This was another piece where the entryway was through the idea of "gift", and what I could give to my seeker. It has since become one of my favorite pieces to perform.
It is a unique gift to be able to create these pieces and infuse ourselves, our skills, and our personal stories into the art. It is on a level like no other, because there's no pretense of playing someone else. It forces some surprising vulnerability, because it's no longer: "My story through the lens of this character", but simply "my story, through me…directly to you.". This is also horrifying, because you never know how such a piece and such a story will be received. To date, however, Seekers have been kind and giving, accepting of our real stories, our real pain, and our real experiences.
It is a particularly special joy to reach deep into ourselves, and pull forth something in our lives and turn it into something beautiful. The themes of my three pieces for Tarot III, The Devil, Sacrifice (The Hanged Man), and The Star, are three themes that are incredibly personal to me. Summoning the strength to overcome and the strength to fight, the devotion and discipline required to master something, and the ability to shine your light on the world through emotional labor, and how to replenish yourself in turn. On the one hand, it does make my life sound like an anime, but on the other, I rarely get to share these facets of myself with an audience without the mask of "Character", "Play", and "Theatre".
With this level of personal agency, the pieces range from fun and free, to deeply personal and moving. The night itself is a wild rollercoaster of uproarious joy, to deep contemplation and introspection. The cards that Seekers have are drawn randomly throughout the night, so we, the performers, never know what order they come in. We're always surprised when two of our own cards are drawn in a succession (especially earlier on in the night, where the probability of it happening at the onset is roughly 1.7%.)
The Tarot Reading is a deeply unique experience for any artist, especially those who seek to reflect and refract their own personal experiences into a performance in a way that the traditional theatrical medium does not often allow. Performing a piece that reveals one's personal workings without the thin veneer of "I'm playing a role" both exhilarates and terrifies in equal measure. But, the reward is ultimately tremendous.
A tumbler of neat gin? $6. A sacrifice of something sentimental or meaningful in exchange for a ticket? Virtually free. Experiencing a night of performance like no other and sharing a drink with friends and strangers with whom you've shared a tiny part of your soul? Priceless.