From its roots in ancient Greek culture, the story of Electra has withstood the ravages of time.  Electra, herself, stands as a bloodstained woman, something of a patron saint of revenge. At the forefront, the story weaves narratives of remorse, regret, and revenge, all the while asking "What is Justice?".
4615 Theatre has taken this classic story, and found what appears to be a riveting adaptation, filled with poetic language, and gentle, but haunting repetitions and echoes. Nick Payne, known for his work at the Royal Court Theatre in Liverpool, brings a "palpable and human" touch to the Greek classic.
Curious about their approach, I had the opportunity to speak with Jordan Friend, Artistic Director of 4615 Theatre, and the producer, lighting and sound designer, and composer for Electra, as well as the choreographer, Paige Washington.
I have never seen any work by 4615 Theatre, and I plan to remedy this. Care to tell me a little bit about the company, and the sort of work you like to do?
Jordan Friend: Our company is all about marrying the intimate with the epic. We choose stories that have a sense of scope, be they modern or classic, and use movement, music and outside the box thinking to bring them into an up close setting. We love playing with space. You'd never find us doing a play set in a living room, but we might see a play set in renaissance Italy in an actual living room.
I'd heard of the playwright Nick Payne, after reading a bit about his play, Constellations. How did you come across his Electra, and what about it moved you to produce?
Jordan: Stevie [Zimmerman] found it as we searched for the right translation. What I love most about it is how recognizable the mother/daughter relationship is; so startlingly palpable and human. Our whole season deals with parents and children in some capacity, so that sealed the deal.
Which designers have you gotten on board, and what are some of their influences in creating this world?
Jordan: We have Kristina Martin guest designing costumes, and she brings rich storytelling and detail to her work. I'm also working with my steadfast collaborators Nathaniel Sharer (Scenic) and Paige Washington (choreography), and it's been a joint effort to construct this world. I've particularly enjoyed composing the music. We wanted a sound not instantly identifiable with a particular culture, which means I've been able to pull instruments from all over the world to create an otherworldly, ambient, occasionally unsettling soundscape.
Paige Washington: I find that this version has a different lyricism to it than others I've read. It ties everything together in a song that the actors sing (figurative and physically) completely in tune. As the choreographer, it was my job to find that quality of song in the movement. We used the word "ritual" much during the design and I looked at ritual in terms of the relationship between Electra and the Chorus. Spirit possession was a big thing I wanted to make happen and the idea of two bodies but one soul and the chorus goes through multiple souls over course of the play.
What are some differences in Payne's adaptation, things drawn forward that you wouldn't necessarily get from the original?
Jordan: Certain supporting characters are incredibly well serviced. Chrysothemis in particular is stunningly realized. I also think there is a unique dash of humor. It's a heavy play, but Payne injects both relieving and painful laughter into just the right moments.
Is it set in Ancient Greek Times, placed more modern, or does it aim to be something timeless?
Jordan: The aim is timelessness, I think. The language is contemporary and poetic all at once, and the relationships are deeply universal. Stevie has worked wonders to create a world that feels stuck out of time. It's haunting and powerful.
***
I'm a sucker for Greek Tragedy – the scale of emotion and stake has always resonated deeply within my being, so naturally, I'm always curious when I hear that an adaptation is popping up at a theatre somewhere. Jordan helped connect me with director Stevie Zimmerman, of whom I'd had the pleasure of crossing paths with many times before, but never working on the same project together.
Stevie, I'm familiar with your work in the DC area: would you say you have a particular style or approach to directing?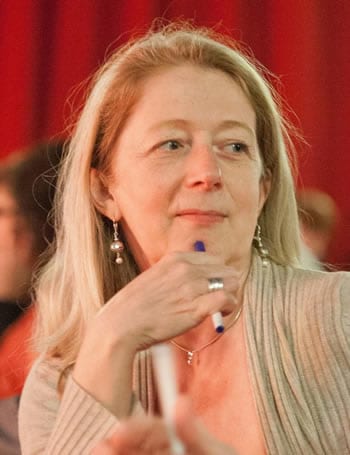 Stevie: I've never thought I had a style or a genre particularly, since I've done everything from musical farce to impressionistic absurdism to contemporary realism, but I think I tend to focus on the heart of the stories, and try to tell them in a fairly pared down, clean way.  I'm most interested in what motivates people and relationships, but I'm also very focused the pictures we make on stage and creating emotional connections with the audience through them
What about Electra struck you?
Stevie: It's fascinating how most of the Greek dramas continue to work in the 21st century. With Electra I felt I understood how her life is entirely consumed by her grief and her anger, and how unable she is to get on with her life until she feels she has resolved that. This particular version also has some beautiful language, written in a profoundly human, realistic way.
It is also a play that asks us to look at other points of view. Hamlet is a great play, and the character of Hamlet is in a similar situation to Electra, but we never get to hear Claudius' motivations!
What themes emerged in the work and in the rehearsal process?
Stevie: The biggest one, and the one most universally relevant unfortunately, is the horrible cycle of revenge that is, potentially, never ending. It is the core of so many of the ethnic battles we've seen across the world. Less bloodily perhaps, it is even what defines the political cycle we're in right now here.
What do you think is the heart of Payne's adaptation, and is it similar to the original Greek tragedy?
Stevie: There are big differences in Payne's adaptation. The character of Aegisthus, Electra's step father, doesn't appear but is a looming, threatening presence. Strophius, who is Orestes' right hand man, has a large role here and is clearly responsible for bringing Orestes up from a young boy with a determined focus on avenging his father's murder. Most importantly, Nick Payne's language connects the audience directly to the heart of the story – his Electra is both a proud, grief stricken young woman, and a petulant daughter any mother can recognize.
I'm always curious, as Clytemnestra is often synonymous with a cheating, vicious, venomous woman, but I've always thought she was treated rather poorly. Agamemnon sacrificed Iphigenia to Artemis, took Cassandra and had twin sons by her, but Clytemnestra is painted as the villain. Is this version of Elektra any kinder to her?
Stevie: Yes! And that's one of the things I love about it. We really see Clytemnestra's pain and loss as well as Electra's. The play does not allow us to comfortably take Electra's side – as Hamlet does, to bring him up again – but we are drawn into questioning the cycle of revenge and retribution precisely because there are always more sides to a conflict than are seen at first. If we try harder to step into other people's' shoes, maybe we won't be so quick to take sides and act violently or impulsively. We're all guilty of that.
What's something you're particularly excited for about this play?
Stevie: The cast! We have two actors in Lolita and Jacqueline who are quite familiar to DC audiences and who have done wonderful work with other companies, but we also have several really young actors, new to DC, and some to the professional business, who I think have great things ahead of them.
Is there a moment, without spoiling it, that you love in this production?
Stevie: In Greek plays, the Chorus is a body – usually of women – that provides a sort of go between and commentary for the audience. In this production the Chorus is a single person, and she has a very specific role to play for Electra. You'll have to decide for yourself who or what that role is, but it creates some poignant and beautiful moments between them.
***
I was able to also get in touch with a few of the actors, curious as to what roles they were tackling, and how they had gone about settling into this haunting and poetic world. Something I'm always interested in is the connection between actor and character, so I was curious as to how these talented folks felt about the tragic figures they were embodying.
Who do you play, and what's something you love about your character?
Niahm O'Connor: Electra, and I love everything about her. Even when I don't love her I still relate. She's human and she's unconcerned about how people view her- she inspires me embrace pain and grief and to find forgiveness in others.
Jacqueline Chenault: I play Chrysothemis, Electra's older sister. She is a fascinating character, because, as she puts it to Electra, "I feel the same as you… the same bitterness, the same sadness, the same longing for…" She feels the same as her sister and yet she handles it in an entirely different way. Maybe she is more mature. Maybe she is better at playing the game. Maybe she is just different. But for whatever reason, she is desperate to escape the loop of violence and vengeance that Electra is still stuck in.
Lolita Marie: I play Clytemnestra. I enjoy the complexity of Clytemnestra. She manages to be both regal and needy, vengeful and seeking absolution, fearful and bold; all in matter of minutes.
Charlie Cook: I play the part of Strophius! What I love about him is how, in our particular adaptation, he is given no background so he can be crafted from the ground up. The character in traditional versions is often either the son of King Strophius, or an old slave. Its amusing to be a young man playing a slightly older young man who was written as an older father figure.
Patrick Joy: Orestes. He's in a great position of being thrust from childhood to adulthood through the action of the play. I can relate to that in my life, as a senior at college, albeit in a much less murderous way. Every night, I feel as if his readiness for the task at hand changes. Some nights he's completely prepared for it and some nights he's forced into it by the expectations of Strophius.
Do you have a moment in the play that you're excited for? 
Charlie: Well the music is wicked and Mackenzie Larsen's singing as the Chorus is haunting. Personally I am excited to scold some children.
What's something you've enjoyed about the process?
Jacqueline: This rehearsal process was incredibly short – but also incredibly intense. There wasn't time to second guess or over think choices – we dove in, dug deeper, and now all that's left is to let the words and the story be told.
Niamh: Working with Stevie Zimmerman, our fearless director. It feels important to have a strong woman to lead us through this challenging tale of grief. She inspires me daily to find more honesty in Electra. She's made the experience really special.
Lolita: It has been a pleasure, under Stevie's direction and alongside this stellar cast, to explore and develop Clytemnestra.
What are you most excited to share with an audience?
Charlie: I am most excited to share such a classic text with a brilliant adaptation. It's short and sweet, poetic without being gaudy, and the cast of this show is brilliant. Accesible Greek tragedies are always exciting. Seventy five minutes for classical work is a dream come true for performers and audience members alike.