Opening today in major U.S. cinemas, The Royal Ballet's production of Kenneth MacMillan's riveting Mayerling is not for the faint of heart. It is also not recommended for children under 12. The ballet, this performance of which was filmed live last month at The Royal Opera House in London's Covent Garden, has just about everything most classical ballets do not: guns, drugs, explicit sex, copious drinking, and a pushy cabal of late 19th century Hungarian separatists.
There are no heroes, heroines, or innocents in this somewhat true telling of the last days of Crown Prince Rudolf of Austria and his teenage lover, Baroness Mary Vetsera, in 1889. There are only deeply flawed characters muddling their way through the political and personal pressures that characterized the latter days of the Habsburg royal family's rule and the "Mayerling Incident," which played a part in the events that led up to World War One.
After a brief prologue of a mysterious nighttime funeral, this three-act ballet opens with a ball celebrating Rudolf's marriage to Princess Stephanie of Belgium, an arranged union the embittered Rudolf, danced here by the superb Steven McRae, openly disdains. He flirts with his new wife's sister and his former mistress, Countess Marie Larisch (danced by Laura Morera). Later, he terrorizes Stephanie (Meaghan Grace Hinkis) physically and psychologically on their first night together before consummating the marriage, setting the tone for the rest of the ballet.
McRae's interpretation of Rudolf is nuanced; his dancing divine, and because of his intelligent portrayal you don't really despise the prince although you probably should. Rudolf is a spoiled, drug-addled, abusive sex addict. He is also desperate for the maternal warmth and parental affection he never receives. Thrust into a loveless but politically expedient marriage by stone-cold parents, he is a man nursing an ever-growing fascination with ending it all, and McRae makes us care what happens to him.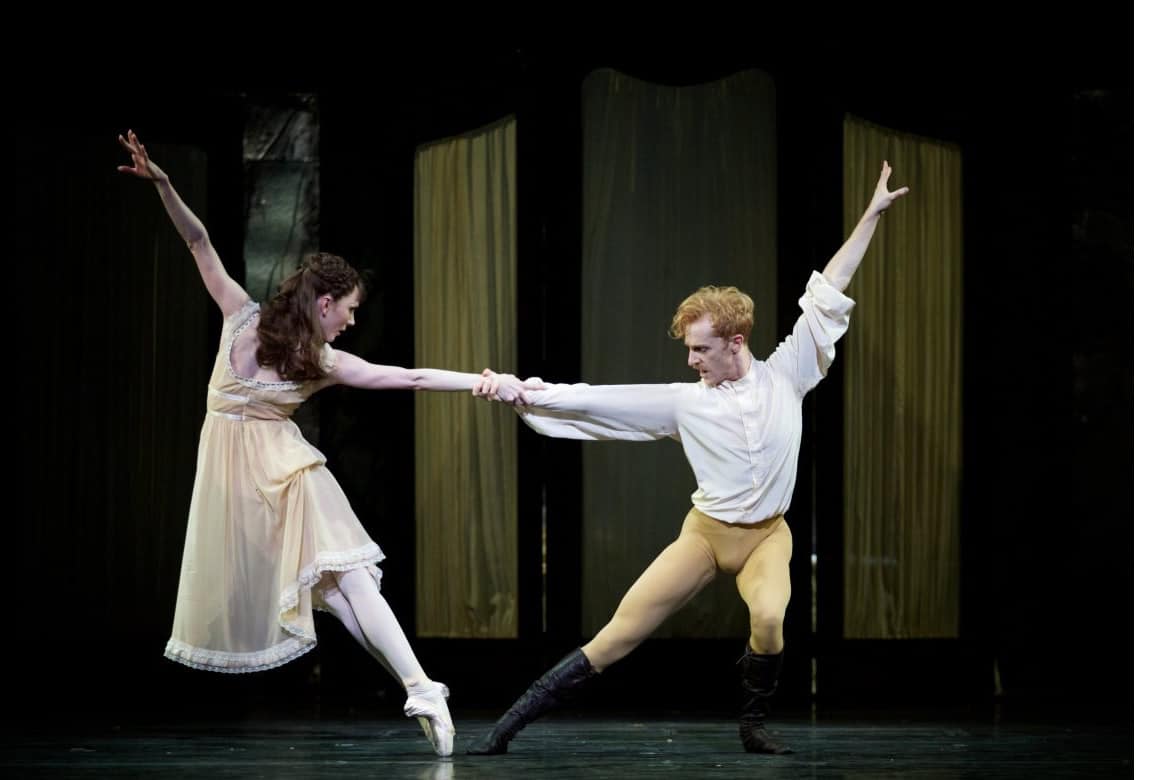 Throughout the ballet Rudolf is obsessed with a skull he keeps in his palace room and a revolver; a menacing reminder of death and the tool this unhappy man could use to achieve it. Despite all the darkness however, there are moments of tenderness here and MacMillan's choreography requires a certain level of refinement and skill to get that across. His pas de deux are notoriously difficult. The dancer playing Rudolf must dance seven substantive partnering sequences with five different ballerinas. In McRae's capable hands each one is liquid-like and boundless.
McRae's performance is perfectly matched by that of Sarah Lamb, who in this production dances the part of Mary. In her early scenes Lamb portrays Mary as a young girl driven by a lust for Rudolf that she seems to mistake for love. But later in the ballet she emerges as something else entirely. Here mirroring Rudolf's escalating flirtation with death, there pushing him even further over the edge. During their first tryst, as foreplay she entices him with that skull and they each threaten the other with the gun. Lamb, with her precision technique, fluid quality of movement, and honest artistry somehow turns this foolish teenager into a three-dimensional woman.
Other standouts among this stellar cast of dancers include the sparkling Mayara Magri as the courtesan and Rudolf's other mistress, Mizzi Kaspar; James Hay as Bratfisch, Rudolf's driver and devoted sidekick; and Kristen McNally as his chilly mother, Empress Elisabeth. This ballet ends as it begins. Only this time we know who is inside that casket.
---
Mayerling. Choreography by Sir Kenneth MacMillan. The Royal Ballet; Kevin O'Hare, Director. Music by Franz Liszt, arranged and orchestrated by John Lanchbery. Scenario written by Gillian Freeman. Scenery and costumes by Nicholas Georgiadis. Filmed live at The Royal Opera House, London, on October 15, 2018 and hosted by retired Royal Ballet ballerina Darcey Bussell and BBC television presenter, Ore Oduba. Principal dancers: Steven McRae, Sarah Lamb, Laura Morera, Nehemiah Kish, Kristen McNally, Gary Avis, Meaghan Grace Hinkis, Mayara Magri, and James Hay. Opens in select U.S. cinemas on November 13. Reviewed by Maria Di Mento.
To find a cinema near you, visit:  http://rohcinematickets.com