Twentieth-century Spanish writer Miguel de Unamuno wasn't afraid to criticize Spain's government. Though Irma Correa's El viejo, el joven y el mar is a fictional depiction of Unamuno's life, it is set against the historical backdrop of Miguel Primo de Rivera's dictatorship over Spain, a dictatorship that Unamuno openly spoke out against, despite the consequences. Thankfully, you won't need to be a Spanish history buff, or understand Spanish, to enjoy GALA Hispanic Theatre's thoughtful portrait of this writer and his beliefs.
El viejo takes place in 1924 when Unamuno (Argentine actor Horacio Peña) has been exiled to a hostel in Fuerteventura of the Canary Islands for criticizing Primo de Rivera. He takes the exile in stride: sunbathing, socializing, taking walks along the beach—all to the annoyance of a character named the General (Delbis Cardona). While stuck in his hostel, he meets Cisco (Spanish actor Victor De La Fuente), a young man who is assigned to tend to Unamuno.
[adsanity_rotating align="aligncenter" time="10″ group_id="1455″ /]
Irma Correa's Unamuno is cheeky, yet, empathetic. A thoughtful man who can speak to anyone, no matter their education level, about life's meanings. On the surface, El viejo is a play about how Unamuno spent time in and escaped from his exile, but, through Unamuno's interactions with Cisco, the General, and his admirer Delfina (Luz Nicolás) the story covers a variety of topics like faith, love, and the fleetingness of life, while an overall tension between Unamuno and the narcissistic dictator looms throughout.
Scenes with Unamuno and Cisco hold some of the funniest moments of the play. The two start as an odd couple, Unamuno trying to focus on escaping the island and Cisco veering into dreamland, confessing how he one day hopes to hunt down a whale known as Moby Dick, though, not the one from Herman Melville's novel—he's never read it.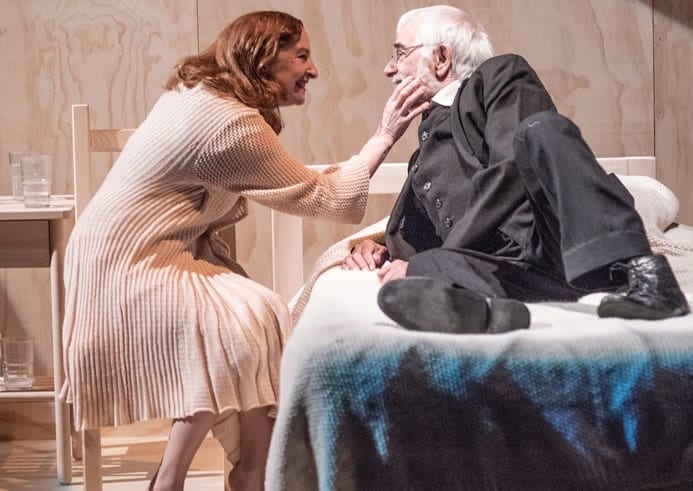 Their juxtaposition is intensified by De La Fuente's and Peña's acting skills. De La Fuente plays Cisco like a rubber band: springy and flailing, a youth full of uncertainty, while Peña's Unamuno is strong-willed and stubborn. Unamuno cocks his head as Cisco recreates Moby Dick by bobbing up and down with a chair. Cisco's eyes grow big when Unamuno refuses to stop sunbathing naked. Their physical reactions to each other, along with the snappy surtitles that translate Correa's wit, are hilarious.
——–

El viejo, el joven y el mar (The Old Man, the Youth, and the Sea)

closes March 3, 2019
Details and tickets
——–
Unamuno's conversations with Cisco not only bring forth the play's comedic side, but they also reveal its heart. At first, Unamuno is puzzled by Cisco, as is Cisco by Unamuno, but they slowly form a strong kinship. Unamuno speaks with Cisco as an equal, and they find that they both share a thirst for knowledge.
While not every play contains an answer as to why it's being produced now, El Viejo's is apparent. We, in America, are experiencing a time in which there is obvious tension between the president and his critics. A time in which even members of his own party are rebuking his insistence on digging his heels into the ground. The parallel between Trump and Rivera is especially evident when Unamuno says: "That fool is trying to stamp out any ideas but his own."
There's an aspect of El Viejo that could have been disorienting. With the wrong direction, the play could have been a strange mess with how it often switches from lighthearted to dark. But it totally worked. Director José Luis Arellano takes the audience on a journey that includes stark left turns in tone. There were a number of times I went from laughter to gut-wrenching discomfort in a matter of seconds, and this was with the help of Jesús Díaz, whose lighting and sound designs catalyzed the transition from eerie to comforting. El Viejo is definitely a dramedy, as the ending illustrates. My stomach dropped at the play's final tonal switch (and I loved it).
El viejo is a story that succinctly touches on many aspects of the human condition, and, most importantly, it does so in an entertaining way. Correa has dug into ideas like knowledge and the power of the pen through the relationships and conversations between rich characters and their unique voices and perspectives.
---
El viejo, el joven y el mar (The Old Man, the Youth, and the Sea) written by Irma Correa. Directed by José Luis Arellano. Featuring: Delbis Cardona, Victor De La Fuente, Luz Nicolás, and Horacio Peña. Scenic and costume designs: Silvia de Marta. Lighting and sound designs: Jesús Díaz. Music composition: Iñaki Salvador. Video design: Elvira Zorita. Properties: Alicia Tessari. Stage manager: Catherine Nunez. Production coordinator: Tony Koehler. Technical director: Devin Mahoney. Producer: Hugo Medrano. Production coordinator: David Peralto. Produced by GALA Hispanic Theatre . Reviewed by Emily Priborkin.