Despite its premiere date of February 14, Among the Dead is not a Valentine's Day play. Written by Hansol Jung, a world-traveling playwright and director from South Korea, Among the Dead is a ghost story orbiting the February 14th birthday of Korean American Ana Woods as she experiences firsthand the far-from-romantic conditions that created her. Although the details of her parents' story are often grim, the telling is always magical: Spooky Action Theater's presentation of Among the Dead celebrates Jung's whimsical experiments with theatrical form.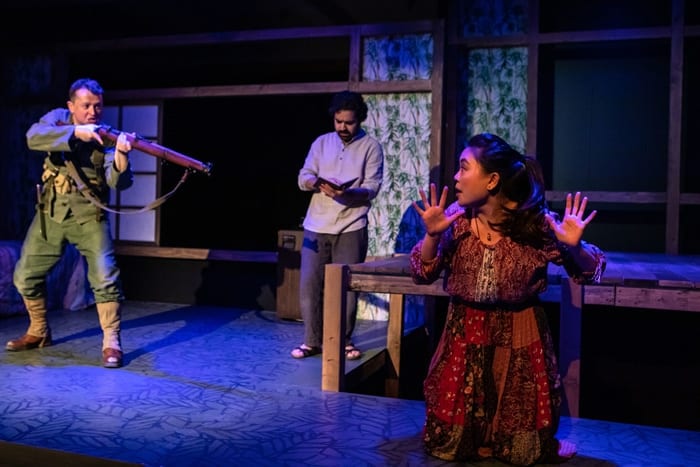 To start, Jung's text is tight and efficient. The play quickly teaches us how when Ana, in a hotel room in Seoul in 1975, picks up her deceased father Luke Woods' World War II journal from Japan, she is cast in the part of her mother in this theatre of war, and can only be heard when she speaks her mother's lines. Her mother, Number Four, is an escaped "comfort woman," a Korean woman who was abducted by the Imperial Japanese Army and forced into sexual slavery. Thanks to some suspicious pot proffered by a hotel bellboy named Jesus, anti-war protester Ana hears, sees, and feels everything as her mother, going so far as to save her father's life, sleep with her father, and give birth to herself. The play whooshes the audience past the heavy implications of what these experiences must do to Ana's psychological state, instead focusing on a singular question: what happened to Number Four, the mother who Ana never knew?
Director Richard Henrich makes this complex play look easy. His choices of where to block people as they co-exist across time and space work, and when the second half of the play switches to Number Four's point of view, watching Ana as herself in flashback, the audience eagerly goes along for the ride. Henrich's direction is complemented by a spare wooden set with great utility; April Joy Vester's clever set design allows for gaps in planks to transform into windows overlooking student riots, fox holes for escaping bullets, and frames for jungle projections.
More than anything, the production realizes Jung's unique theatrical perspective: a jacket falling from the ceiling conveys character states in multiple timelines, and an explosive noise creates empathetic urgency that collapses the timelines into each other.
——–

Among the Dead

closes March 10, 2019
Details and tickets
——–
In a production that teaches us subtly about Korean culture and the horrifying history of war crimes against women, actor Kyosin Kang steals the show as the sharpened survivor, Number Four. She morphs from rage to delight at a moment's notice, and draws the eye to her spring-coil movements and heartbreaking expressions even when she is not the focal point of the scene. Her frequent companion, Jesus, brings great levity to the play; as the sandal-wearing, board-hammering, spiritual guide, Nahm Darr draws many laughs while popping unpredictably out of different set windows to offer characters jokes and counsel.
Kang and Darr's interplay creates the most memorable scenes in the show; they are equally as dynamic together whether chicken dancing around a can of Spam on a bridge or having somber discussions while falling in time suspension through open air. The strongest scene of the production occurs when Jesus in a future-past timeline must help Number Four decide whether she wants to live while Luke simultaneously in a further-past timeline must coach Number Four to give birth to Ana. All of the actors rise to the challenge of this scene, imbuing it with urgency.
[adsanity_rotating align="aligncenter" time="10″ group_id="1455″ /]
Despite its electric dialogue, audiences may be disappointed to see limited character development in any part except Number Four. The unchanging nature of ghosts make ghost stories difficult to stage; although each family member is haunted—Ana by her parents, Luke by a person he killed, and Number Four by countless betrayals and harrowing violations—only Number Four seems to transform. However, Spooky Action brings motion to the play through effectively building suspense around the ways in which foreshadowed plot points come to pass.
In the end, the dominant current flowing through this production is theatrical playfulness. Despite the darkness of the subject matter, Spooky Action indulges in humor and optimism, and as a result, Among the Dead provides a magical pause in time to suspend disbelief and reflect on the power of imagination and memory.
---
Among the Dead by Hansol Jung . Director: Richard Henrich. Cast: Nahm Darr as Jesus. Kyosin Kang as Number Four. Julie M as Ana Woods. Chris Stinson as Luke Woods. Assistant director: Danny Romeo. Stage manager: Katie Bücher. Sound design: Navid Azeez. Set design: April Joy Vester. Lighting design: Hailey LaRoe. Costume design: Amy MacDonald. Fight choreographer: Chris Niebling. Movement coach: Tuyet Thi Pham. Props design: Alex Wade. Assistant stage manager: Karen Shantz. Thanks to Sarah Oh for the Korean voiceover: Sarah Oh . Presented by Spooky Action Theater . Reviewed by Kate Colwell.