The staging of August Wilson's Pulitzer Prize and Tony Award-winning Fences at Ford's Theatre seemed made-to-order for a grand slam home run. The memorable backyard drama of father and son and husband and wife is probably the most accessible and popular of Wilson's magnificent Century Cycle. And the casting of local big-leaguer Craig Wallace in the ample role of Troy Maxson—Wilson's own Willy Loman—was both inspired and obvious. Add 2019 Helen Hayes Award-winning actress Erika Rose in the crucial role of Rose Maxson and you've got the makings of an historic production.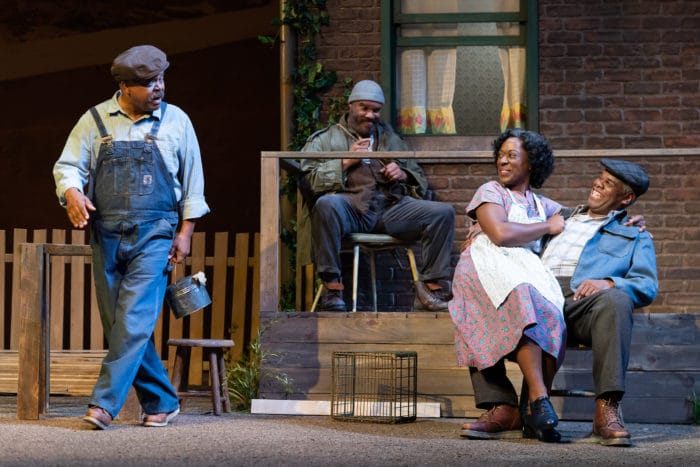 But Fences, directed by Timothy Douglas, is more like a double off the outfield wall. It's still a run generator—an affecting work of small ball—but not a dominant showing and likely carried over to a standing ovation by the sheer love for the game. (The baseball metaphors are in homage to Troy, of course, who speaks in that peculiar tongue—he chides his son Cory (Justin Weaks) that he's living with a "full count" and describes death as "a fastball on the outside corner.")
This Fences, beautiful as it is, disappoints, chiefly because Wallace and Rose fail to command the full-throated intensity and pitch the roles deserve. Troy is a resounding figure, but not so much in Wallace's portrayal. His detonations should reverberate like thunder, but they don't. He should be scary at times, but I never felt that. Wallace is much better at pulling off Troy's charming notes. Rose likewise is fine as the agreeable wife, caring mother and family peacemaker. But she doesn't quite pull off the character's raw-nerved weariness and she's muted and unsure during her standout scene late in the play as she confronts her husband with the agonizing appeal "What about my life? What about me?"
[adsanity_rotating align="aligncenter" time="10″ group_id="1455″ /]
My disappointment is not all with the cast or direction though. There are also problems with the script that I've come to accept. I believe the iconic stature of the work and the larger-than-life character of Troy have overshadowed the play's structural flaws.
Fences starts strong building character and situation. Set in 1957 Pittsburgh, we're immediately introduced to Troy and his appetite for bluster. He's challenged the management at his job with the question "Why you got the white mens driving and the colored lifting? What's the matter, don't I count?" Troy's a sanitation worker and his overture pay offs— he's promoted to driver while not actually knowing how to drive—but the true Rosebud of the story lies in Troy's bitterness about not being accepted as a professional baseball player. He had a gift for the game and racked up hits in the Negro leagues but was too old to make the move to the Majors in the post-segregation era.
Troy's enormous resentments over his loss of opportunity drive the conflict with his teenaged son, a promising athlete being scouted for a college football scholarship, and with his wife, whom he loves and cares for but around whom he feels he can't be all the man he wants to be.
The story's set up is splendid and Wilson's language is customarily enthralling—from Troy's banter with his longtime friend Bono (pleasingly portrayed by Doug Brown) and his rascally come-ons to Rose to his workingman's dissertations on responsibility, manhood, life, death and everything in between. The man tells stories like other men pound anvils and in true Wilsonian fashion the monologues sing. Troy's tales of "wrassling with Death," making a deal with the devil and the glimpses of his sharply tragic youth in the sharecropper South in the decades after the end of slavery are beautifully wrought, engaging and horrifying.
---

Fences closes October 27, 2019. Details and tickets
---
But once the axis of balance quietly shifts toward Rose after Troy's revelation of betrayal, the play slowly falls apart. The dialogue becomes stilted and actions contrived as scenes unconvincingly dribble out in vignettes. There's no real climax to speak of, and reconciliation is presented as an afterthought rather than worked through in the way a drama should.
Flaws aside, it must be the things which make Fences seem timeless—the tornadic force that is Troy Maxson; the image of him in his backyard, bat raised, squaring off against the future; and the modest simplicity of the scenario, father and son and husband and wife amidst an unfinished life together—that wrap it in our protective admiration.
The Ford's Theatre production is graced with marvelous production design. Lauren Helpern's set is a fine mix of brick rowhouse naturalism upfront and graphic art in the form of a blown-up photograph of the Hill District setting as a backdrop. Andrew R. Cissna's lighting works its magic to complement the play, most especially during the plaintive evening scenes when shadows fall across the yard, while Helen Huang's period costumes fit the bill perfectly.
Fences is adorned with blatant allegory, with the fences of the title and the fence being built over the course of the play as the most obvious. The fence is symbolic of the emotional barrier that Troy has erected between himself and his family, of course, and represents defensive preservation from Rose's point of view, but is most striking to me as the crutch of perceived racism, one of the seemingly highest insurmountable fences our society is working through.
Embittered by his ruined past, Troy can't see what his teenaged son can—that the country is on the cusp of transformative change for black Americans and opportunity exists. The tragedy that cuts deepest in Fences is that the father, firmly planted in the past, holds his son back from striding with purpose into the future.
---
Fences by August Wilson. Directed by Timothy Douglas. Featuring Doug Brown, KenYatta Rogers, Erika Rose, Jefferson A. Russell, Craig Wallace and Justin Weaks. Scenic design by Lauren Helpern. Costume design by Helen Huang. Lighting design by Andrew R. Cissna. Sound design by Nick Hernandez. Hair & makeup design by Danna Rosedahl. Production stage managed by Brandon Prendergast. Produced by Ford's Theatre Society. Reviewed by Roy Maurer.