As A Christmas Carol is to the theatre, so is The Nutcracker to the dance. It's the perennially performed ballet that defines the holiday experience for many families — and provides a dependable revenue stream for many companies.
A particular DC tradition these last many years has been Washington Ballet performing a production choreographed by its former Artistic Director Septime Webre (who has moved on to lead the Hong Kong Ballet). Webre's version sets the Tchaikovsky classic in 19th Century Washington.
By the time the run is completed on December 29th, the cast will have included scores, if not hundreds, of dancers, as the principal players are supplemented by students from the affiliated Washington School of Ballet (which this year marks its 75th anniversary).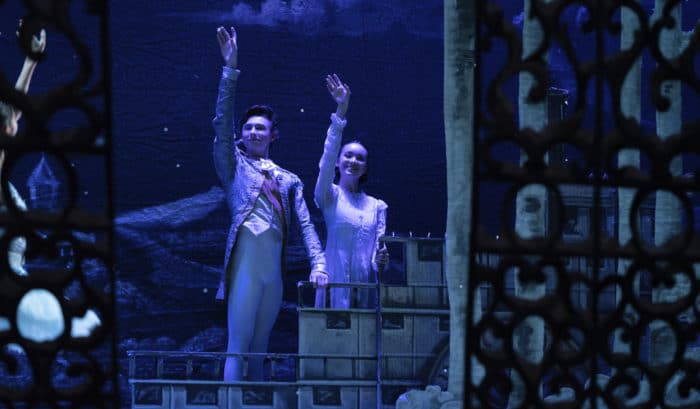 It is this aspect of the performance that gives Washington Ballet's The Nutcracker its greatest charm, as well as its most astonishing attribute. The mix of professional and student; of dancers of varying ages; and of dancers of varying skill and aptitude and talent, somehow all meshes beautifully.
---
The Nutcracker from The Washington Ballet closes December 29, 2019. Details and tickets
---
As my husband pointed out, one watches the youngest in the cast and thinks, not, "Oh, how cute…they're trying; isn't that adorable?" No; one thinks, "Wow; they are all impressive in their own right. They belong there. They all fit." It's all of a piece: a wonderful, enchanting, gorgeous piece.
Coming from a (non-musicals, anyway) theatre point-of-view, it's wildly impressive to contemplate how so many moving pieces are integrated and balanced so well. Most of the principal roles are shared by three-to-five dancers over the course of the run, while the ranks of "Snow Angels" will near the one hundred mark. Even if, on press night, we were seeing the A team, the depth of talent is so impressive, and the care taken to insure quality is so apparent, that I would feel in good hands with the B team, or even with the Z team.
In theatre, speech generally determines focus, so another cross-discipline difference that this theatre refugee at the ballet noticed is how much detail Webre articulates at any given moment; how various points on-stage all operate as if they are the prime focus. Of course, there are the pas de deux, and other showcase sequences, when focus is more specific, but, particularly during the family scenes in the first act, the richness of the mise-en-scène is impressive.
I was there not only with my husband, but also with my seven year-old twins, and they were spellbound — I mean, leaning-in with rapt attention spellbound. On the ride home, as I am wont to do, I asked what were the most memorable moments for each of us. I asked for three; my daughter Ivona stopped herself between two and three to ask if she could add a fourth and then a fifth, there had been so much for her to enthusiastically recall and savor. For me, seeing it with my children also meant a split focus between the cornucopia of on-stage images and the joy of looking down-row to see my children so mesmerized.
[adsanity_rotating align="aligncenter" time="10″ group_id="1455″ /]
I can't find fault with our wonderful evening, though I will say that the conceit of placing it in Washington yielded insights at the same time as it resisted a completely satisfying overlay. The music retains its Imperial Russian-era flavor, and some of the design, when viewed while listening to the score, reads as much European as it does 19th Century Washingtonian.
(The ornateness of the Warner Theatre, I suppose, underscores the European vibe. I've seen dozens of performances at this space over more than forty years, everything from Shakespeare to a Ramones concert, and I've never before noticed quite how gilded is the decor.)
However, the analogs that Webre rand his collaborators have found, replacing certain aspects of the original with recognizably American totems, allows the concept to bring a distinctness to the production, and nicely appropriates an Old World classic into a New World context.
Webre's design team (Scenic Design: Peter Horne; Costume Design: Judanna Lynn; Lighting Design: Tony Tucci) works in superb synch, creating stunning winter-scape images in white and blue. Horne and Webre cleverly incorporate the box seats nearest the stage into the playing area. The second half opens with a breathtaking arial image that defies easy explanation. Could it be a projection? But the dancers appear to be live; wow.
The program doesn't indicate which principal dancers perform on a given night, so I can't speak specifically about who I saw dance which role. I can report, though, that the skill of the dancers elicited gasps and (appropriately-conjugated) shouts of Bravo.
I admire the company's obvious dedication to the value of diversity. I had recently watched, with my children, the PBS documentary about Misty Copeland (A Ballerina's Tale) which contained shocking accounts of how the dance world enforced preconceptions about skin color and body type to which dancers (particularly women) were forced to conform. It's gratifying to see that those exclusionary notions have begun to crumble, and are resisted at Washington Ballet.
Given that there is so much talent displayed by so many dancers, whether professional or not, I was left wishing that the orchestral talent our region undoubtedly also has to offer might could be recruited to provide live accompaniment. (I understand how much work that would entail, but that's the thing about us ink-stained wretches; we're always asking for more.)
If you've experienced The Nutcracker at Washington Ballet before, I can't imagine that you wouldn't want to again, and I can't imagine that you would be disappointed at a return viewing. If you haven't experienced it yet, give yourself, your family, and your friends a real treat and see it this season.
The Nutcracker is a holiday tradition that has stood the test of time; and this Washington Ballet production is one that is aging wonderfully well.
---
The Nutcracker . Music by Pyotr Ilyich Tchaikovsky . Choreography: Septime Webre . Scenic Design: Peter Horne . Costume Design: Judanna Lynn . Lighting Design: Tony Tucci . Stage Manager: Susan Kilbourne . Produced by The Washington Ballet . Reviewed by Christopher Henley.