The Theater Alliance production of This Bitter Earth by Harrison David Rivers is a lusty, delirious, time-suspending and pulse-pounding journey. It is also – as intimated by the title – both a vigil that is being kept for hope and "chronicle of a death foretold."
Instead of being related to us in a linear way, the story moves backwards and forwards in time – the way memory often works in someone who has been traumatized and/or is grieving.  We are shown how this black man (for whom taxis often do not stop, no matter how he's dressed or where he's going) and this white man (for whom taxis often stop after passing up this black man) experience what appear to be the same incident in profoundly different ways.
The one thing lovers Jessie (Justin Weaks) and Neil (Noah Schaefer) completely agree on is Essex Hemphill. The words of Hemphill, a black, gay, Washington, D.C. native son and poet, are their touchstone for expressing and clarifying what the life stakes are for a black gay man – both as a black man and as a gay/ same-gender-loving man- and what value and respect he is due for both, inseparable aspects of his identity and humanity.
When Jessie, a young, black, aspiring writer, first encounters Neil, a young, white, social activist, Neil is spouting Essex Hemphill's words through a bullhorn while hanging from the genitals of a (Confederate?) statue during the Black Lives Matter protest in response to the Trayvon Martin murder.

This Bitter Earth closes March 22, 2020. DCTS details and tickets
The play asks us to contemplate the question: can you (should you) fall in love across historical lines of racial, social and economic oppression, privilege and inequality. And if, despite everything, you do fall in love across such boundaries, how do you do so with sanity, coherence and integrity? The show crackles with the social and career aspirations, identity frustrations and libidinal uprisings and explorations that reach their peak in young adulthood, while we watch the two men grapple and dance with that question.
Every aspect of the production is inspiring. The set (Brian Gillick)– bed, desk, bench and doors placed on raised platforms on a floor painted in swirling pastel colors (Leila Spolter) – emphasizes the "Godot"-like suspension of place and time that our protagonists' lives inhabit. Above the set are hung ominously foreshadowing shards of glass. In conjunction with the repeated instances of the sound of breaking glass, this help establish a sense of dread.
Projections (Nitsan Scharf) of the lovers' eyes and lips: paradoxically suggest images of the beloved and acts of constant surveillance at the same time. Are the lovers seeing each other through the eyes cleansed by love or through the lens that white supremacy has constructed for them?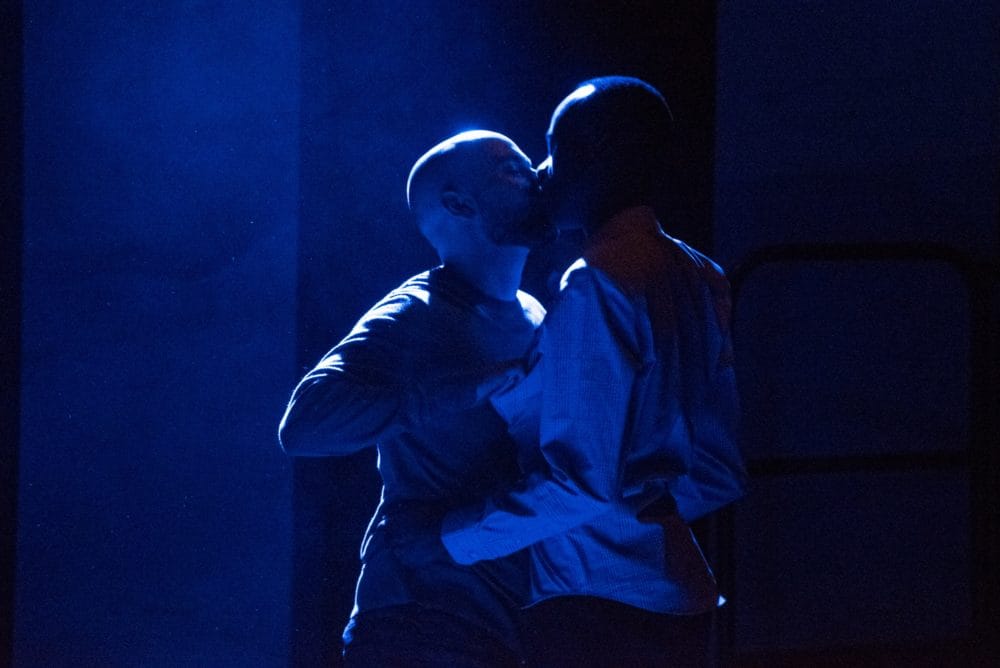 Movements, especially in the repeated segments of two lovers walking down the street after leaving a bar, brought to mind the lines of another, unspoken, Hemphill poem upon the death of writer-editor Joseph Beam: "When My Brother Fell." The specifically sexual moments (intimacy choreography by (Dane Figueroa Edidi) were fearless: avoiding the precious, the performative or the pornographic, and instead evoking the private – and sometimes sacred – journey into and through each other that sexual partners make.
Justin Weaks literally embodies Jesse's constant wrestling with his contradictory or paradoxical impulses.
Noah Schaefer was, by turns, adorable and inspiring as he leaned into Neal's relentless return to self-examination.
"But while a voice within me cries, I'm sure someone may answer my call.  And this bitter earth may not be so bitter after all."
– a song written by Clyde Otis and made famous by Dinah Washington
Otis Ramsey-Zoe's direction deftly facilitates the spontaneity of the performers' exploration of their characters' mercurial given circumstances and folds into the final product historic references that the text assumes but doesn't mention.  Including the posthumous version of Dinah Washington singing "This Bitter Earth" rather than the 1960 version, for example, must do something different for baby boomer, black, same-gender-loving men than for the rest of the audience.
[adsanity_rotating align="aligncenter" time="10″ group_id="1455″ /]
In 1989, at the height of the AIDS epidemic, filmmaker Marlon Riggs made "Tongues Untied," a film that offered what Riggs called a "transgressive representation" against the type of thinking that insisted that 1) "one who is African American and particularly is into the African American community cannot be gay" or 2) the image of what it means to be gay excludes Black people. Riggs used the incisive, elegant words of poet Hemphill to bring that message home. In This Bitter Earth, we see the influence of Hemphill's words on the two members of a new generation of same-gender-loving/gay men – one Black and one white – as they navigate a world  that is post-AIDS epidemic and post-marriage equality. A world that is, nevertheless, still filled with the epidemics of homohatred and white supremacy.
---
This Bitter Earth by Harrison David Rivers.  Director, Otis Ramsey-Zoe. Assistant Director, Vaughan Ryan Midder. Lighting Designer, John D. Alexander. Scenic Designer, Brian Gillick. Sound Designer, Justin Schmitz. Costume Designer, Brandee Mathies. Props Designer, Eric Swartz. Projections Designer, Nitsan Scharf. Intimacy Choreographer, Dane Figueroa Edidi. Master Electrician, Elliott Shugoll. Scenic Artist, Leila Spolter. Assistant Scenic Artist, Megan Holden. Stage Manager, Thomas Nagata. Takeover Stage Manager, Genny Ceperley. Line Producer, Aria Velz. Reviewed by Gregory J. Ford.