It would be easy to say Damn Yankees is a timeless musical — it would be easy to say it is "pulled from the headlines" and lastly it would be easy to call it an old fashioned, feel good, crowd pleaser.
To be honest it is all of those things and more. This show reminds us of a time when things were a lot simpler, as the song goes.. "All you really need is heart" and this show has plenty of it. You can count on this musical to be a perfect family outing and there were many families in the audience on the evening I attended. Artistic Director Molly Smith has hit a home run with a musical filled with great songs, colorful 1950s retro staging and wonderfully designed costumes.
Based on Douglass Wallop's best-selling 1955 novel "The Year the Yankees Lost the Pennant" Damn Yankees is the story of one long suffering fan who is lost to his wife six months out of every year during which time the Washington Senators consistently lose to the NY Yankees. A variation on the oft told story of "I would sell my soul for…." Joe Boyd (Lawrence Redmond) makes his pact with the devil also known by his earthly name of Mr. Applegate (Brad Oscar) to become the long ball hitter for the hapless Washington Senators. By doing so he becomes a young, strapping, famous, big league ball player named Joe Hardy and the idle of thousands of adoring Senators fans. He has to temporarily leave his loving wife (Kay Walbye) to realize his dream but soon realizes that he misses her more than he can stand.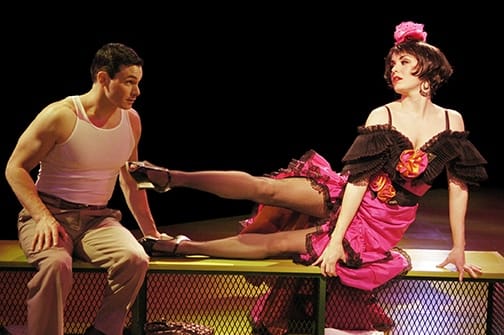 He asks Mr. Applegate to exercise an escape clause in his contract that allows him to back out of the deal by a certain date. Anticipating that Joe would do just that, Mr. Applegate has already turned to his most sultry temptress (Meg Gillentine) to lure Joe back to the fold as the big game and the deadline draws near.
Brilliantly choreographed by Baayork Lee this show includes some very clever numbers. "Six Months Out of Every Year", my favorite, included a dozen or so retro 1950's TV sets, their screens glowing with pastel colors, whirling around the set guided by dancing Senators fans. Meg Gillentine (as Lola) delivers the goods in a fantastically hot "Whatever Lola Wants" that got a great response from the audience and the players deliver an uplifting (you gotta have) "Heart".
Packed with great performances, Damn Yankees is musical theatre at it's best. Mr. Oscar is devilishly sublime as Mr. Applegate — he dazzles the audience with a self assured stage presence. Mat Bogart is no less than perfect in his role as the hero Joe Hardy — he has all the tools needed to portray a singing baseball idol. Cindy Marchionda is energetic and spunky in her role as Gloria Thorpe the reporter hell bent on uncovering the truth behind our home run hitting baseball hero. The rest of the sizeable cast performs very admirably from start to finish. My only disappointment was the very small role for Tracy Lynn Olivera who was enchanting in The Last Five Years earlier this year at MetroStage. She is a super talent and I wished she had a larger role.
With the Redskins and Wizards going nowhere fast, my holiday recommendation is to head over to Arena Stage and see the Senators play the Yankees. The singing, dancing and wonderfully colorful staging is a treat for theatre and sports fans alike.
---
Damn Yankees . words and music by Richard Adler and Jerry Ross, book by George Abbott and Douglass Wallop, based on Wallop's novel "The Year the Yankees Lost the Pennant." Directed by Molly Smith. Music direction, George Fulginiti-Shakar. Choreography, Baayork Lee. Cast: Joe Boyd – Lawrence Redmond Meg Boyd – Kay Walbye Mr. Applegate – Brad Oscar Joe Hardy – Matt Bogart Van Buren – Michael L. Forrest Gloria Thorpe – Cindy Marchionda Welch – J. Fred Shiffman Lola – Meg Gillentine <b>With:</b> Rayanne Gonzales, Lynn McNutt, Stephen F. Schmidt, Tracy Lynn Olivera, Christopher Bloch, Harry A. Winter, Stephen Gregory Smith, Philip Michael Baskerville, Kevin M. Burrows, Michelle Liu Coughlin, Steven Cupo, Drew DiStefano, Parker Esse, Michael S. Goddard, Deanna Harris, Ellyn Marie Marsh, Christina Lynn Phillips, Diego Prieto, Kim Shriver, John Leslie Wolfe, Kate Arnold, Shaun R. Parry.
Set design, Rachael Hauck; costumes, Martin Pakledinaz; lighting, John Ambrosone; sound, Timothy M. Thompson. Produced by Arena Stage . Reviewed by Ronnie Ruff. Opened Dec. 15, 2005.