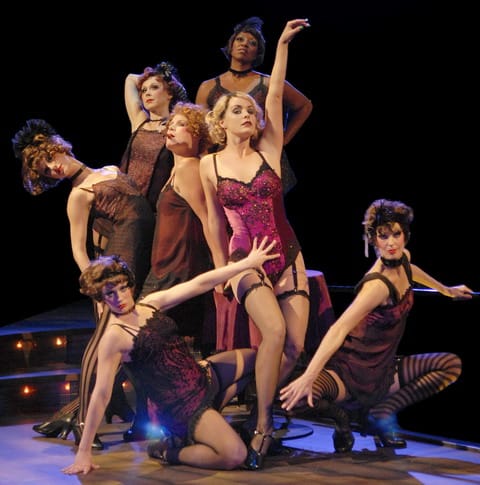 The long history of Cabaret makes it extremely difficult to produce something refreshing and new for the seasoned theatre audience here in Washington, DC.
I think, even more difficult, is the task of pleasing the critics who all have their favorite production. It was only a week or so ago that at least one major critical voice was calling for more political theatre to be produced in DC. Arena's Cabaret is overtly political and takes very risky chances with the material. Some of the risks prove to be worth it while some are less successful.
Arena artistic director Molly Smith has mounted her vision of Cabaret with an eye on the current administration. The production draws comparisons between Iraqi War atrocities such as Abu Ghraib and Guantanamo Bay and horrible acts committed throughout the early days of the Nazi's rise to power in Germany. These comparisons are pretty powerful symbols and reflect a bold view of the battle to preserve personal rights both here and abroad.
In an interview with Joel Markowitz for his Theatre Schmooze column a few weeks ago Molly expressed her pointed feelings about the Bush administration and its abuses of personal liberties. In her production of Cabaret we witness Nazi brown shirts terrorize young Clifford Bradshaw and even take time to snap posed photos (reminding us of the horrific abuses of the afore mentioned Abu Ghraib).
There are some wonderful performances, although not necessarily the ones you may be expecting. Walter Charles is simply endearing as Herr Shultz, his voice strong and pleasing, he ignores the oncoming menace transfixed only on his love for Fraulein Schneider (Dorothy Stanley). Fred Shiffman is smooth, possibly sinister as Ernst Ludwig and then there is Sherri L Edelen who takes a small role as Fraulein Kost and makes it all hers. What about the stars?  Meg Gillentine portrays the iconic Sally Bowles and has a great voice, maybe too fantastic for a role where the character does not have an overabundance of talent or class as the Kit Kat torch singer.
Brad Oscar is a different Emcee than you are used to in this role. He is a large man, boisterous and a bit clown-like but with a rather scary sneer. Is he right for the part?  Like many things in Arena's Cabaret it is up for discussion but when the talk is over, one is glad to have witnessed his performance. This is not a Cabaret that is like anything you have seen before and that's exactly what makes it work and sometimes misfire.
One of the best things about Arena's Cabaret is Austin Sanderson's wonderful costume design that brings a touch of whimsy to the show. Anne Patterson creates a lovely set that emphasizes functionality and a sense of style. The scene transitions seem effortless and snappy, a tribute to the design and direction.
George Fulginiti-Shakar is the music director and conductor and the music in this show is top notch.  Like one has come to expect with Arena, the nine piece orchestra never overcooks and we are treated to a wonderful collection of Kander and Ebb material that doesn't feel forced or strained.  The second-act reprise of "Tomorrow Belongs to Me" is possibly the show's strongest musical performance while Meg Gillentine's rendition of "Cabaret", performed curled in a fetal position on the piano is perhaps the show's most emotional number.
You might ask "Why should I see this show?"  This reviewer's answer is Molly Smith's brave direction – she gives us a show that is not afraid to point to today's headlines and say "never forget."  As the miniature train chugs across the stage and the sounds of genocide pound all around you – the black swastikas on blood red backgrounds remind us that we were fooled once before.
"Cabaret," book by Joe Masteroff, music by John Kander, lyrics by Fred Ebb   Arena Stage, 1101 Sixth St. SW  7:30 p.m. Tuesdays and Wednesdays; 8 p.m. Thursdays through Saturdays; 2 p.m. Saturdays and Sundays; and 7:30 p.m. Sundays. Selected noon matinees in October. Through Oct. 29.
TICKETS: $55 to $74 PHONE: 202/488-3300  Website
6 Responses to "Its A Brave New Cabaret Old Chum"
John Says:
September 19th, 2006 at 11:36 pm
This show was just bad! Just plain bad! "Why should you see this show?" I guess it's better then shooting yourself in the face. Maybe.
Exactly what was bad?  Was it the best show I have ever seen? Well, no. I like the discussion but I do prefer to at least have some detail vs. blanket statements. We have comments enabled here w/o requiring people to jump through hoops to register so that anyone can leave comments easily.
ED
anony-moose Says:
September 21st, 2006 at 1:55 am
What wasn't bad?  Little.  Ernst and Kost were the most believeable. The ladder was used once, and then never used again…why didn't Sally climb it at the end instead of curling on the piano in gastro-induced looking pains? The "Tomorrow Belongs to me" drag queens were offensive…what statement did that make?  Looked like "Hairspray".  Or Carol Burnett sweeping the floor… The "Cliff" was as interesting as a piece of wet drywall…I never believed that he would have sex with anyone, let alone men AND women… This also seemed like a very rich cabaret with all of their well tailored costumes… When the "Pineapple song" was sung..why the dancers in the aisles?  What a touching song cheapened by excess…but that seems to be what Arena is about…excess without justification. The toy train was offensive in its predictability, not it's metaphor. Shame.
ignorance is stupid Says:
September 21st, 2006 at 8:11 am
I am totally unsure what show the lot of you saw. this was a brilliant show, well acted, well sung and well danced. The cast was quite perfect and if you think otherwise you just don't get it. The 'Drag-Queen' comments are just plain stupid. Did you not understand the flip side of the issue? These are men, who in that time and place, were allowed and encouraged to be 100% themselves, no matter what that may have been. FREE!! A place like the current USA, right? WRONG. The US is nothing like Berlin was during the Weimar Republic (sp?) when it comes to acceptance. Like Sally says, 'people are people.' These men took this song as an anthum of there own, just as the elder gentleman, Herr Shultz, was in regard to the approaching atrocities, these men had no idea what the true nature of the song was. The real problem is that most conservative folks, or Republicans, can't seem to wrap there little brains around the 'live and let live' scenario. Everything has to be controlled and maintained to look the same and normal…because if it isn't something is wrong, or at least will be. This was a fantastic approach to a piece of theatre that most people have preconceived versions of. This was unexpected and fresh. It brought current issues into a historical parallel that may have offended some viewers who think 'this could never happen again'…well good morning and welcome into the real world. Kudos to all involved in my favorite piece of live theatre this year!!
John Says:
September 21st, 2006 at 11:29 pm
Ronnie, I apologize for my blanket statements but I have never been so offended by a show in all my years of attending the theater. I was tempted to leave at intermission but I was interested in exactly how far Molly Smith would take this production. How in the world could she compare our current situation with the Bush Administration to the Nazi Party. I am in agreement with her politics but how on earth could she draw this parallel. What we are going through is not the Holocaust. Kander and Ebb created a beautiful and thought provoking piece of theatre that Molly Smith flat out ruined. It did not need to be bogged down by some twisted concept that frankly made me sick to my stomach!
John, No worries.. I just wanted to expand the discussion.I have been thinking a lot about this show and its implications. There is no doubt the Bush Administration is not the Nazi Party but I think in this medium a reference to similarities of neo conservatives and fascists cannot be effective unless it is over the top and begs for your attention. The overt militarism and whipping up fear in the populace were fascist tactics at that time. If someone would have told me 20 years ago the America of my childhood would be advocating water boarding prisoners and keeping them in jail for years without access to council or a trial I would have said "no way that is Cuba or the USSR".  All that said I am glad that the show creates this dialog and I am certain that is what was intended.