You've seen this before…if not the original, Helen Hayes-award production, then Seinfeld's Jerry, George, Elaine and Cosmo as they sought to become Masters of the Universe. Or any other effort, comic or serious, to control raging carnal impulses by denying them. Sometimes these efforts fail, which is comedy, and sometimes they succeed, which is tragedy.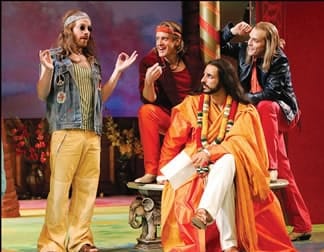 Love's Labor's Lost is comedy. The King of Navarre (Amir Arison) and his three acolytes, Berowne (Hank Stratton), Dumaine (Christian Conn) and Longaville (Mauricio Tafur Selgado) take a vow to study as monks, keeping themselves separate from women for three years. There are the usual bizarre terms – no woman may be less than a mile from them – and the usual exotic penalties: flaying, cutting of tongues, and so on. It is the conceit of this production that Berowne, Dumaine and Longaville are a sixties-era rock band and that Navarre is an Indian spiritual master. This frame fades fairly quickly – Navarre is obviously no Maharishi, and is at best first among equals – but it does justify a great deal of high-quality rock, and some excellent sitar (Brian Q. Silver).
To their misfortune, our monk wanna-bes soon encounter some smokin' motor-scooter mamas decked out in their Carnaby-Street best (Catherine Zuber's costumes were magnificent.) The Princess of France (Caroline Bootle) and her posse, Katherine, Maria and Rosaline (Colleen Delany, Tonya Beckham Ross, and Sabrina LeBeauf, respectively) are in Navarre to negotiate a possible purchase of Aquitaine. Intrigued by the astonishing response they receive, they tarry to torment the boys with their fleeting availability.
Love's Labor's Lost is a ship of fools – no, a whole nation of fools. There are fools for love; there are fools for the love of words – Holofernes, a schoolmaster (John Robert Tillotson), Sir Nathaniel, a curate (Drew Eshelman) and Don Adriano de Armado (Wynn Harmon), who pronounces his own name as though it were some sort of magic charm. These men speak between them, haltingly but with great conviction, a language so pretentious, obscure and – dare I say it – just plain wrong that one wishes for subtitles, sometimes. There is a snorting officious fool named Dull (Rock Kohli) and a sort of fool-in-chief, Costard (the magnificent Michael Milligan) who, stoned out of his mind, staggers around the stage spilling accidental wisdom for those who would have it.
The Navarre group comes to realize, almost too late, that though love makes them fools it makes them human fools, and that it is better to embrace the animal than to live as machines. In a gorgeous speech at the climax of the first Act. Berowne puts it to them that to love freely, as a human animal, makes them fully men, and of more use to women than they could otherwise be. Having finally received enlightenment, the band breaks into a roof-raising rocker that brings down the house, and brings up the lights.
The second Act belongs to the women. They are not fools, but they are not wise, either. For their own amusement, they torment the love-besotted men, pointing out the ease with which they abandoned their previous vows, trivializing the gifts the men gave them and pretending to be each other to confuse them further. Only when one woman becomes pregnant, and another fatherless, do they begin to realize that love can bring constant joy in an inconstant world. In the chivalric tradition, they each give the man who courts them a year-long quest. Rosalind's quest for Berowne tied the themes together best: he is to go to hospitals and seek out the sick and sad and make them laugh.
This production is full of irrational exuberance, joyous and giddy. Ralph Funicello's set, illuminated by Mark Doubleday's subtle lighting, radiates a Peter Max-like defiant optimism. Adam Wernick puts together some very cool music which is nonetheless not too complex for actors to learn to play on short notice. Choreographer Karma Camp accomplishes the miracles we have come to expect of her. Her work with Chief Fool Milligan is wondrous to behold.
One of the great advantages of setting the play in India was that the fine actor Nitya Vidyasagar could play the role of Jaquenetta. Vidyasagar, whose lucid voice is well fitted to Carter-Barron's voluminous reaches, moves to Silver's sitar with such fluid grace that at times she appears to be music itself.
Love's Labor's Lost, however, is a play which rises and falls with one actor. Hank Stratton's Berowne is everything you could ask for from the role. Reasonable when he needs to be reasonable, passionate when passion is a natural response, Stratton is utterly convincing in everything he does on stage. He makes Berowne both human and noble, and in so doing ennobles the entire production.
Love's Labor's Lost continues until June 3 at the Carter-Barron amphitheatre on Colorado Avenue near 16th street, in Rock Creek Park. All shows are at 7.30, and tickets are free. You can pick up as many as 4 tickets on the day of the show at The Washington Post, 1150 15th Street NW (through Friday only), Shakespeare Theatre Company, 450 7th Street NW , or at the amphitheatre. You can reserve as many as 4 tickets online through May 31 if you have an on-line account with the Shakespeare Theatre.
# # #
Postscript: Love's Labors

It was a curious sensation to watch this fiercely joyful and life-affirming production on the evening of Gilbert Mead's death. The Shakespeare Theatre's free production was one of the few theatrical benefices in this town that was not funded, in whole or in part, by Mead and his awesome wife, Jaylee. But there is no doubt that the rich and diverse pool of acting and other talent which exists in the nation's capital would be significantly less had the Meads not donated with such astonishing profusion to its development.
Cautious philanthropists like Bill Gates and Warren Buffet carefully and incrementally plan their giving to maximize effect without overly disturbing their corpus of wealth. The Meads just wrote the check. Like the characters in Love Labor's Lost, and like Shakespeare himself, the Meads appeared to understand that love is a state of grace, and that it is better to wallow in it than to parse it out like a miser. The Meads might drop three bills to help a struggling company, or $90 million to help a really good one. Gil Mead might buy your company a computer system, and then come over in work clothes to install it.
Mr. Mead was a wealthy man, and he used his wealth to give his friends and his community the pleasure of theater. But to me the telling thing about him was that after retiring from a fabulously successful career as a physicist, he went through the drudgery of becoming a lawyer (at 67!) simply so that he could help his friends.
Sweet, exuberant, joyous, noisy (I'm told he played a mean piano), Gilbert Mead was quite an example for the mouse-hearted bureaucrats of this town. Gil Mead, fool for the love of theater, God rest your good soul.
Love's Labor's Lost

By William Shakespeare
Produced by Shakespeare Theatre Company
Directed by Stephen Fried
Reviewed by Tim Treanor