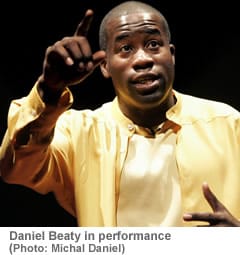 A conversation between Emergence-SEE!'s Daniel Beaty and Washington, DC story teller Amy Saidman.
A fascinating and thought provoking discussion which illuminates the transformative play and the man behind this electrifying performance.. "My story is for everyone. Although people come from diverse backgrounds, they see themselves in the characters I create. The show becomes a model of the world we want to create where we see ourselves in each other."
Produced by Lorraine Treanor
Daniel Beaty is the writer and performer of the two-time Obie Award-winning solo play Emergence-SEE!. As an actor, singer, writer, and composer Daniel has worked throughout the US, Europe, and Africa in a variety of styles ranging from television to solo concerts to theatrical productions to opera including performance at The White House, The Kennedy Center in tribute to Ruby Dee and Ossie Davis, and The Apollo. Daniel is also the 2004 Grand Slam Champion at the world famous Nuyorican Poets Cafe and The Fox Networks' National Redemption Slam Champion. His first CD of poetry and music titled Introducing Daniel Beaty has just been released.
Video of Daniel performing on Def Comedy Jam: Knock Knock from Emergence-SEE!
"We are not our parent's choices. We have the power to change the world. One little boy and girl at a time."
As Director of Speakeasy DC, story teller and comedienne Amy Saidman has probably seen more solo performances than anyone else in town.
If you've never had the fun of attending a Speakeasy DC event, here's a video introduction.
The highly acclaimed Emergence-SEE! played to packed houses in the off-Broadway Public Theater.
After a sold out weekend at Arena last February, Emergence-SEE! has returned for a limited run which ends July 22nd.
Click here to listen to the conversation.
For tickets to Emergence-SEE!, visit Arena Stage.