A Conversation with Batboy Stars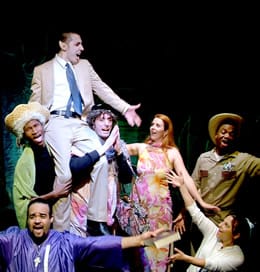 It is one of my favorite musicals, so I snapped up the chance to talk with Matt Macis (Edgar/Batboy) and Talia Segal (Shelley) about their roles in Landless Theatre Company's production of BATBOY: THE MUSICAL.
Matt tells us how he made the Batboy role uniquely his own when others copy its originator, Deven May's performance. Matt and Talia talk about their biting relationship in the show, the advantages of performing in DCAC's small space, and offer us a sample of their songs from the show.
Among my favorite moments – when Matt,  a Michael Jackson impersonator, sings  a song from the show à la the gloved wonder.
Read Gary McMillan's rave review here.