As I prepare to see Glory Days at Signature Theatre, Cookin' at the Cookery at Metro Stage and La Cage aux Folles at Toby's The Dinner Theatre of Baltimore in the next week, let me tell you about three musicals that I enjoyed this month.
42ND STREET AT ACT TWO
Kevin Kulchar knows how to direct a musical, and he knows how to inspire young actors to perform like veteran performers. There are many theatres in the area who produce musicals who could learn a thing or two from Act Two. With Gigli Buscaglio and Nancy Newell's toe-tapping, razzmatazzical choreography, and Scott Sellman's eye popping production design, Act Two's  production of 42nd Street was so entertaining, gorgeous to look at, and contained exceptional performances by a cast of local, young, talented actors and singers.
A great tap musical needs great dancing and these actors and dancers tapped their hearts out. Kid Stages' reviewer Jonny Perl said it perfectly in his review:
 "Truly, there is no better remedy for the blues than "going into your dance," which is why I congratulate Gigi Buscaglio and Nancy Newell, the two choreographers of the show. The dance numbers were spectacular. Audience members both young and old cheered when they saw the young performers professionally doing wings, time steps, and Charlestons."
And a special nod to the 42nd Street pit orchestra, conducted by Keith Tittermary and the eleven young musicians who made up one of the best orchestras I've heard anywhere.
Thirty members of The Ushers joined me on January 20th for the matinee, and they were astounded by what they saw on the stage. They couldn't stop raving about the performances of Ellie Borzilleri, who is 15, and a sophomore at Walter Johnson High School in Bethesda, as the aging "pain in the ass" diva Dorothy Brock, Kristianne Oristian, also 15, and a sophomore at Our Lady of Good Counsel High School in Olney, as "the new kid on the block" Peggy Sawyer, and my Act Two favorites – Michael Brick, 17, who is a senior at Winston Churchill High School in Potomac, and who I named as one of the top ten performances of last year's musical season for his brilliant performance in Act Two's Blood Brothers,as Billy Lawlor, the hoofer with a heart of gold, and the ever-smiling and tap dancer extraordinaire Josh Kaufmann, 14, a ninth grader at Winston Churchill High School, as Andy Lee, the choreographer/hoofer rehearser.   
Listen to the podcast that Kids Stages' reviewer Jonny Perl and I recorded with Ellie, Kristianne and Julie Watkinson, 16, a junior at The Bullis School in Potomac, who as Maggie Jones, inhaled more carbs that weekend than I have eaten in the last five years. What you will hear is how intelligent, hard-working, and talented these three young up and coming talents are.
I invite all of you to see  Act Two's production of Cabaret on June 6-7, 2008 and Bye Birdie on June 13-15, 2008 at The Olney Theater Center, and see why this columnist and his friends continue to rave about Act Two's productions.
THE WILD PARTY AT DOMINION STAGE
It was courageous for Dominion Stage to mount a production of a Broadway flop – John La Chiusa's production of The Wild Party.  I have always loved the score of this show since I saw an unfortunate matinee with The Ushers in 2006 where Mandy Patinkin and Toni Colette were killing each other – vocally and physically – yelling at each other, slapping each other around, storming off the stage, missing their songs, and dumping water on fellow castmates. It brought new meaning to the phrase, "Can't we just all get along?"  It was no surprise when the show closed after a very short run.
For me, it was the performance of Patrick McMahan as the distasteful, loud-mouthed, bigoted, physically and emotionally abusive Burrs (What a nice guy, huh?"), that made the show. Patrick's manic and energy-filled performance is one I will never forget. It was exhausting watching him run around the stage and exhilarating at the same time. It was a tour de force!
Hotchitzidee!
I saw Patrick as Terry last August in Side Show at The Elden Street Players and as Mr. Bungee in The Foundry Players production of A New Brain. He possesses a gorgeous voice and is a terrific actor, pouring his heart into every role he performs.  Patrick is nominated for two WATCH Awards in the Outstanding Featured Actor in A Musical category for playing Mr. Bungee in A New Brain, and Trevor Graydon in the Arlington Players' production of Thoroughly Modern Millie. Don't be surprised if they open the envelope and his name is inside.
HIGH SCHOOL MUSICAL AT MUSICAL THEATER CENTER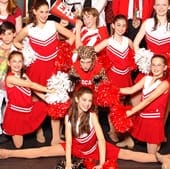 The kids love it. It's hot. It's even coming to the National Theatre for a short run next week, so, when Musical Theater Center announced that High School Musical was going to be its Winter Show, the tickets sold out so quickly that they even sold out the final tech rehearsal.
It's like an old Mickey Rooney and Judy Garland "Let's Put On A Show" show. Even though it has an extremely forgettable score, it's making tons of dough, and it's been getting kids interested in the theatre. So, bless you High School Musical!.
A special nod to Musical Director Barry Hamilton and his orchestra for their beautiful sound and for never drowning out any of the actors and singers. That's a major accomplishment, so please take a bow!
And how about DCTS's own Jonny Perl who burned up the stage, singing and dancing his heart out as the not-so-nice-until-the-end Ryan? Now that's great acting, because Jonny is the sweetest guy you'd ever want to meet.
Let me introduce you to a young actress who stole the show for me and many audience members in MTC's production. He name is Corrieanne Stein, all of 11years old and a 6th grader at Robert Frost Middle School in Rockville. Playing Kelsi Nielson, the composer of the high school musical, which is an updated take on Romeo and Juliet, Corrieanne played the composer perfectly. In the beginning of the show, she lacks confidence, while at the end of the production, she is assertive and confident.  Many of you might remember her as Roberta in Signature Theatre's production of Saving Aimee and as Little Miranda in The Tempest at The Shakespeare Theatre. This kid's going places.