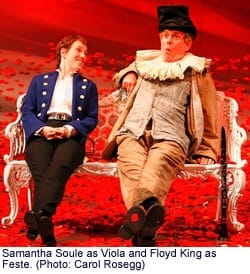 Twelfth Night
By William Shakespeare
Produced by Shakespeare Theatre Company
Directed by Rebecca Bayla Taichman
Reviewed by Tim Treanor
Twelfth Night is the best known of the Gender Reassignment Comedies, and probably the best-written as well – not for its central romantic dilemma, which seems as befuddling as all of the similar comedies Shakespeare wrote, but for the army of highly amusing, completely original and sharply-drawn side characters who scaffold the story with subplots. Despite those side stories, though, the core premise – that there could be identical twins of different sexes – is so side-splittingly wrong that it must have stretched audiences' credulity even in Shakespeare's time when men played the women's roles.
Consider: Viola (here played by Samantha Soule), an orphan, is shipwrecked in a storm which she believes leaves her brother Sebastian (Peter Katona) dead. Ashore in Illyria, she concludes that her best chance lies in dressing in her brother's clothes and posing as a boy. Soon, as "Cesario", she is in service to Duke Orsino (Christopher Innvar), who is wooing the Lady Olivia (Veanne Cox) with a spectacular lack of success. The Lady, an orphan, is mourning the death of her brother, and will not traffic with men. The Duke sends Cesario to plead his case. Moved by "Cesario's" persistence, Lady Olivia agrees to listen to his pitch. Viola (who is perhaps thinking of her own feelings toward the Duke) immediately swamps Olivia with a jetwash of grand, passionate prose, thus winning her – not for Orsino, but for "Cesario" herself. Olivia spends much of the play in pursuit of the extremely reluctant Cesario, until the long-lost Sebastian wanders into Illyria. The beautiful and wealthy Olivia, thinking that he is Cesario, pounces upon him, and Sebastian, thinking that he has died and gone to heaven, sweeps her into the bedchamber and then to the marriage altar. Eventually, of course, all is discovered, and with the gender issue resolved Orsino discovers that it is Viola that he loves and not Olivia after all.
You see the problem immediately, I hope. A woman, particularly a gamin one like Soule, might pose as a boy, but it is a much harder thing for her to pose as a man. Soule's Cesario might be taken for twelve, but only because of the sophistication of "his" speech; in silence Cesario could be as young as eight. While a woman can certainly be interested in a man younger than herself (though Orsino insists to the contrary), it is perverse to fall in love with a boy not past puberty. Leaving aside the lad's delicate features, Olivia, doesn't something about the voice tell you that Cesario isn't ready for your love? Later, when Sebastian appears, not only Olivia but a whole gaggle of people, including his best friend Antonio (Michael Sharon) mistake him for "Cesario", or Viola for him. This is simply unbelievable, in this or any production. Soule and Katona might pass for brother and sister, but no one in his right mind would mistake the compact, muscular Katona for the tiny Soule. And so it has been in every production of this play I've seen, and I've seen a lot of them.
Taichman, who has a demonstrated flair for handling difficult Shakespeare plays (her Taming of the Shrew last year was terrific), takes a bold and challenging approach to this play: she makes both Olivia and Viola into self-dramatizing hysterics. Most productions I've seen treat Olivia's proclamations of mourning and celibacy as a way to avoid unwanted suitors, but in this production it is the real thing, and a powdered, black-clad Olivia greets us with a retinue dressed in black. Cox, an actor whose range of dramatic capacity includes the operatic, delivers her mournful text in Greek-tragic tones; when she decides that she wants Cesario, she emits her passion with similar intensity. As for Viola, she begins in emotional modesty, but once she meets Olivia she appears to be infected by her. Her protestations of loyalty to, and eventually love for, Duke Orsino come to match Olivia's proclamation of love for Cesario, note by high-intensity note. In one howlingly funny scene, Olivia and Viola crouch lower and lower as they abase themselves, Olivia pleading for love, Viola pleading for understanding, until they are literally flat on the floor. Finally, Olivia, exhausted from this lingual limbo, plops back into the folds of her billowing dress. Head and arms barely visible above the mushrooming textile, she looks for all the world like an Olivia pudding.
This choice is, of course, supported – and even abetted – by the text, and by midpoint it may occur to you that Olivia and Viola are both orphans who just lost their brothers, and thus may be joined by a sympathy neither of them realize. Viola loves Orsino, but she is pleased to have Olivia's love. "I am the man!" she cries out in self-satisfied glee when she realizes that Lady Olivia is round the bend about Cesario. The look that then passes over Soule's face as she realizes that not only is she not the man, but she is not a man at all, is priceless.
Taichman's take on the play's principal subplot is similarly original and rigorous. Olivia's drunk uncle, Sir Toby Belch (Rick Foucheux), a sort of Falstaff without the charm, is staying with her, and he has brought the ridiculous Sir Andrew Aguecheek (Tom Story) with him, in the forlorn hope that Sir Andrew can win Olivia's love. Olivia's haughty, officious majordomo Malvolio (Ted van Griethuysen) wants to get rid of the lot of them. Olivia's lady-in-waiting, the shrewd Maria (Nancy Robinette), hatches a plot to get rid of Malvolio first. She forges a letter in Olivia's handwriting, suggesting that the Lady is secretly in love with Malvolio, and desires him to do some things – wear yellow socks with cross-garters, and smile constantly – which the real Olivia would find repulsive. He buys it, and the horrified Olivia has him locked away in a small cell, which was the contemporary therapy for the mentally ill. There, he is further tormented by Olivia's edgy jester, Feste (Floyd King).
This subplot is frequently played for laughs, but Taichman for the most part treats it as drama. Foucheux' Sir Toby is a mean drunk, and the scene in which he and his fellow revelers wake Malvolio up is less like a Preston Sturges comedy and more like a party in your old college dorm with the four drunk guys you knew were going to end up either in rehab or in the grave. Malvolio is no comic villain here, but a businessman whose business is deadly serious. When he reads the forged letter and buys into it, it is a terrible mistake borne of ambition and unjustified optimism, and he pays horribly for it. Malvolio is a puritan, and thus of a kind most dangerous to Shakespeare (they wanted to shut down plays). His humiliation is complete here. As he stalks away at the end, barefoot, suit smudged, hair in disarray and dignity in ruins, he cries "I'll be revenged on the whole pack of you", and you know that he will, though not until the Glorious Revolution of 1688.
There are some parts, though, that Taichman must and does treat as high whimsy. Most important of these is the character of Aguecheek, who is one of the funniest in all Shakespeare, and Tom Story does it full justice The great British comedian Rowan Atkinson once said that the essence of his comedy is selfishness. Here, Taichman and Story raise Aguecheek's self-regard to a sort of oblivion. He speaks four languages, but unfortunately none of them seem to be spoken by anyone else. He is the world's greatest warrior, in theory, but in practice he is terrified by the sight of a blade. He dresses exclusively in ridiculous costumes, one of which resembles a couch I used to have. (Miranda Hoffman's eclectic costumes are beautiful, but she outdoes herself dressing Aguecheek.) Indeed, one of the best things about this production is Story's emergence as a first-rate actor. On the heels of his excellent performance in Folger's 1 Henry IV, Story so establishes himself here.
Taichman is celebrated for, among other things, the visual touch she brings to her productions. In this production, Riccardo Hernandez' set design is principally composed of a single concave wall set against the back of the stage which serves as home for both Orsino and Olivia; lighting designer Christopher Akerlind bathes it alternately in red, green, and yellow. At moments of high romantic tension rose petals fall like snow. Petals also periodically fall from the hair of Olivia and others. I do not know what all this eye candy was telling me, but it was fun to watch.
So, does Taichman surmount the problems inherent in the play? It is a game attempt, but I'm sorry to say I do not think so.  The troubling final scene gives it away. One by one, the characters stumble on stage and see Viola and Sebastian together. One by one, they silently unlock the play's puzzle – these two people are identical! No wonder we got confused! The actors are marvelous – King is particularly brilliant – at telling this story with their faces and eyes. But the problem is that Soule and Katona are not identical and are indeed unmistakably different from each other. Thus the conclusions which the characters are drawing are false and unsatisfactory.
But the problems run deeper than that. In this play Shakespeare offers an exceedingly cynical view of love.  Olivia unquestionably falls in love with Viola. She is moved by what Viola is – by her high, beautiful language; by her loyalty to the Duke; by whatever other quality she carries with her. Yet Olivia willingly substitutes Sebastian for Viola simply because they look alike (a theme Shakespeare echoes in Much Ado About Nothing). As for Orsino, he loves a woman he used to think was a boy.  In a moment of extreme emotional honesty, Innvar takes Soule in his arms, moves to kiss her – and then turns away in revulsion. We are cheering for love to prevail, and yet there is something undeniably creepy about what we are seeing. Finally love does prevail; he smothers her with greedily-accepted kisses; undoes her shirt, and carries her off to – well, you know where he's carrying her.
One final note. If you see this play – and it has a lot to recommend it – do yourself a favor and avoid the InterPark on E and F Streets. On the night I attended they charged patrons $20 to park. Then they locked the doors to the elevators after the play began, forcing patrons to go down several flights of stairs to get their cars, apparently in violation of the Americans with Disabilities Act. Instead, consider taking the Metro, which will drop you off near the theater at the Gallery Place exit.
Running Time: Two hours forty-five minutes, with one intermission
When: Tuesdays through Sundays until January 4. Sun, Tues and Wed at 7.30; Thurs through Sat at 8; there are additional matinees on Sat and Sun at 2.  No shows on the December 24 or 25, but there are extra shows on Monday, December 22 at 7.30 and Friday, December 26 at 2.
Where: Sidney Harman Hall, 610 F Street NW.
Tickets: $20 — $79.75. Go to the website.