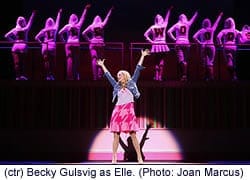 Legally Blonde
Adapted for the stage by Heather Hach from the MGM film, based on the novel by Amanda Brown
Music and lyrics by Laurence O'Keefe and Nell Benjamin
Directed and choreographed by Jerry Mitchell
Presented by The Kennedy Center
Reviewed by Debbie Minter Jackson
Legally Blonde is a big splashy musical with heart.  Sure it's got enough pink and fluff to overdose a sugary Disney cartoon, but the engaging story line, interesting character development, fun lyrics, and bouncy musical numbers are all surprisingly effective, even to the most pink-averse skeptic.  Believe me, I know.  It's the last thing I thought I would enjoy when I saw it on Broadway last year. It won me over then as much as this romping touring production has.    The show packs a walloping punch and before you know it, you're humming the tunes, bouncing to the beat, rooting for Elle, and like – oh my God, you guys, who knew?
Heather Hach did a fantastic job in telling the story and its assorted messages.  Sure the basic premise is pretty a well color by numbers adaptation of the novel and movie, but telling the story musically,  sustaining the energy, and making us care about what happens takes skill.  Dynamic duo Laurence O'Keefe and Nell Benjamin who created the music and lyrics pull out all the stops. They bring us into Elle's world, starting off with the signature "Omigod, You Guys" number that resonates delightfully through the piece.  The musical's designers have a wonderfully fresh approach to the finger-snapping melodies and fun loving lyrics, and legendary director/choreographer Jerry Mitchell keeps a flash dance whirling pace thrusting the story along with everybody's hips.  The set designers set up the fish out of water routine when she gets to the dark, somber,  heavy, high and nearly impenetrable doors at Harvard and it's funny as all get-up.
Elle Woods (Becky Gulsvig) is essentially Malibu Barbie, Homecoming Queen, the oh so typical perky bombshell blonde leading a pack of multi-colored Valley Girls of Delta Nu sorority.  See?  Nothing about that scenario gave me the slightest inkling that I would give a dang about that pinkie dog carrying, high-pitched voice inflecting, smooch inducing Hello Kitty personae.  But from the very opening scenes, Elle gets sucker punched by various turns of events and somehow this white bread mega-rich girly girl becomes, get this, an underdog who must rise to the occasion with sheer will power.
For anyone unfamiliar with the story and successful movie that made Reese Witherspoon a star, Elle Woods is so madly in love with her precious all-star quarterback Warner, that when he unceremoniously dumps her as a frivolous plaything and jets off to Harvard Law School, she picks herself out of the devastation and finagles her way there, too.
Gulsvig has the belt-out voice of a Broadway star – she understudied the role in the long running Broadway production and now makes her mark as the lead.  Legally Blonde is essentially a coming of age story for Elle who has her share of hurdles to tackle, realizations to face and decisions to make in creating her own life.  The transformations take place slowly but surely, accompanied by musical numbers that fit the mood, whether bright, frenetic and polyphonic in Southern Cal, moody with jazzy riffs when she gets serious in dark and chilly Cambridge, Massachusetts, or the sweet and simple love song in the couple's spring awakening.
Other key characters include senior legal assistant Emmett (D. B. Bonds), Elle's love interest if she could just tear her loving gaze off of Warner (Jeff McLean) long enough to see who is right in front of her.  Plus, there's Vivienne (Megan Lewis), the serious dark-haired primrose vixen, who meets Warner's expectations of being his "Jackie" in contrast to Elle as "Marilyn." And of course, there's the "Greek chorus,"  her gaggle of giggling gushing sorority sisters who pick her up when she's down for the count, dust her off, and help her face her problems, even from afar when she conjures them up as needed in almost delusional trance-like states.
The dark vs. bright neon pink contrast permeates the piece to the extent that Elle resorts to the beauty parlor to have her genetically blond hair dyed (gasp) brunette to fit in.  After recoiling in horror at the prospect, hair dresser Paulette, (Natalie Joy Johnson) with the most raucously funny delivery,  confesses "Honey if you can't make it, then what hope is there for the rest of us?!"   Paulette's own love prospects brighten when Elle teaches her the "Bend and Snap" routine to get a man, a move that also comes in handy as Elle works her way in handling a high profile murder case.  You've got to trust me here.  She works it.
Through it all, Elle learns to trust her instincts, and discovers, with work and effort, her purpose in life, progressing from pom pom girl to being a drum major for justice, even while sporting the latest Louis Vuitton bag.  Add that she gets the man who truly loves her. All this in a stunning wardrobe and heels fit for Elle Magazine. Elle makes good, looks hot, and yes, it feels good.  Legally Blonde is fun and funny with neat life lessons about being true to yourself, with just enough depth mixed into the silliness to have a really good time.
Running Time: 2:30 hour, one intermission
When: Thru January 11, Wednesday – Sunday at 7:30, Saturday and Sunday matinee at 1:30 pm.
Where: The Opera House at the Kennedy Center, 2700 F Street, NW Washington, DC
Tickets $75-95 Call: 800-444-1324 or 202-467-4600 or consult the website.