From a Swiss orphan and her new playmate, to a young Jewish boy on the verge of becoming a man, to a pitter-pattering Lord Chancellor, to a slow-competing, high-tenor singing barber, to an emotionally distraught priest, to a young sailor smitten with new love, to a hunk who is dying from AIDS, to a young soldier missing his wife, and a wife waiting for her young soldier to return home, this new installment of Scene Stealers talks about great performances by many of our local talents in musicals that graced and still grace our local stages. Congrats to all of them on their scene stealing performances, and thanks for making my theatre going experiences so memorable.
Bobby Smith  . Tara Giordano & Kate Guesman .   Bligh Voth .  Chris Sizemore . John Loughney . Wesley Coleman . David Gregory . Jeffrey Coleman . and Jase Parker with a special comment from composer Joan Cushing.
————
Bobby Smith singing, "Last Year" at See What I Wanna See (Signature Theatre).
Two years ago in this column, I named Bobby Smith the musical star of the season. I have come to know this  multi-talented actor and singer, the comedian, the teacher, the scene stealer. But, now I can add that he's  a powerful, dramatic actor.
In the second act of  Michael John LaChiusa's See What I Wanna See, Bobby plays a priest in NYC, who is having a difficult time explaining to his "flock" how they can still believe in God after the tragedy of 9/11. Bobby's heart-wrenching performance of  "Last Year" was a scene stealing tour de force. I will never forget the look of desperation and pain on his face as he sang "Last Year".
Joel: Tell us about "Last Year".
Bobby: "Last Year" is the opening song in Act 2 which the priest sings telling the Monsignor about his inability to cope with all of the need surrounding him after the 9/11 tragedy. It is a profound moment that sets up his loss of faith and belief in God.  I love his passion and his doubt in his search for truth and miracles.
Joel: What shows did you appear in recently, and where will DC audiences see you next?
Bobby: I just finished Grey Gardens at Studio Theatre, and I'll be in the long awaited revival of The Musical of Musicals – The Musical at MetroStage in August, then back at Signature for Showboat over the Holidays.
See What I Wanna See plays through May 31st. For details, click here.
————
Tara Giordano and Kate Guesman singing "Everything" in Heidi (Imagination Stage).
Sitting at Imagination Stage, I am surrounded by excited children and their parents, whose eyes are glued to the stage, because they know that they are about to see Heidi and Clara's first meeting. They all know the story. I can hear many of them turning to their parents and whispering "There's Clara!" And for me, I was interested in seeing how Joan Cushing and Marty de Silva would musicalize and capture this important moment.
What I heard was a song that had "everything." Sung so beautifully by Tara Giordano and Kate Guesman, their voices overflowing with heartfelt emotion through the clever lyrics and haunting melody. The song not only introduced us to Heidi and Clara, it also linked us to their souls. The audience immediately understood Heidi and Clara's inner thoughts and struggles, their dreams and yearnings.  "Everything" was "everything" an introductory song should be. Here it is – 3 weeks later – and that gorgeous song and those haunting lyrics, and the scene stealing voices of Tara and Kate still linger in my mind. Thankfully, there is a CD of songs from the show available to purchase in the gift store. I'm going back this weekend to buy it, so I can fondly remember the first time I was thrilled by "Eveything".
Joel: Tell us about your characters.
Tara: I think Marty [Martha King DeSilva] and Joan [Cushing] have really captured the rich emotion and magic of the story. They also celebrate the humor, which I love. The lyrics are especially unique and creative, and it is always a treat to sing something Joan has written. The parents can enjoy the witty rhymes and moving ballads, as well as the children.
The character of Heidi is a joy to play.  She is high-spirited, open, and honest. She never acts with expectation like a grown-up might. Instead she acts out of instinct, and her instincts come from a loving, generous place. It's refreshing to play a child, and one this joyful and optimistic.
Kate: Heidi is about a little girl who faces enormous challenges in her young life, yet she continuously finds the joy in every situation she's in – all while bringing happiness to everyone around her. Clara has also faced challenges in her life, but she can't find the joy in anything. She has all the "things" (the material goods) she could ever want in life, but it isn't until she gets the one thing she truly wants – a friend – that she can be truly happy.  When Heidi comes to Frankfurt, she becomes more than just a friend to Clara… she provides Clara with a reason to get out of bed in the morning, a reason to work hard to get out of her wheelchair.
Joel: Please set up "Everything" for us.
Tara: Heidi sings "Everything" when she first arrives at her grandfather's house. He has helped her make a tiny bed in a little eave with some straw for a pillow. Though she has just left everything familiar to her and has only just met her grandfather, she is so excited to be there, she can't even sleep. She is awe-struck by the stars and the moon she can see from her own little window. She has someone downstairs to love her, and she "can hardly wait for tomorrow" when she'll have new friends to play with, like Peter the goatherd. Heidi has almost nothing of material value, but she understands that with a lovely bed, the moon, the stars, and someone to love, she has "everything".
Kate: For Clara, "Everything" is a song of frustration. She knows that she has everything in the world, but she isn't happy. She's lonely, and she feels like no one even understands or cares that she's miserable. The one thing she really wants is a friend to have fun and adventures with – someone to distract her from the fact that she's stuck in a house where everyone treats her like she might break at any moment. The adults in Clara's life might mean well, but Clara wants to have fun!
Joel: How do you personally relate to "Everything"?
Tara: I think I am an optimist like Heidi is. I am a passionate person and am easily excited by some pretty simple things in life. I also have a special love for nature. My parents used to take my brother and me hiking and camping in the mountains of Maine every summer. They were both school teachers, so we had long summer vacations away together. I was taken away from my friends at home in Massachusetts, but Maine in the mountains became my favorite place to be. When we were camping, it was just my family and me together – like Heidi and Grandpa Alp together on the top of their special mountain. It was thrilling for me to sleep in a little tent under the stars, to collect wildflowers, berries, and pretty rocks when it was sunny – just like Heidi does in our musical. Like Heidi and Peter together, my brother and I would explore the woods and lakes with a sense of imagination and adventure, even playful competition.
Kate: Personally, I have had moments where I'm feeling sad, and it becomes difficult to find the joy in anything. I think that happens to a lot of people. They feel lonely or upset and nothing makes them happy anymore – they hate everything. But I'm lucky to have friends and family that remind me of all of the wonderful things I have, of how blessed I am.  I like to think that I'm usually more like Heidi – that I choose to find the "happy" in my life.
Joel: What's next for you?
Tara: The week after Heidi closes, I am headed to the ACTUAL mountains for almost a month. The project is a little different from Heidi!  It is a feature length horror film with great characters and throw-back to 70s flicks like The Shining and Deliverance.  It's called Yellowbrickroad, and I play a smart, but scared, intern on an expedition into the wilderness. There are some really talented folks working on it, and it should be delightfully twisted!
Kate: Next?  Good question!  I'm currently auditioning and loving living in such a wonderful theatre community. Heidi is one of my first professional shows, and I having the time of my life!
Heidi composer and lyricist Joan Cushing on writing "Everything":
Joan: Usually, I write my own scripts, but on this project I collaborated with Marty de Silva. She wrote the script and I wrote music & lyrics. We wanted to show Heidi's ability to turn the toughest of situations into something good. So, when she first enters Alp's house, a very plain home, she immediately finds it warm and cozy. When he suggests she sleep up in the loft, on a pile of hay, instead of complaining, Heidi finds it lovely, with her own window to look out on the stars. She literally feels that she has "everything." At the same time, Marty wanted to introduce the character of Clara, an invalid girl in Frankfurt, who is spoiled and pampered, and uses a wheel chair so she won't hurt herself walking.  (She had rheumatic fever as a child, and it weakened her leg muscles.)  Clara has everything a child could want, a beautiful home, fancy clothes, a father who loves her, but she is unhappy, and hates everything.
The lyrics – For some reason, early on I came up with the lyrics for Heidi in her loft:
I have the moon,
And I have the stars,
And I'll have the sun in the morning.
I have everything.
As we couldn't figure out how to use the same theme with Clara, we threw out this idea.  But I couldn't get it out of my head.  Eventually, I was able to turn it around and use it in different ways for both characters.
We both felt the two girls should sing a song that had the same lyrics, but opposite meanings for the girls. It took a lot of throwing out of ideas and brainstorming before we came up with "everything." So the first time it is sung, Heidi sings "I have everything" and Clara sings "I hate everything."
Joel: How does the song move the story along?
Joan: We used the "Everything" music as underscoring whenever we portrayed the two girls together, or a scene where one of the girls was changing.
Later in Act II, the girls have switched places emotionally.  Heidi is in Frankfurt where she cannot see the stars at night, does not feel loved by anyone, and misses "everything," especially her grandfather; whereas Clara now has a real friend, and she looks forward to every day.  She has "everything."
Joel:  Why are Tara and Kate's performance of "Everything" worthy of a Scene Stealers honor?
Joan: Tara Giordano invests Heidi with a sunny, indomitable personality, and a beautiful energy that lights up the entire production. Tara also renders the heartbreaking moments beautifully. Kate brings a sense of defeat and acceptance to her Clara character, until she comes into contact with Heidi. She then becomes more alive, and more defiant of her overbearing caretaker. She also has a beautiful voice.
Heidi, which runs through May 17th.  For details, click here.
———
Chris Sizemore singing, "Sarah"  & Bligh Voth singing, "Missing You (My Bill)" in The Civil War (Ford's Theatre).
In the midst of the loudness of The Civil War, there are two moments where two young performers – Bligh Voth and Chris Sizemore – (who, along with Felicia Curry as Eponine, stole Signature Theatre's Helen Hayes Award-winning production of Les Miserables for me), sing two beautiful songs – "Missing You (My Bill)" and "Sarah". And in Bligh's country Dolly Parton-like voice, and Chris's sweet and clear voice, their renditions emit volumes of emotion and longing, and acceptance, and tears. These two spine-tingling voices envelope the newly-renovated Ford's Theatre with sheer beauty and sadness.
Chris Sizemore singing, "Sarah" in The Civil War at Ford's Theatre.
Joel: Tell us about yourself.
Chris: Well let's see. I'm a 30 year old Pisces, tall, dark, and handsome (and by that I am short, stocky and bald) hahaha. Ok that was my attempt at humor. I actually started singing when I was 8 and never looked back. I moved out here about 6 years ago, and have been working hard trying to make a name for myself. I got a BA in Marketing, which in turn actually helps me on the business side of theatre. Since I've been out here I have had the chance to work at Way Off-Broadway, Toby's, Olney, The Kennedy Center, Imagination Stage, Signature and now Ford's.  I am one of the lucky few that can say that I do theatre full-time. Theatre is an amazing thing. I love it and the feeling you get when you just lose yourself in a role, or when you let all your passion and emotion come out during a wonderful song. I feel lucky to be doing what I love everyday.
Joel: Please set up "Sarah."
Chris: "Sarah" is a song based on a letter written, by William Sutherland (Bill) to his wife Sarah. Many of the songs in the show were actual letters that were written by soldiers, wives, nurses etc. "Sarah" is actually a prayer that Bill is writing to his wife Sarah.  In the song, he states that he is basically getting ready to head into battle, and will probably not be coming back to her unless "Fate is kind". Throughout the song he relives some of the wonderful things about Sarah, and how – no matter what – he will always be with her watching down on her. The one thing to remember with this song is that all of these men wrote letters like this knowing that they probably would never see their wives and families ever again. I don't know how I could write a letter like that knowing you were probably going to die soon.
Joel: How do you relate to the song?
Chris: Well, obviously I have never been in a war or married, so it was different for me.  With this song and so many of the songs in the show, you just have to let the words do the talking/ acting for you and sing- the best you can – to do justice for the message of the song. Bill is like any of those men who went out there and fought for what they thought was right, and for their family. And, to know that they probably were not coming home, and they still did what they did, gives you all the emotion and inspiration you need to sing the song. I'm honored to be in this show and singing this song.
Joel: What's next for you?
Chris: I will be doing a workshop at Signature in July, and then will be part of Signature's upcoming production of Showboat.
———-
Bligh Voth singing, "Missing You (My Bill)" in The Civil War (Ford's Theatre).
Joel: Tell us about yourself.
Bligh: I'm a DC native who is back from school in Boston for the spring with the privilege to perform in The Civil War at Ford's Theater. I am currently taking a semester off from The Boston Conservatory, where I'm pursuing my BFA in musical theatre, to work back here in my hometown. I'm absolutely delighted to be back here. I missed it!
Joel:  Set up "Missing You (My Bill)" for us.
Bligh: In the original production of The Civil War, the songs I sing belonged to the character Sarah Sutherland, an actual real confederate wife during the Civil War, whose husband was lost in battle. The story line between Sarah and Bill in the Broadway production was a much more prominent plot focal point than it is in this production. Both songs, to my knowledge, have never been sung in a country style before, and because of that the choice was made to make Sarah a union wife instead, although this might not come across as an evident difference for this show. "Missing You…" tells the story of a soldier's wife making the decision to remain positive and live everyday moving forward even with the harsh reality of how much she misses Bill. It's a simple ballad of longing for something and someone she can't have, and of her choice to remain optimistic and strong through it all.
Joel: How do you relate to the song?
Bligh: I certainly relate to the perseverance aspect of this song – the character's desire to see a light at the end of the tunnel. Just recently – actually – the lyrics to this song have really hit home for me for some reason, I think it's really very simple and beautiful. I used to think "Honor of Your Name" was the more emotionally invested song for me, and maybe the song with the lyrics that I more relate to. But now, I'm really enjoying singing "Missing You" and having that realization of the pain and anger and frustration and longing and hope and loneliness, and all other emotions that can culminate while missing someone, and yet still having to put on the front of calm. I get this feeling, and I believe the lyrics and music back me up, that the character of Sarah has a problem allowing herself to feel vulnerable, and that is certainly something I can relate to and understand.
Joel:  What's next for you?
Bligh: I am absolutely thrilled to be going to London for the summer studying at the Royal Academy of Dramatic Arts under their Shakespeare intensive! I love musical theater and singing, don't get me wrong, but I feel most fulfilled when there is a chance to delve into some Shakespeare, so, to London I go!
The Civil War plays through May 24the. For details, click here.
———–
John Loughney singing, "You Gotta Die Sometime" & Wesley Coleman, singing "The Miracle of Judaism" at Falsettos at Elden Street Players.
Falsettos has always had a soft-spot in my heart. In 1992, I lost 20 of my friends to AIDS. I was attending funerals almost every week. I was even officiating at memorial services, writing eulogies for these friends and some of their friends, and reciting Hebrew prayers and the Kaddish at their gravesides. When a friend convinced me to see Falsettos at The Golden Theatre in NYC, I was hesitant. Wasn't I going to NYC to escape all the heartache and "the disease"? But, after seeing Falsettoland and laughing and crying, I realized that I was seeing history on the stage – two men singing a love song to each other – and families and friends, and ex-wives and lovers, accepting each other unconditionally. And, although I knew that once I left the theatre – as reality returned – and that what I saw on that stage may never exist in my lifetime in my own country, I was  filled with hope and I was rejuvenated, ready to face anything that was about to come my way, including more funerals and grief.
Since that performance, I have never turned down a chance to see a production of Falsettos, and when I was sitting in the production of the show at Elden Street Players, those 1992 memories flooded back to me because of the powerful performance of John Loughney as Whizzer, who is dying of AIDS,  and young Wesley Coleman, who played the very annoyed Bar Mitzvah-bound Jason. Here, 27 years later, William Finn's powerful and sung-through score still hits home. John and Wesley, and their performances of "You Gotta Die Sometime" and "The Miracle of Judaism" were the highlights for me. Powerful and funny and unforgettable.
Joel: Tell us about yourself.
John: Well, I started dabbling in the theater back in high school, and my first role was in some silly little show called The Mouse That Roared. I had one line which wasn't even in the script, the director made it up for me. The line was "Your shoe's untied." It really helped to progress the storyline :). In college (Dickinson College), I focused my time and energy on all aspects of theater, from writing, directing, backstage work and some design aspects. I did a lot of acting, but not much musical theater at all. I performed in two musicals and about 10 straight shows. Upon moving to DC, I've done about a dozen musicals…and who knows what's to come. I'd love to get back into writing, directing and keep growing musically.
Joel: Set up "You Gotta Die Sometime".
John: Well, up to this point in the show, Whizzer has been the most careless, ecclectic and confident individual in the show. In just a few scenes prior to "You Gotta Die Sometime", during a racquetball game with Marvin, you see something is affecting Whizzer's health, and he is immediately admitted to the hospital. Throughout the scenes to follow, his friends come to visit him as he progressively gets sicker. "You Gotta Die Sometime" is where the truth of the disease settles in, and he begins to swiftly breakdown both emotionally and physically.
Joel: How do you relate to Whizzer?
John: Good question– I certainly wish I had his wardrobe and sleek bravado. I think Whizzer changes so much throughout the show and grows up a lot from beginning to end (over the course of 2 years), so, it's hard to pinpoint. Like me, he's young(ish), he enjoys his life, and he's an extremely likable guy. I think (I hope!) I relate to him in that aspect!
Joel: What personal experiences helped you in preparing to sing "You Gotta Die Sometime"?
John: My dad passed away over a year ago, and I related much of what Whizzer was going through in the end – to what I know my dad dealt with in his final weeks. The opening lyrics to "You Gotta Die Sometime" are "Ok, when the doctors started using phrases like 'You'll pass away', what could I say?" At that very moment – every night – I always remembered being with my dad when the doctor told him it was a matter of days. It's not a happy memory by any means, but it helped me see things from Whizzer's perspective.
On a brighter note (and also like my dad), I love kids. So, cultivating the relationship between Whizzer and Marvin's son Jason (Wesley Coleman) was simple. I relate with kids really well, so I'm not sure what that says about my maturity.
Joel: Did you have friends or family that passed away from AIDS and did those experiences help you in preparing for your role as Whizzer?
John: I don't think I fully understood what it meant to me until I had an audience member, who lost his partner to AIDS over a decade ago, tell me his story. He said the song elegantly evoked what he knows his partner went through, and it left him somewhat hopeful and revived.
Our director (Christopher Smith) pointed out to me that Finn's lyrics touch upon the 7 stages of grief in this song, and that became a great focus for me. The stages are: Shock or Disbelief,  Denial,  Anger,  Bargaining,  Guilt,  Depression,  Acceptance and Hope.
Although Whizzer quickly journeys through each of these stages in the matter of a three minute song, Finn's lyrics skillfully end with the last few hopeful lyrics anyone facing impeding death could hope to bravely admit, "To go out without care, my head high in the air, is the last little mountain I'll climb."
——–
Wesley Coleman, singing "The Miracle of Judaism" in Falsettos (Elden Street Players).
Joel: Tell me about yourself, and about the audition process you went through to get the role of Jason.
Wesley: I am in eighth grade at Rocky Run Middle School, and have been acting since I was in kindergarten. I have been doing summer community theater with The Alliance Theatre since 2005. When I first heard about this project I was a little apprehensive because this theater is well known, and I was afraid of what might happen. Eventually, I did audition. For the audition, I had to sing sixteen to thirty-two bars of a song of my choice. I sang "Seasons of Love" from the Broadway musical Rent. Following the song of choice, I had to sing a few bars of "Everyone Hates Their Parents" and "Another Miracle of Judaism." Two agonizing hours later, I got a phone call from the director saying that he would like to have me play the role of Jason.  
Joel: How do you relate to Jason?
Wesley: Jason and I have the same reactions towards parents, including eye rolls, raised eyebrow – and my personal favorite – just walking away.
Joel: What is happening to Jason when he sings "The Miracle of Judaism".
Wesley: He is running through his mind what girls from his school he wants to invite to his Bar Mitzvah. Also, he is distressed due to the fact that he has to play baseball at the same time. After a short time up to bat, Jason realizes that there would have to be a miracle to get any of these girls to come.
Joel: What does "The Miracle of Judaism" mean to you?
Wesley: "The Miracle of Judaism" to me means, it would take a miracle from God to make something happen. To Jason it means hoping that God will make Whizzer better and  hopefully bring girls to his Bar Mitzvah that won't laugh at his Hebrew, or at his father and Whizzer.
Joel: What are you doing after you end the Falsettos run?
Wesley: A I am mostly going to focus on school, and get through the end of the year with all my hair on my head, and not pulled out from the stress of final exams. In addition, I will be going on a school theater field trip to New York in May, to see Mary Poppins and Guys and Dolls. During the summer, I plan to get a job and audition for Alliance Theater's Willie Wonka. However, school, grades, and family always come first.  That's "The Miracle of Judaism".
Falsettos has closed.
——-
David Gregory singing, "Johanna"  & Jeffrey Coleman singing, "The Contest" in Sweeney Todd (Spotlighters)
Sweeney Todd is my all-time favorite musical. I love pie, especially cherry, and I love Stephen Sondheim's score. My all-time favorite song from a musical is "Johanna".
I have seen and heard David Gregory's glorious tenor many times in productions at Toby's Dinner Theatre in Columbia, most recently as Bernardo in West Side Story. (He really stood out there being the only cast member with Latino roots). When Spotlighters' Executive Director Fuzz Roark told me that David was playing Anthony, I knew I had to make the trip to Baltimore to hear David's rendition of "Johanna". His soaring tenor and performance  didn't disappoint. Sondheim would have been proud.
The one scene in Sweeney Todd that I always wished they would throw into the oven and incinerate is "The Contest" between Pirelli and Sweeney Todd. However, a miracle happened at Spotlighters' intimate and off-the-wall production of the throat-slicing  musical. I found myself loving "The Contest" because of this creepy performance of the  Pirelli, sung with great force and eeriness by Jeffery Coleman. I lost count on how many octaves Jeffrey's voice climbed, but I wish you were there to hear it. Jeffrey  was so good that I almost volunteered to have him give me a shave.
David Gregory on performing "Johanna".
Joel: Tell me about yourself.
David: I am originally from Spain, have lived in Baltimore for a number of years, all the while making sure I stayed well connected to the theatre scene in one form or another.  While I do work full-time during the day in advertising, I think I spend every waking moment doing something involving theatre. I recently finished my MA in Arts Management but have never been able to get away from the creative side of things. I've performed in local community theatres and at Toby's (both Baltimore and Columbia including Aida, Miss Saigon, Beauty & The Beast, and West Side Story. Lately though, I've been really getting into directing.  In the meantime, I have choreographed this production of Sweeney Todd, Bare: The Musical, A New Brain, and Falsettos. I am looking forward to finishing up my MFA in Theatre at Towson this next year. I am always promising my family and friends that THIS is my last school degree. They think I am obsessed with school!
Joel:  Set Up "Johanna" for us.
David: I guess without getting too much into the twisted sordid plot of Sweeney (that would take forever!), I play Anthony the sailor who befriends Sweeney on his way back to London. I say befriends in the lighter sense, because they are not necessarily buddies that chill at the local pub every night. At the core of it, they are in a symbiotic relationship – where each one needs something from the other. Anthony is not necessarily conniving about it as much as he is sincerely desperate to get to his obsession, a lovely girl named Johanna. The irony is that he has just spotted Johanna singing from her window moments earlier and is completely taken in a matter of seconds. It's not until he asks the crazy Beggar Woman, who is walking by, that he even finds out her name. I think it's Sondheim's way of basically giving tribute (or also poking some humor) at the love stories that often take place in musicals, by exaggerating that sudden love to an extreme and really giving Anthony an almost obsessive nature. When discussing it with our director, Alexander Carney, we both agreed that in addition to portraying a sincere love for Johanna, there also had to be an unhealthy obsession for her. It's almost a little creepy when you think about it. The whole show, Anthony runs around singing Johanna's  name every moment he gets, and refusing to stop until he gets her. It's just like Sweeney's obsession for Judge Turpin.
Joel: How do you relate to Anthony when you sing "Johanna"?
David: Well, I've never been a sailor. I don't like boats, so that's out! As I said before, I relate to Anthony's burning passion and desire. We've all had that – whether it's another person, a thing, a role, a job, etc… you basically take that same intensity. The lyrical and long notes of that song add the love Johanna and Anthony feel for each other.  Because of the small stage at Spotlighters, the audience is right where Johanna is, and the intensity heightens.
Joel: You get to sing "Johanna" in the second act again, but this time as 1/3rd of a trio. Does the song still have the same meaning?
David: I do sing "Johanna" again as part of a trio at the top of Act II, with Sweeney and Johanna. Anthony is a character that remains pretty consistent throughout the show. He's a good gauge, so that you can see just how drastically all the other characters around him change. But in this trio, I think it's even more obvious to audiences that Anthony  can be a little too obsessive. Is it unhealthy? Depends who you ask. I must say that it's great to be singing that while Todd is slicing throats throughout the song.  "Johanna" is a pretty song built into a gross situation. Bloody beautiful song.
Joel: What's next for you?
David: I am auditioning for a few things that are coming up this fall, so hopefully I will be doing something…just not sure what at the moment!
————
Jeffrey Coleman singing, "The Contest" at Sweeney Todd at Spotlighters.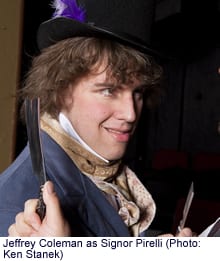 Joel: Tell us about that great voice you have.
Jeffrey: I've always sung in some capacity, and wanted to sing opera since at least the 10th grade, but voice lessons were expensive. I had wanted to go to school for music, but due to some financial circumstances (hundreds of dollars just to make recordings and send in applications) conservatory never became an option. In college, I had some coaching from my music director Dr. Suggs, until I finally had the support to find my current teacher Shazy King. Most of my training really was in eliminating bad habits and working on the passagio, as I already had built my voice and had natural support.
Joel: Why did you audition for the role of Pirelli?
Jeffrey: I decided to try out for Sweeney Todd because it was the closest thing to an opera that I could audition for without an agent, money for headshots, and going to a conservatory. My voice teacher recommended that I try out for Pirelli because I've got the high C, and I could sing with operatic diction, and have it work in a musical theatre setting.  This assertion ended up being false.
Joel: How do you relate to Pirelli?
Jeffrey: I don't really relate to Pirelli at all. Honest to God, I'm faking every last minute of it. Pirelli, first of all, does not really like the attention on him, otherwise he'd be hocking his wares rather than Toby. He also would have absorbed his alter ego completely, rather than casting it off when relaxing during "The Contest" to con Mr. Todd. To do Pirelli, I have to conjure up every insecurity that I have, and mask it with mock confidence.
While playing mind games with myself, I've got to sing this impossibly wordy text, which would become a coloratura exercise had it been written any faster. Sondheim obviously wrote this to make a tenor sound like crap, which serves the end while being frustrating. Most of the tenutos end up in the passagio after staying in chest, which creates a muffled or disconnected sound. For the character, it works wonderfully, but vocally it's utter torture. The hardest part I believe, or somewhere that's easy to slip, is not the big high Cs but rather the As like in "I giva da hea——rt", where it's easy to bring up too much weight and let the note sag. Oh, and I've got to make sure not to shove that metal thing into Drew's teeth/ear/nose/eyes.
Making the transition from primarily singing in a concert environment and recitals to musical theater has been kinda rough. Musical director Michal Tan helped me a lot with that, as well as advice from Andrea Bush (our Mrs. Lovett) Carlos del Valle (Sweeney), and the consistent support from Executive Director Fuzz Roark. Probably the biggest issue in my mind was the different diction for musical theatre. I think even if I were to sing an opera in English now, I'd carry over a lot of the diction. I'd rather sound like Mario Lanza singing "On the Street Where You Live" then Domingo. I'm definitely a better singer thanks to this production.
Joel: What's next for you?
Jeffrey: In the summer, I'm going to be in a production of Pirates of Penzance with the Young Victorian Theater Company, but aside from that, I'm not really sure what I'm going to do. I'll probably audition for anything that doesn't require a lot of dancing.
———-
Jase Parker singing, "Love, Unrequited, Robs Me of My Rest" in Iolanthe (Washington Savoyards).
Joel: Tell us about yourself and your theatre experiences this year:
Jase: I am 25 years old. I was born and raised in Forest Heights, MD, a suburb of Washington, DC. For as long as I can remember, I was always a fan of music. I officially started singing when I was in the 4th grade, when I got my first solo in my school's Christmas concert. I always participated in choir throughout school, from elementary all the way up to college. When I would read aloud in grade school, teachers would tell me that I was very expressive, so I guess that would be where the acting bug slightly bit. I would then start memorizing lines from television shows or movies and quoting them to whomever listened. I didn't officially decide that I wanted to make a career out of performing until I got to high school and saw a broadcast of the Tony Awards.
When I was cast in my first musical back in 2000-Hello, Dolly!-as a "Lead Dancer," it was then that I knew that I could actually move well for the stage. After that, I truly began my journey into the world of musical theatre; i.e. voice lessons, acting lessons, dance lessons, etc. After experiencing life at two colleges, with some nice groundwork done in the field of performing, I found my place at The Catholic University of America in NE DC in 2004, where I received some of the best training and educational experiences of my life. In 2007, I became a Magna cum Laude graduate with a Bachelor of Music in Musical Theatre. My only theatrical experience to date in 2009 has been Iolanthe with the Washington Savoyards. I originally auditioned for the role of Strephon, but when director Scott Kenison called and offered me the role of the Lord Chancellor, I was ecstatic, yet frightened. The Lord Chancellor was a wonderful character to play, as well as intimidating, because it was the biggest role I'd played to date. I felt as if I had a lot on my plate, music and acting wise, and I was worried if I was even going to make it to performance time. But with a great boost of motivation and enthusiasm from fellow cast and crew members and family and friends, I realized it was just my nerves getting the best of me, and I had one of the most rewarding and fun times I ever had on the stage.
Joel: Set up "Love, Unrequited, Robs Me of My Rest" for us.
Jase: This song occurs about halfway through the second act. The Lord Chancellor appears, completely distraught, after having woken up from a terrible nightmare. In the number, he basically explains what one can go through during a rough restless night AND a bad dream. It's a patter song (which is like a tongue twister set to music at a fast tempo) – it just wouldn't be a Gilbert and Sullivan operetta without a patter song. It's one of the longer patter songs ever written. It also has two encores, which made it even longer.
Joel: How do you relate to the song, and how did you deal with the difficulty of learning the words and the melody?
Jase: Anybody can relate to the horrors of a restless night and a nightmare, and it's amazing how you can always remember nearly every detail of what happened in the dream. Funny enough, the night prior to a rehearsal where we went through the finer details of the number, I had a nightmare! I had a terrible time trying to get to sleep that night, and once I did, bad dream. I was thrilled to wake up a few hours later. Was it a coincidence? I'd like to think so.
The nightmare song was the first piece I started working on prior to rehearsals starting, because I knew it was going to be the most difficult to learn. I had to start out with learning just the words. Once I could get all the words into my mouth, it would be much easier. I was always told that I had very good diction, but it truly got the best of me at certain points in this number, especially on the line "Sloane Square and South Kensington Stations" – try saying that three times fast! After the words started coming along, I then added the music element, which was also not very easy, because the melody doesn't always stay the same; little nuances like a lower note here, a higher note there, a completely different musical line anywhere. Of course, I had to start learning this at a very slow tempo. Then, once I got a good feel for the piece, the tempo would get faster and faster as I rehearsed. Later, I began to take a few liberties with the technicalities of the song; i.e. speaking this line, kind of change the tempo here, accentuating strong words, etc.; in a way, it was time to add the acting aspect to the piece, which music director Shawn Burke-Storer helped me to realize in a great amount.
Now comes the staging, and I am so glad that I'm a dancer, or else I probably would've never gotten through the tricks that I did onstage. Choreographer Pauline Grossman and Scott Kenison, director, gave me some great motivation with the movement of the number, and the movements that I myself added, they either loved or scraped. It was a real group effort to make that number what it was and it was wonderful to work with them all. After rehearsing the piece for so long, when it came down to performing it, I pretty much didn't have to think about it anymore; it just felt like second nature. Frankly, if I had been thinking about everything during the performances, it wouldn't have been any fun presenting it to the crowds. The only time I did have to think about it was during the second encore, where I had to sing it SUPER FAST! You make one slip up, you are done!
Joel: What's next for you?
Jase: At the moment, nothing. Not by choice, of course. I'm just back to auditioning, which will hopefully lead to callbacks, which will hopefully lead to more work!
Iolanthe has closed.