Bernadette Peters: Still a Broadway Baby!
How does she do it? On Sunday, April 19th at 4 pm, after an overture played by the National Philharmonic (conducted by Marvin Laird, who wrote Ruthless! The Musical) consisting of songs from Gypsy and Mack and Mabel, shows she appeared in on Broadway, Bernadette Peters slid elegantly across the Strathmore stage on in a stunning, glittering dress. I could swear I was back in The Booth Theatre in NYC on May 10, 1984, watching Bernadette and Mandy Patinkin in Sunday in The Park with George . Here, 25 years later, Bernadette still looked as young as she did then playing Dot in Stephen Sondheim's Seuratilistic musical – gorgeous, slim, and elegant, with that unique voice still in great shape.
Bernadette continues to be the consummate performer – giving the Strathmore audience what they came to hear – starting off with "Let Me Entertain You" from Gypsy (she played Mama Rose in the 2003 Broadway revival), and then singing the reassuring anthem "No One Is Alone" from Sondheim's Into the Woods – where she played the witch, and Rapunzel's hair-lowering mother. As she told the audience: "I didn't sing these songs, but I love them!"
There was a funny "boop-boop-boop-de-doop" rendition of "There is Nothing Like A Dame" from South Pacific, (the audience cheered wildly after she finished), a gorgeous rendition of "Mr. Snow" from Carousel, an emotional interpretation of "Some Enchanted Evening", again from South Pacific, followed by a sizzling, sexy take on Peggy Lee's hit song "Fever", which she sang lying  on top of the piano. "That was very enjoyable, "she exclaimed. After the heat subsided, the audience was treated to a quietly beautiful rendition of "Shenandoah," one of my favorite songs. It was spine-tingling.
All the Stephen Sondheim fans in the audience, including myself, were thrilled when Bernadette announced from the stage that the remainder of the concert would be dedicated to the songs of "the composer I respect and love – Stephen Sondheim".
To me, there are three great interpreters of Sondheim – Barbara Cook, Mandy Patinkin and Bernadette Peters. They wring emotion out of each sophisticated Sondheim lyric, and they don't just sing the song, each one of their interpretations tells a story.
[ft_amazon ibn="1934706000″ align="right"]
As the background of the stage turned bloody red, Bernadette sang "Johanna", a song sung by Anthony, a young sailor in Sweeney Todd, It was mesmerizing! Next came the heart-wrenching "Not A Day Goes By", from Merrily We Roll Along," and the funny "You Could Drive a Person Crazy", usually sung by a trio of women. The program ended with two popular Sondheim showstoppers – "Move On," which Bernadette sang in Sunday In The Park With George, and "Being Alive" from Company, both performed with incredible vocal power. As she took her final bows, the appreciative audience rose to its feet to applaud this Broadway legend.
As an encore, she sang a soft lullaby "Kramer's Song", which she composed – and is included as a CD with her children's book "Broadway Barks". What a concert by this Broadway Baby!
————
James Gardiner appearing in Call of the Wild and a surprise announcement:
He's had a busy year playing a prisoner in Kiss of the Spiderwoman, and being part of the Helen Hayes Award winning ensemble of Les Misérables both at Signature Theatre, and this time last year, James and writing partner Nick Blaemire were preparing their musical Glory Days for its Broadway opening.  Now, he  is playing Buck (and Straggletooth) in the new musical adaptation of Jack London's novel Call of the Wild at Olney Theatre Center.
Joel: Tell us about your character.
James: Buck has actually been a very challenging role for me to figure out and I know it's an actor's cliché, but I really do feel like I discover new things about him every time I go onstage. He's a complicated character, and not necessarily because he's a dog, although that has its demands. Unlike many of the other dogs in Call of the Wild, Buck isn't as impulsive or instinctive. There's something about him that makes him more human than most of the humans in the story.
There's a quote from the Jack London novel that Steve Schmidt actually pointed out to me that I think speaks volumes about the character:
"There is an ecstasy that marks the summit of life, and beyond which life cannot rise. And such is the paradox of living, this ecstasy comes when one is most alive, and it comes as a complete forgetfulness that one is alive… Buck was mastered by the sheer surging of life, the tidal wave of being, the perfect joy of each separate muscle, joint, and sinew in that it was everything that was not death, that it was aglow and rampant, expressing itself in movement, flying exultantly under the stars…"
Joel:  How did you and the other actors find the movements and characterizations to play animals in this production?

James: The movement work in this show kicks my butt every night. I feel like they're going to send me to the geriatric ward when this show is over. I'm constantly going home and icing my knees and I'm starting to see muscles in places where I didn't know muscles existed. But that said, I think the movement and character work that we did in rehearsals really helped us to be very specific on stage. We could have been crawling around on all fours the whole time, but luckily our director Clay Hopper and our movement director Leslie Felbain were a lot smarter than that. We spent a couple of days before we even started blocking the show with Leslie to help us really discover the physicality of our characters and it was really eye opening especially
for me because I haven't done a lot of theatre that requires that kind of physical work.
Joel: I've read that this is a show where actors were involved in the creative process since its inception. Were you and the other actors involved in making changes or recommendations in the Olney production?

James: I think we were all very grateful that we had a creative team in Clay, Leslie and musical director Chris Youstra that gave us the freedom to ask questions about the script and in many cases make suggestions about specific moments. I felt like I was able to contribute my opinion about the piece and not once did I feel like my opinion wasn't valued. That's a wonderful relationship to have with a creative team, especially when you're working on a new musical.
Joel: Word has it that Glory Days is headed to Japan for a stint. Fill us in.


James: Yes it is! Nick (Blaemire) and I are flying out to Japan on June 9th to see the opening night performance. We're both ridiculously excited to see what they've done with it. It should be very interesting, especially since the entire production will be translated to Japanese. And, apparently the guys in the show are members of a famous Japanese band called Attack All Around. I honestly don't know what to expect. For the first time Glory Days is being rehearsed and produced and Nick and I are not even remotely involved. If you want to check out more info about the production, here's the website. Nick and I are currently hard at work on a new musical for Broadway Across America, so we're staying pretty busy.
Joel: What's next?
James: Honestly, nothing really right now. I'm going to be participating in a workshop at Signature this summer for a few weeks as part of their American Musical Voices Project and I have a couple gigs on the horizon but nothing in the immediate future. I'm really looking forward to devoting my time to writing and seeing lots of theatre this summer.
Call of the Wild plays through May 3rd at The Olney Theatre Center.
————–
I've always enjoyed listening to and singing along with Ol' Blue Eyes, and on Saturday, April 18th , I attended My Way at Toby's – The Dinner Theatre of Columbia, where Frank Sinatra classics were sung with great passion by cast member James Zemeral, Jeffrey Shankle, Carole Graham Lehan and Shannon Wollman.
Throughout the 2 hour smorgasboard of the Great American Songbook, I was tapping my feet and snapping my fingers along with the Sinatra-loving audience, as the talented cast performed 55 Sindatra classics. Although I enjoyed it all, there were four renditions of songs,that gave me goose bumps.
I asked cast members James Zemarel and Shannon Wollman to talk about their performances of  "I've Got The World on a String","The Tender Trap", "My Funny Valentine", and "LA Is My Lady.
James Zemarel appearing in My Way:
Joel: Tell us about yourself.
James: This year, other than My Way at Toby's, I haven't really appeared on stage in any other shows, except those with The Capitol Steps, with whom I've been wonderfully associated for the past 15 years. Of course, The Steps appear every Friday and Saturday at the Ronald Reagan building in DC and all over the country, so I suppose I could say, this year, I've appeared not only in DC, but all across the U.S. Last year, in December, I appeared as Bing Crosby in a show that was written and put together by a friend of mine, John Tegler of Wings Productions, called Remembering Bing, which was a revue of Bing's life and music. I also performed in a "Rodgers and Hammerstein" revue at The Everyman Theatre in Baltimore, which was put together by one of the Capitol Steps pianists, Howard Breitbart.
Joel: When did you first become a Frank Sinatra fan?
James: I was first introduced to Frank, as many of us boomers were, through my parents. My father, Zim Zemarel, was a musician all his life, and was also a promotion manager for Columbia Records for 25 years. Although he joined Columbia after Frank had left and gone to another label, Frank was played on the record player all the time, along with Perry Como, Andy Williams and Tony Bennett, whom I met on a couple of occasions. I started singing with Dad's big band, the Zim Zemarel Orchestra, back in the late 70's, and continued off and on through the 80's and into the early 90's. During that time I was doing Sinatra standards like "Witchcraft", "Luck Be A Lady", "Come Dance With Me", "Violets For Your Furs", and so on. Of course in my youth, although I heard Sinatra now and then, I got into Rock. My Rock 'N Roll awakening happened at the age of 10 with The British Invasion and of course The Beatles! All my friends know I'm a diehard Beatles fan and listen to their music all the time. Even though I'm still into The Beatles and Classic Rock, now that I'm older, I'm listening to Frank and the Rat Pack songs with great joy and fond memories of growing up in the early 60's.
Joel: How did you convey Sinatra's singing style and phrasing in your performances of "I've Got the World on a String" and "The Tender Trap"?
James: At an early age, I found I was a pretty good mimic. This has helped me my entire singing career, and has come in very handy with The Capitol Steps, since I do many different characters in the show. When people come to see a show or are listening to a band at a party, I feel they enjoy it more if it sounds as close to the original as possible. I use this whenever I'm singing a specific style or trying to emulate the performer that a specific song may be linked to. Frank, of course, is instantly recognizable because of his phrasing. I felt I needed to bring this to my performance in My Way, and after years of performing with Zim, it comes pretty naturally. I also have a wonderful collection of Sinatra TV Specials from the 60's and 70's on DVD, and a nice collection of Sinatra CDs, so I was able to watch and listen to him perform, which helped me to get his sound, rhythm, and phrasing.
Joel: What's next?
James: There's always something new in the works. At the moment, I have nothing planned, but I'm still with The Capitol Steps, so I have my Steps shows coming up. For the past 2 summers (and for the next 3 summers) we have been performing at The Cranwell Resort in The Berkshires. Before that, we did about 5 summers Off- Broadway at The John Houseman and Edison Theatres, and as I said before, we travel all over the country.
Every now and then  I do shows with my friend, John Tegler. Besides the Bing Crosby show I mentioned,, he does recreations of Bob Hope & Bing Crosby Radio shows from the 40's, and his son, Brooks Tegler, has a big band, and I've performed with them on occasion… so, like all actors, whenever I'm not with The Capitol Steps, which is my full time job, I'm usually working on something fun.
The cast of My Way – Shannon Wollman, Carole Lehan & Jeffrey Shankle are all wonderful to work with, as is our Musical Director and Pianist for the show Doug Lawler. The lighting by Coleen Foley is beautiful, and our director Debra Buonaccorsi has done a great job with everything, and Terry Sweeney, our stage manager and Maitre d' keeps us all in line and has a good chuckle when we forget or stumble on our lines between the songs. The music and songs of course are wonderful to listen to, even if you aren't a Sinatra fan, and the audiences are having a great time. It's a fun show for all. We would love to extend the run or take it up to Toby's in Baltimore later in the year simply because we're having so much fun, and any show is easy when you're having a good time!
———–
Shannon Wollman appearing in My Way: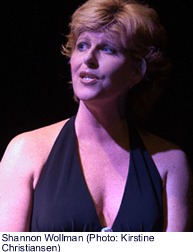 Joel: Tell us about yourself and shows you have appeared on our local stages this year,
Shannon: It's been great being back at Toby's after an 18 year absence. I can't believe it's been that long. Those years have taken me to NYC and back, around the world on a cruise ship singing for my supper, and many other great theatrical experiences along the way. Currently, I've been doing my one woman show around town with my accompanist Doug Lawler and performed most recently with the BSO and Sandi Patty this past holiday season at the Meyerhoff in The BSO Holiday Spectacular.
Joel: When did you first become a Frank Sinatra fan?
Shannon: I've loved Frank since I was listening to my parents record collection from the playpen. My parents loved the old standards and classic Broadway.. so I'm sure that had a major influence in my adoration of the genre.  They just don't write 'em like that anymore. What I've always admired about Mr. Sinatra was his ability to storytell. Not only was his voice such a tonal phenomenon – but he expressive quality made you truly experience the meaning of every song he sang.
Joel: How do you relate to "My Funny Valentine" and "LA Is My Lady"?
Shannon: "My Funny Valentine" has always been one of my favorite songs, and I was so excited when I learned that I would be singing it in the show. Ironically, I always think of my father when I sing it. He is such an incredible man; a dear sweet loving man. And his qualities from within exude externally to make him picture perfect in my eyes.
"LA Is My Lady" was a song I was unfamiliar with when we started rehearsals…but it's one of those tunes to just have fun with even though the lyrics seem a bit lounge like. I tend to think of New York when I sing it though. One of those cities that you can't enough of…even when you've had enough!
Joel: What is Sinatra-esque about your performance of these two songs?
Shannon: I try to bring his gift of storytelling to every song that I sing in the show. They lend to that so well. It's a wonderful chance to connect to the audience in a very different way than when you're doing a traditional "book show". Each song can have its own context, and I make them very personal.
Joel: What's next?
Shannon: I sing with a wedding band in town, the limitededitionband.com, so June will be pretty busy. But then I'm looking forward a summer away from the stage for a bit, minus a few gigs with Doug here and there. Then I hope to back with the BSO this winter for the holiday concert featuring Ann Hampton Calloway.
My Way continues at Toby's The Dinner Theatre of Columbia through May 31st.