Arthur Laurents' directing chops get keener as he ages. At 90, he gave us the Patty LuPone Gypsy that captured all the nuance in his script that improved upon the Jerome Robbins' Ethel Merman success in which Ms. Merman gave the performance of her career. She deserved the accolades she received for that performance. But this time, in the acting of Boyd Gaines, Laura Benanti, Lee Ann Larkin and the powerhouse LuPone, the complicated and subtle relationships that were always available in the material were fully realized.  The four central characters of Herbie, Gypsy, June and Rose played with attention to the connections that bound them to each other. That, combined with the incredible vocal powers of LuPone and the star quality of  Benanti delivered a socko success on all fronts.
Now at 92, Laurents has turned to another book of his, with lyrics again by Steven Sondheim and original staging by Jerome Robbins, their early collaboration, West Side Story. Once again impeccably casting the principal roles, he's given us a version of this classic re-telling of the Romeo and Juliet story, a probing and startling approach to the fundamental needs and passions of the central characters. I had greatly admired Matt Cavanaugh in Grey Gardens and A Catered Affair, but I thought he was an odd choice to play the Polish-American Anton (Tony) in this musical which required street smarts and toughness. Under Laurents' direction, he gives Tony a completely believable turn as the-one-who-got away from the streets, as an attractive young man of character and substance. From his first appearance on a ladder cleaning a store sign as part of his job, to his fresh approach to "Something's Coming", he attacks the lyrics as though they were prose, and we believe every word of his premonition that he's about to turn a corner in his life.
But from the opening curtain, when Laurents introduces us to the individual members of the Jets and the Sharks, the two street gangs of Caucasians and Latinos, there is a sense of urgency in the Prologue and in the "Jet Song".  The dance at the gym in which Tony first spots Maria, his inamorata, has all the magic of Robbins' choreography, but again in the slow walk across stage as the two would-be lovers discover each other, there is something more grounded in reality than I've ever seen in a production of this show before. "Maria" is exquisitely sung by Cavanaugh, and all of the yearning, the awe, the passion is offered to us with crystal clarity.
The amazing Josefina Scaglione is miracle casting as Maria. This lady is 21, was born and raised in Argentina, and is here making her Broadway, and her American debut. She has no right to be this accomplished so early in her career. Not only is she lovely to look at, but clearly she understands the mores and restrictions of Maria's strict Latina upbringing. She is pure but there is great sensuality lying dormant in her, and her visceral response to the more ardent Tony is uncovered and empathetic. Her dear friend Anita is played with fire and ice by the gifted Karen Olivo. Chita Rivera in the original production leaped out at you with her uncanny ability to project anger, even violence combined with a great comic sense that landed every gem of a tagline in "America". Olivo comes close, but the amplification of her voice (Rivera of course had none) muddies her lyrics (they come a mile a minute in "America") and robs her of some of her laughs. She is an impressive dancer, and she can act. But in this production, with such a strong cast, she is just one of six who play this as an all star cast. Right up there with the best of them is George Akram, as "Bernardo" (brother to Maria, lover to Anita). He's macho man all the way, but it's not unappealing in him, for it is clearly merely his traditional role in his particular culture. Anita knows that in the privacy of their bedroom, he is a good and giving lover. Theirs is no me-Tarzan-you-Jane cliché of a relationship. John Arthur Green, as Tony's best friend Chino, is a decent, ardent activist. With all of these fine actor/singer/dancers on tap, this current production is the most satisfying I have ever seen.
But back to Arthur Laurents as director. I can think of six moments he has chosen to re-focus in the staging. The opening is moody and scary, dark shadows under a gigantic bridge, a city's beams and fences and alleyways in full view as one by one, the gangs arrive to do the prologue.
Tony's new take on "Something's Coming" and "Maria" are less operatic and more acted, though the notes are the same, and the voices are lovely. Maria's tension on the balcony, knowing her father is just inside the window, is apparent and gives subtext to the love scene played on top of it. "Somewhere" is now sung by a young boy, someone too young to have yet entered the Gang scene, and it's far more moving than it was when originally sung by Maria, Tony and the others.  "Officer Krupke", the hit comedy number from Act Two, has been more properly motivated by making it a fantasy improvisation that the Jets create for themselves. And the inevitable ending to the piece – in which Tony is murdered, and Maria grieves, is so much more believable and moving than the original – a funeral cortege of Jets and Sharks used to carry Tony's body off, with Maria following, and the two gangs moving together as the curtain fell. Now Maria — well, I won't tell you, for it surprised me and it should you too. Let me say only that the text remains the same. Only the staging is different. The same point is made, but to me, the Laurents way is far more eloquent and moving.
I know West Side Story well. During my agency career, I represented Chita Rivera in it, and it was the show in which she first attracted major attention, so I saw it many times. I saw it in London as well, where she became the toast of the town. I've seen most of the revivals. But never have I seen a production as satisfying as this one, because its director has dug deep, cast well, and uncovered some of the hidden truths.. I only hope Mr. Laurents is as happy with it as I was.
If you don't mind a glorious score, inventive and exciting dance, an all star cast in  everything  but name value, a story that's 400 years old and still fresh, but without a happy ending, then get up here and treat yourself to this gem of a revival. No, not "revival". Call it a renewal.
West Side Story plays at the Palace Theatre, 1564 Broadway, NYC. 
—————
I can only conjecture, but it's my opinion that David Mamet awoke one day and said, "I can be funny. " He took a week off from his major playwrighting/screenwrighting career to toss off two exercises collectively titled Two Unrelated Plays. They are exercises, useful ones, for a major playwright to fool with, but they fall far short of the mark of excellence. They succeed in being funny, often hilarious, but can only be appreciated fully by theatergoers who enjoy studying a master's early sketches of more complete works.
The first of the two is a ten minute word play called School that's absolutely hilarious, as played by actors with the skill of John Panko and Rod McLachlan. In olden days it would have been fun on something like "The Ed Sullivan Show" or the "Sid Caesar Hour". In it, two respectable employees of an elementary school, caught as the lights go up in typical Mametian mid-sentence, discuss subjects ranging from recycling posters about recycling to other subjects of interest to grade school employees. "Discuss" isn't quite what they do. What they do is interrupt each other with "Well—" and "Do you—" and "On the other hand –"  (I'm paraphrasing)   and out of all this, when played with great comic skill and masterful double takes,  comes a lot of laughs. So, ok, a sort of crowd warmer-upper as a curtain raiser. But when it was over, I was wondering when the real play would start.
The "real play" is called Keep Your Pantheon, and it's downhill from there. It's a romp about a troupe of actors seeking a theatre in which to act, and bits and pieces of it are wildly amusing. Brian Murray plays an old codger with a lecherous eye for pulchritudinous male flesh, and in several tossed-aside quips he makes it clear that his eye is focused on the toga clad juvenile in the company. It's sort of a Minsky type burlesque sketch in which a not so innocent young man replaces the wised up stripper doing lines as an actress. But when the best of the bon mots are those used in the title, we're a little bit into "this is very much like A Funny Thing Happened on the Way to the Forum, only Larry Gelbart and Burt Shevelove did it better, and where are the songs?" Again blessed with fine actors in most of the eleven roles, it becomes acceptable fare, but hardly more than that.
Brian Murray is a pleasure, but in this one he's a tad strident. He has a bullhorn of a voice and when he lets go with a loud retort he sounds like a ewe in heat. When silent, quiet, or using nothing but his marvelously expressive face, he is a joy to watch and listen to. Michael Cassidy as Philius, the toga-draped youth, knows just how to project innocence and savvy at the same time. The very useful John Panko and Rod McLachlan from School bring different but equally effective comic characterizations to this much longer play. Steven Hawley is stuck with the role of the Herald, who announces things before each scene. He's often left standing center stage waiting for the boffo laugh that does not come at the end of his announcement, and he is left to scamper offstage without benefit of protective laughter.
Others have found this an evening of unbridled mirth, and I did not dislike it. But it's just an interesting detour from Mamet's path of playwrighting. He's more secure in the underbelly of the world about which he writes in American Buffalo, Speed the Plow, Glengarry Glen Ross, Oleanna and even November which, though Neil Simony funny, has bits and pieces of the nastiness with which we've come to know and love Mr. Mamet. The man has range, and every right to explore it, but he's most comfortable and effective when he assumes the role of shoemaker who sticks to his last.
Atlantic Theater Company's Two Unrelated Plays continues through Nov 1 at the Linda Gross Theater, 336 W 20th St (between 8th & 9th Ave).
————
I blushingly admit I knew little of Carrie Fisher before visiting her one-woman play Wishful Drinking. Certainly I'd seen her Princess Leia in Star Wars but as she's done very little acting since the 1970s, I did not think of her as much of an actress. I admired her Postcards from the Edge both as a novel and screenplay, but they too go back a couple of decades. I'd read bits and pieces through the years about her marriages, divorces, battles with drug and alcohol addition, but I did not have a clear picture of her and I'm not a big fan of one-person plays. So I was surprised at the power of her work as sole performer and author of this autobiographical full length memoir of a play.
Scenery, lighting and projection design are all created by Alexander V. Nichols, and they support Ms. Fisher's work as author and actress superbly. We are in a room which has all sorts of objects and furniture that tell us this is not the typical bed-sitting room of an average lady. There are children's' dolls, exercise machine, electronic devices, an oddly shaped sofa, a blackboard with a huge collage of photos of people who've populated her life, and a number of items that drop from the flies when needed. There's even a supporting actor, taken from the audience, though the young man who played the role was so perfect, I'd not be surprised if he turned out to be a plant. But no matter, for either way his segment as Ms. Fisher's hapless victim was totally effective, and in fact, brought down the first act curtain.
She takes us through it all – her birth, her childhood, her relationships with her famous mother and father, Debbie Reynolds and Eddie Fisher. She makes funny mincemeat of her mother's various other husbands and her father's many other wives. She has siblings, and step-siblings and siblings-in-law ad infinitum, and she brings them all to life with great skill as writer and actor.  Directed with imagination by Tony Taccone to keep it all moving smoothly. Wishful Drinking, which comes to us after a long tour that began in Berkeley, California, is a rare treat for eye and ear. It's playing under Roundabout Theatre's management at Studio 54, a space familiar to Ms. Fisher in her gay and giddy days thirty years ago when it was the disco center of the universe. I highly recommend this, her return visit, to enlighten and highly entertain you.
[Arena Stage brought Wishful Drinking into the Lincoln Theatre. It went from there to Boston before making its New York debut.]
Roundabout Theatre Company's Wishful Drinking plays at Srusio 54, 254 W 54th St, NYC. 
___________________________________________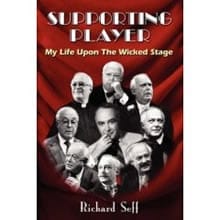 Richard Seff is author of Supporting Player: My Life Upon the Wicked Stage celebrating his lifetime on stage and behind the scenes, available through online booksellers, including Amazon.com.
Richard Seff chats with Joel Markowitz: