I mentioned in my last column that I was about to visit Alabama for the first time in my life. I followed through, and now that I am back at my desk. I want to share the experience with you for it was for me an eye opener.
I'd not known much about Alabama before my visit. On the long tour of Darkness at Noon in which I appeared during the 1951-52 season, we didn't have any play dates in the deep south so we crossed the country from Baltimore to the Pacific through the Midwest until Chicago, then southwest through Alberquerque to Denver to Colorado Springs to Los Angeles, then up the Pacific Coast to Portland and Seattle.
In any case, arriving in Huntsville (via another plane to Memphis), then driving 65 miles to Florence, was a revelation. The foliage was in full fall regalia, and to my surprise it very much resembled New England. Tall spruce, elms, oaks, gave evidence of the early settlement of this part of our nation. Sparsely populated with excellent roads notably underused, at least during the late afternoon hours of my use of them. Florence, when we arrived, turned out to be a village which is yards away from Sheffield, Muscle Shoals and Tuscumba. I was told that countless times the various  town councils would gather in an effort to combine them into one town, but always without success. I was billeted in the Holiday Inn in Florence, which didn't have the architectural interest of some of the public buildings, but it had the most hospitable staff I can recall anywhere in the world.
Why was I there? I was invited to participate in a celebratory festival honoring the late Claude Rains, the venerable character actor whose career on stage and on film was lengthy, varied, immensely accomplished. Best known perhaps for his Captain Renault in ""Casablanca" or the good Dr. Jaquith in "Now, Voyager" or Shaw's Caesar in "Caesar and Cleopatra" – no point in going on, I'm certain each of us has his own favorites among the fifty plus films in which this amazing artist played lead, supporting or starring roles.Onstage, the Theatre Guild kept him busy for years before Hollywood beckoned in 1932.
Professor Terry Pace of the University of North Alabama's English Club arranged the tribute through his company, Pillar of Fire. I was invited to join the proceedings because 58 years ago I made my acting debut on Broadway in Sidney Kingsley's adaptation of Arthur Koestler's Darkness at Noon in which Claude Rains returned to the stage after almost 20 years in pictures. He starred in the play  for a full season, sweeping all the acting awards available at the time, including the Tony for Best Performance by an Actor.  Now I was being asked to read Mr.Rains' role with a cast that would include his only daughter Jessica, whom I'd met when she was a teenager during the tryout of the play before it opened at the Alvin Theatre (now the Neil Simon) in January 1951.  Ms.  Rains would now read the role originally played by Kim Hunter.  The rest of our cast would be recruited locally, and that's where my delightful surprises continued.
For in Will Stutts, Terry Pace, Kyle Weir and Kevin Hammond (who stepped in to play a pivotal role at the last moment due to a conflict with the actor originally chosen) I was backed by a load of top talent. We had little rehearsal time, and not everyone could appear at every rehearsal, so a lot of it was winged on the night. David Skal, who wrote ""Claude Rains; An Actor's Voice", which we were there promoting, directed us, and though it was just a reading of an abridged version of  the original play (ours ran 80 minutes, the original over 2 l/2 hours), he made use of lights, music and sound effects which had to be tested DURING the performance because the sound engineer could not be with us at our tech rehearsal! Scary.  But as we know, "on the night", all fell into place, and our not very large but very attentive audience listened intently throughout our intermissionless evening, stayed for a q&a asking intelligent questions, then joined us for a book signing in the adjacent rehearsal hall.
Which brings me to the theatre itself. Called The Ritz, it was a silent movie house in the twenties, but it's been completely refurbished and out on the street you'd think you were at the Atlanta premiere of "Gone With The Wind". New seats in plush velvet fill the orchestra floor and a small balcony. A perfect theatre, not a bad seat in it. Clear sight lines, excellent acoustics, lighting that made a later photo session for us turn out prints of great variety and vitality. Small caveat: as usual, the refurbishers stopped short of the backstage areas. Dressing rooms in the basement have become home to the lower orders of life, but at least the original builders were thoughtful enough to install two 'restrooms' on the stage floor. Very often they install none! I do believe however that if we'd settled in for a run, we'd have made the  backstage as cozy and inviting as the front of house.
The days I spent in Florence were rich and rewarding. The opening night on Wednesday featured a screening of "The Invisible Man" and at its conclusion, Messrs. Norman Lloyd and Ray Bradbury joined  the audience by amplified telephone to offer thoughts of their own of Mr. Rains with whom they'd  both worked. Bradbury admitted that "The Invisible Man" had attracted him so that he saw it a dozen times. Darkness At Noon had helped him fashion his own anti-totalitarianism "Fahrenheit 451", and he'd had the opportunity to tell Rains how much he admired him when late  in his career he starred in Bradbury's story And So Died Riabouchinska on "Alfred Hitchock Presents" on tv. Norman Lloyd is 95 now, but with enormous energy and enthusiasm he delighted us with tales of his own experiences with our honoree when he was executive producer of the Hitchcock series.
We had a one-on-one session with some of the students in Mr. Pace's class, and all I can tell you is that it's very rewarding to realize that new generations keep coming who have the passion and optimism that we all  had when we were 18.  Two lads in particular had all sorts of questions about "how do you start?", but they weren't waiting to get out into "the real world" before getting down to preparing for it. One had written several short stories and was about to adapt one of  them into a 20 minute film he would also direct. The other asked specific and well informed questions about the business side of show business which I, as an ex-agent to writers, was able to respond.  After the reading of Darkness at Noon on the final night, again the questions from the house  were fun to answer for they clearly came from bright minds.  The houses were not large – we were playing at dinner hour on a Friday night, and only the totally committed showed up. The very title of our offering does not conjure up a fun evening, and none of us actors was a box office name. Jessica Rains had decided to produce documentaries some thirty years ago when she closed down a very promising career as a working young character actress, having appeared in numerous plays in regional theatres, in half a dozen feature films and many shows on television.
For both of us, this was a 'return to the stage' and the butterflies returned to accompany us. But the old warriors, she and I, rose to the occasion and gave it our all. That the response was positive sent us both home (she to L.A., me to New York) convinced that old actors don't die – they get revived.
Final note: Florence, Alabama as personified by Terry Pace, his wife Anita, his children, his parents, all of whom made us feel welcome and, all of whom disrupted their routines to make us comfortable, gave me  great hope that all over this beleaguered nation of ours there are pockets of good people who care about the arts, who support them, who contribute to them, and for all the right reasons – because they love the work they do. I am in their debt – all of them.
—————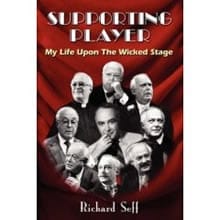 Richard Seff is author of Supporting Player: My Life Upon the Wicked Stage celebrating his lifetime on stage and behind the scenes, available through online booksellers, including Amazon.com.
Richard Seff chats with Joel Markowitz: