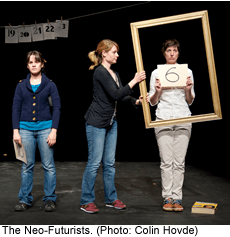 Quick. You have exactly one hour. How do you use it?
You could run two loads through the washing machine (boring). You could make five dozen batches of Minute Rice (excessive). Or you might consider joining The Neo-Futurists on board this grinning, spinning carousel of cognitive dissonance, which they're constructing with nervy aplomb once again, at Woolly Mammoth.
The conceit is straightforward on paper: 30 plays in 60 minutes, or bust! But the broad-humored set of scenes comes to life in a different sequence every night, guided by requests constantly shouted from the audience. It proves just enough method for a whole lot of madness, as dramatic scenes of trauma, regret, and emotional honesty get Velcro-ed onto bizarre, giggle-inducing segments of ensemble tomfoolery.
Too Much Light Makes The Baby Go Blind won't teach you a whole lot about how the world works. Some scenes, in fact, will just slide off down the misty slopes of absurdist Dada shape-making, never to be fathomed again. Still, this spunky Chicago clan has never been hampered by the laws of physics, logic, or causal relationships. They hold, as it were, a broken mirror up to nature. The fun is in the rapid-fire creation of live art – non-sequiters and all – and in the warm sincerity with which the motley crew hands over control of the evening to the gleeful crowd.
Some stylistic whiplash is inevitable, but life is chaos, especially when it's on a deadline. For the timer onstage never stops ticking… ticking… and if we haven't blazed through 30 plays by the time the big hand comes back around to 12… well, faster luck next time.
I try to steer clear of first-person narration when reviewing, but some candor is in order here. In the opening minutes of Tuesday night's show, I watched The Neo-Futurists pull out a 20-caliber 1961 Plutonium Ray Gun and vaporize my role as a critic (you know, figuratively). How do I know the make and model of the ray gun? I don't, but it sounds cool enough to be true. And that's the little trick these punks are using to vault right over the realm of critique: they don't comprehend The Point of the show any more than we do. Some snippets hit a nerve, some don't, but no one piece means only one thing. It's no crime, in fact, for some things to mean nothing at all.
Even so, the format is clearly aiding some scenes more than others. The spirited race against time builds collective adrenaline, which fosters a sketch/improv mode of understanding, so it's little surprise that the most rewarding and entertaining scenes are the ones packed with punchlines. Yet despite all the skipping and jumping, The Neo-Futurists don't deem themselves a comedy troupe, and for good reason – they bear the equally ambitious task of making good dramas happen in two minutes as well.
Sadly, these more sober scenes are the ones that fail to stick. They're momentary curiosities and little more, swatted away after two minutes whether the dust has settled or not. In comedy, speed stokes the fire, but for these sporadic micro-dramas, it snuffs the flame.
And yet, on another night, who knows? There's courage in how willfully messy the mash-up is, and the five talented actors (through December 19th it's Eliza Burmester, Bilal Dardai, Mary Fons-Misetic, Chloe Johnston, and the group's Artistic Director Jay Torrence) emit such sizable waves of wit and poise that it's clear goofing around isn't the only line on their performance resumes.
True to the entropic spirit, the audience has to roll a big bouncy die at the end of the evening, which determines how many scenes are to be stricken from the repertoire in the next 23 hours. Sometimes the cast has to write one new scene, sometimes up to six. Regardless, it guarantees fresh material served up the next night.
I can only imagine what mysterious signs The Neo-Futurists read to determine which scenes to cut – T.M.L.M.T.B.G.B. seems rooted in methodology about as much as a kid's magic potion recipe – but if past shows are any clue, what's coming up may involve some shared ground between cowboys, ninjas, karaoke, death, football, hard-boiled eggs, mugshots, acrylics, fluffy feathers, fake mustaches, Kansas, abortion, the Keebler elves, the NRA, schoolgirls, barbed wire, mug shots, gay rights, funny hats, and some professional clowns who are very, very bad at their jobs.
Or, you know, something like that. Sufficed to say: whatever is being born a strange new birth on stage during this run, it's worth seeing. If we're learning anything here, it's to embrace the chaos. Here's modern life, chopped apart: colorful experiences, ideas, and achievements in bite-sized bits. Let it wash over you, and don't sweat the lost pieces. Ain't that the comic tragedy of life? Everything changes in the blink of an eye.
Too Much Light Makes The Baby Go Blind
Created by Greg Allen
Written, directed, and performed by The Neo-Futurists
Produced by Woolly Mammoth Theatre Company
Reviewed by Hunter Styles
The show runs sixty minutes with no intermission. Or else.
Onstage at Woolly Mammoth thru Jan 2nd, 2010.