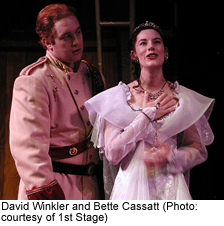 The ambitious young company at 1st Stage has had a run of successful productions, but the law of inevitability may have caught up with them with this production of the classic swashbuckler The Prisoner of Zenda. Sorry to report it is only average as a result of a flawed script and an overly melodramatic style.
Rudolph Rassendyll is the distant cousin and red-headed look-alike of the playboy Prince Rudolph of Ruritania (both roles played by David Winkler).  On the eve of the Prince's coronation, he is drugged by his bastard half-brother Black Michael (Zachary Fernebok) and taken prisoner in Michael's castle in Zenda.  Forces loyal to the crown, led by Colonel Sapt (Amy Waldman), persuade Rassendyll to take the Prince's place.  Rassendyll does not expect to fall in love with the Princess Flavia (Bette Cassatt), nor does he appreciate the lengths to which Black Michael and his wolfish henchman Rupert of Hentzau (Kevin Hasser) will go to seize the crown.  Fortunately Rassendyll find an unlikely ally in Antoinette de Mauban (Julie Wolf), Michael's mistress who does not want to lose him to Princess Flavia.
The story gets off to a rocky start.  Prince Rudolph is so devoid of any latent nobility and so cruel to both Michael and Princess Flavia that it is hard to develop much of a rooting interest in his fate, much less believe that he has the potential to be a good king.  This flaw is never remedied later in this adaptation.  Similarly, Michael is presented as a childish and paranoid head case who is even scared of the dark, hardly the formidable and powerful leader he is expected to be later in the story.  While a lengthy scene between Rassendyll and his family helps fill in the backstory, it takes a while for the story to develop real forward momentum.
Director Mark Krikstan fails to rein in the overly dramatic acting style adopted by most of the cast.  I suspect that the Eastern European dialect used by the Ruritanians exacerbates the urge towards excess, because David Winkler is much better as Rassendyll than as Prince Rudolph.  A swashbuckling tale is melodramatic enough.  If you don't play it straight, it is easy to veer from melodrama to Mel Brooks.
Some members of the cast give commendable performances.  Winkler gives a solid and likeable performance in the demanding lead role, even if he does lack natural panache.  The story comes alive after intermission when Princess Flavia, resplendent in a white ball gown, starts to charm Rassendyll.  The talented Bette Cassatt gives the most expressively real performance, mastering both emotion and restraint, and proves to be Rassendyll's dream match in many respects.  Julie Wolf is also appealing and charismatic in the pivotal role of Antoinette.
The production is also not without its charms. Cheryl Patton Wu's costuming is excellent and the fight scenes (choreographed by Paul Gallagher) are dramatic and captivating.  Krikstan uses some nice stagecraft to handle the scenes where actor David Winkler as both the Prince and Rassendyll are supposed to be on stage together.
Nonetheless, it is hard to present such a broad-ranging action story on stage even with the creative use of a multi-level and multi-functional set.  While playwright Matthew Francis adds a more modern feminist overlay to the story, it does not compensate for some of the script's other shortcomings and the sacrifices inherent in a stage production.  Still, too often the mind drifts to the multiple, more memorable filmed versions of the story.
The Prisoner of Zenda
by Matthew Francis adapted from the novel by Anthony Hope
directed by Mark Krikstan
produced by 1st Stage
reviewed by Steven McKnight
The Prisoner of Zenda runs thru Jan 3, 2010.
Click here for Details, Directions and Tickets.