As a charter member of the "It's too loud!" and the "Where are the melodies?" clubs of musical theatre lovers, I kept delaying my visit to Memphis, thinking it wouldn't do much for me except perhaps remind me of the Golden Age of good sound and gorgeous tunes, and how much I miss all that.  I now humbly apologize to all concerned with putting together a truly delightful musical, one with mirth, melody, substance and much much more.
In the capable hands of director Christopher Ashley, a cast of newcomers (to me)  delivers one of the best ensemble performances we've had, and we've had some memorable ones. As the leader of this pack of talented pros, it introduces us to Chad Kimball as " Huey Calhoun", a high school dropout who, passing a black rhythm and blues club in Memphis one evening, drops in because, from its Beale Street windows, he's heard "the music in my soul".  He's about the only white man who's ever been in the club; it's 1951 in Tennessee and that sort of thing just wasn't done in them thar days. But when he shows the congregants a thing or two about jazz, r and b, and rock'n roll on their own piano, he's given a reluctant welcome. Despite his mother's wild objections to his mixing with "those people", despite his record store boss hating the music he introduces to his white customers so much he calls it "N word music," he becomes a regular visitor to the black club, and he and the owner's sister take most of Act One to realize they have important feelings for each other.
Nothing new about the plot, but it's handled adroitly and honestly by  bookwriter Joe DiPietro, and though the lyrics, which he co-wrote with composer  David Bryan (founding member of Bon Jovi,)  won't make Mr. Sondheim nervous, they are more than serviceable. The same can be said for  Bryan's music and his share of the lyrics.  Songs like "Underground", "The Music In My Soul", "Make Me Stronger", "She's My Sister" all further the plot and help develop character. There are also some pretty tunes to ballads like "Love Will Stand" and "Someday".  Sergio Trujillo has staged these musical numbers  by giving his ensemble heavy work, and they dance up a storm  with Opening Night freshness, even at a wet Wednesday matinée in February.
Chad Kimball is a once-in-a-decade discovery. He's been in other Broadway musicals, but his supporting roles didn't offer him the opportunities that come with "Huey Calhoun." From his first entrance down the stairs of  the Beale Street music club, he shows great star power, the kind of thing Robert Preston brought to The Music Man, Yul Brynner to The King and I, Richard Kiley to Man of La Mancha, Robert Morse to How to Succeed in Business. When that happens, there is cause for dancing in the streets, and that's exactly what happened on the way out of the theatre after  my matinée.  Not only can he sing and dance with original style, his characterization  of "Huey"  in the book scenes is as complex, wily and arresting as was Marlon Brando's "Stanley" in Streetcar. Am I going hyperbolic? I urge you to see this performance and judge for yourself.
The quartet of characters at the story's center are delivered with brio and originality  by Montego Glover as the girl who causes riots, by  J.Bernard Calloway as her brother, the club's owner, who tries to stop the madness before it begins,  by James Monroe Iglehart as one of the club's star entertainers. But all the actors in principal roles are worthy of praise, and I hereby bestow heaps of it to each of them with gratitude.
Is Memphis a masterpiece? Is it a classic that's bound to be revived in the years to come? Perhaps not.  What it is is a first rate popular musical – its themes are not the freshest, but they are written and staged with imagination and though they entertain and inform, they are not presented as sermons, they are anything but solemn. I learned something about black/white relations in the south half a century ago – I'd read the headlines and some of the editorials, but I think the creators of Memphis have done a fine job of tackling a serious subject and without trivializing it, dramatizing those themes, transforming them into entertaining musical theatre. And let's not forget Chad Kimball. I'll betcha he'll be very visible come Tony Award night.
Memphis is onstage at the Shubert Theatre, 225 W. 44th St, NYC.
————–
In what has become a typical route for new musicals, Yank! has arrived after six years of workshops and regional productions to the small York Theatre, one of New York's most user-friendly musical theatres. Under  Producing Artistic Director Jim Morgan's guidance, the York continues to offer staged readings, workshops and full productions of  new musicals as well as revivals. Yank! has made its way to the off-Broadway mainstream via earlier outings at NYMF in 2005, Brooklyn's Gallery Players in 2007 and a sold out run at San Diego's Diversionary Theatre in 2008. An original by the brothers Joe and David Zellnik, it is a shining example of how much perseverance is required these days, for it's a fine piece of work, and in earlier days would have arrived many years sooner.
It tells the tale, in flashback, of an 18 year old lad named Stu who enters the army early in World War II as a green, sexually confused soldier who is quickly called "light loafers" by his testosterone loaded squad buddies, one of the less ugly labels stuck on men thought to be gay (or "faggot" as they were then called). Stu is attracted to Mitch, a macho buddy who is the one man in the unit who is kind to him, causing Stu, little by little, to fall in love with him. Mitch has secrets of his own, and in time their relationship becomes intimate. Intimate, but unfulfilling for Stu because Mitch denies his orientation and makes much of the girl back home whom he intends to marry when the war is over. Once the two men have split, Stu allows himself to take up with Artie, a light hearted and fully integrated soldier who takes a shine to him and a casual but honest liason takes hold. If all this sounds trite, blame me and my description of it.  Because David Zellnick's book has humor and is forthright, confrontational and accurate. His lyrics, with his brother's music, are on the nose in conjuring up the 1940s in America. The story, told by a narrator who had found a journal kept by Stu during all of the war, unfolds in a non-linear fashion, with humor and compassion and insight. This cast could play South Pacific and  its book has the  same integrity that Oscar Hammerstein and Joshua Logan brought to that master work.
The conditioning of this disparate group of soldiers, from different backgrounds, is apparent in their every attitude, and the arc of each character is fun to follow. There are surprises along the way, many of them, and scenes that play beautifully as Zellnick probes and pokes and reveals complexities.
But this is a musical, and some twenty musical numbers illuminate, enliven, drive the story. They are inventively staged by Igor Goldin and choreographer Jeffrey Denman, who also plays Artie. All four of the creators have been with the project since its inception, as have Bobby Steggert and Ivan Hernandez as Stu and Mitch. This commitment has paid off for all of  them, for New York has finally acknowledged them, and for a musical to have an afterlife, that is still helpful.
Bobby Steggert, as Stu, the central character, is a revelation. Earlier this year, he emerged from the Broadway revival of Ragtime as the find of the season. Timing favored him, and he was free just in time to re-create his role in Yank! so a larger audience could watch him play this appealing, beautifully drawn character in all his complexities. Steggert is totally committed  to showing us all the colors of the character – his vulnerability, his great inner strength, his charm, his intelligence, his hunger for love and for understanding from others and from himself. Not to mention Steggert's easy way with all his considerable musical material. He can sing, he can dance, he certainly can act.  It's a star turn and it  confirms the promise that Ragtime revealed.  Hernandez is so willing to allow us to see the conflict in his Mitch, so open in revealing all to us (literally; there is some nudity in this play, but it's entirely right and non-exploitative).  Denman has all the right colors in his portrait of what used to be called "the song and dance man" (who happens to be gay)  that is Artie. And Nancy Anderson, playing all the women in this army's world (mothers, girl friends, cabaret singers, WACS, the works) with as many varied choices as she has marvelous wigs. Ms. Anderson is an all-star cast all by herself.
Yank! gives renewed hope for the future of our beleagured musical theatre. It is most welcome.
There should be banners around town – "See Yank! at the York!"
Yank! is playing at the York Theatre at St. Peters, 619 Lexington Ave, NYC.
—————
With Sam Shepard's Irish import Ages of the Moon (it began life at the Abbey in Ireland), I felt I was eavesdropping for 75 very long minutes on two of his older Western cronies, two Shepard prototypes named Byron and Ames. The two of them leave Ames' house in the middle of some western state, stand looking straight at us while a recording of "Don't You Ever Feel Lonely, Don't you Ever Feel Blue?" comes at us. We don't know what to do, so we laugh because these two geezers have the sort of facial expressions that encourage us. They sit down, and talk away about nothing of any particular interest to us, for they are not very interesting fellows. Oh, they have their quirks. When Ames gets  frustrated he sometimes shoots at an electric ceiling fan, killing it. At other times he kicks his good friend Byron off the porch and sends him scurrying into the wings, only to holler for him to come back because if he didn't the play would be over.
Sam Shepard has his way with words, and it was kinda nice hearing the lyrical language, complete with lots of metaphors.  Ames doesn't like them though. "A tree is a tree. I 'm not used to something meaning something else,"  he tells his more eloquent friend Byron. I kinda agreed with him.
Sean McGinley and Stephen Rea first played this at the Abbey Theatre in Ireland, and have brought it to us under the continuing direction of Jimmy Fay. The Atlantic Theatre Company is presenting it here, but I can only think they are doing so because  a) it was inexpensive to mount as it's merely a transfer and b) they felt Mr. Shepard's work should be staged even though this time he's written more of a conversation than a play. There is some pleasure in watching the two excellent actors leaving Ireland behind and transporting us to a sun drenched nowhere in the U.S. but seventy five minutes is a long time to be stuck within earshot of any two strangers who are talking about things that are important to them, but not of much interest to us . I've never had any neighbors quite like  Byron and Ames, and they don't do much for the public relations people of any western state. Perhaps Mr. Shepard doesn't specify just where we are as a favor to Wyoming, Nevada, Montana, New Mexico or any of their neighbor territories. I learned something of them from their various monologues but I'd have liked to see them fill some of the requirements of a play – perhaps a little plot would  have helped, or perhaps a theme, and maybe some kind of a journey on which we might join them. But no, Mr. Shepard just has them talk. And all we ever really learn about them is  that they are lonely, and that they need each other. Kinda.
Ages of the Moon is a must see only for devout Sam Shepard fans. For the rest of us, who admire some but not all of his work, this one is a mere exercise and it left me listless. Listless is not a good thing to feel at the conclusion of a play.
Ages of the Moon plays through March 21 at the Linda Gross Theater, 336 W 20th St, NYC.
————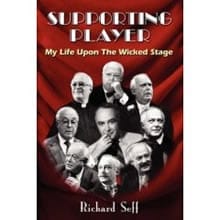 Richard Seff is author of Supporting Player: My Life Upon the Wicked Stage celebrating his lifetime on stage and behind the scenes, available through online booksellers, including Amazon.com.
Richard Seff chats with Joel Markowitz: