In the early spring of 2008 I caught the first New York production of Next to Normal, off Broadway at Second Stage. I reviewed it favorably in this column.  Now, eight months into its run in a revised form, back on Broadway, I visited it again recently.
The authors worked on it after its debut run, and did so again during its subsequent weeks at Arena Stage in DC. David Stone, the producer, saw it there and optioned it for Broadway with the proviso that he could close it down, and have the authors continue to work on it. I eagerly anticipated my return visit, because as I told you all those months ago, I found it a musical of quality, one that helped stretch the borders of musical theatre well into the 21st century. I'm not high on big amplification (which rock seems to require)  in the theatre as you well know by now if you've been following me at all. But clearly this is a story, that of a woman crushed by bi-polar disease, whose musical idiom could clearly be that of her time.  So, as with Hair, Rent and even Spring Awakening, I found myself moved and excited by the work of   Brian Yorkey, this young lyricist and librettist.
Next to Normal has greatly benefited by all the attention its creators have lavished upon it. Its relationships have been deepened and clarified, its characters further developed. Alice Ripley continues to play the leading role with passion and power, and the holdovers from the original production continue to lend support by bringing real acting chops to their roles, as well as ability to deliver the musical material. Aaron Tveit, as Ripley's tormented son, was brilliant in the original, but he's been in and out of the Broadway transfer, as he's landed a leading role in the incoming Catch Me if You Can and he's been doubling both shows while the latter continues to evolve on the west coast. But Kyle Dean Massey is an excellent replacement. J. Robert Spencer replaced Brian d'Arcy-James as Ripley's husband, for James moved on to the title role in Shrek and most recently, the co-starring role in Donald Margulies' Time Stands Still, currently playing a couple of blocks away.
Spencer is appealing, if a little less substantial than James, but he's very moving by evening's end. So, from the writing point of view, the acting, the production in general, Next to Normal continues to involve and excite near-capacity crowds and looks certain to do so through the rest of this season.
What keeps it from the really big time, from the totally satisfying audience experience, from the pantheon of great, revivable musicals, is that nothing has been done to bring melody to the score, or balance to the sound design.  Management has chosen not to list the titles of the musical numbers in the program, possibly because they are not "songs", but are merely made use of in the way that songs used to be in musical theatre. They are intended to illuminate character, to further plot. And the lyrics do accomplish this. The music remains as before, without color, without melody.
I don't want to repeat myself, but I will say to those of you who've not read my first review, the son's anguished cry "I'm Alive!" sounds musically exactly like his mother's anguished cry when she attacks her husband with "You Don't Know!". The few lines of book that are allowed its author Brian Yorkey are effective, but only remind us how much this piece would have benefited by allowing much of the uninteresting musical material to be played out as scenes instead. To try to tell the entire story (and it's not without its twists and turns) through lyrics and tuneless tunes did not serve this intelligent and absorbing material well. Usually one says "that scene should have been musicalized", but in this case the reverse applies. "That 'song' should have been played as a scene."
Make no mistake, the audience cheered, and I had a fine time myself. I have great admiration for this cast, for Michael Greif's fluid staging, for the striking physical production, for the story itself.   But I will not treat the score as though it were the emperor's new clothes – no one seems to mention that it is colorless and loud. Which brings me to my final sad note. Brian Ronan's sound design (or Mr. Greif's use of it) is ridiculously aggressive. No one seems to have noticed that Next To Normal is playing in the tiny Booth Theatre, home to many a 3 character one-set straight play, but its musical content is being presented as though we were all in a stadium with 3500 seats. Implementaion, yes – I don't, but modern audiences do need some help (ears are shot from all their exposure to noise) – but distortion and overamplification, no. Do come see this, but don't forget your ear plugs – they are ever so much more comfortable than fingers in your ears, which is where mine were through much of this adult entertainment.
Next to Normal continues its run at the Booth Theatre, 222 W 45th St, NYC.
———–
Next, to one of the rare mistakes of Primary Stages, whose new home is the shiny bright building at 59 East 59th Street, where so many of Horton Foote's, Alan Ayckbourn's, AR Gurney's plays have delighted audiences for several seasons now. Perhaps in the interests of economy, Casey Childs and Andrew Leynse, the artistic and producing directors, have imported the Yale Repertory Production of Lucinda Coxon's play Happy Now?, complete with original cast and original director Liz Diamond. Ms. Coxon has had a dozen plays staged in England and at South Coast Rep in  California, but I've neither seen nor heard of any of them. The National Theatre in London produced this play, and will do her next, something called Persistent Illusions. She has talent for sparkling dialogue and the seven characters that comprise Happy Now? might each deserve a play of his own. But this isn't it, and I think that even after two previous productions, it hasn't made up its mind just whose play it is. Just as we become interested in Michael and Kitty,  who meet by chance in a hotel lobby, along come Johnny and Miles and Bea and Carl and June to interrupt with little playlets of their own and by final curtain we feel we've seen the 'coming attractions' to four or five plays which might flesh out the several stories that are merely hinted at here. Characters are referred to, but remain annoyingly offstage, holding their stories for another day and another play.
It's not exactly new to see a play populated  by dysfunctional thirty and forty year olds (or twenty or fifty year olds for that matter). Ms. Coxon's septet all seem familiar to us, and we wait to find something distinctive about them, something to justify a play of their own. No such luck – what begins promisingly fades by the intermission, and the second act runs out of steam entirely. It's a fine ensemble cast, and they helped liven things up, but only to the point where I kept  hoping to see these actors in a play that challenges them and involves me.  It was the actors who had the charisma, the personality, the spark, not the characters – or no, perhaps they did, but we never spent enough time with any one or two of them to come to any conclusions about them.I liked everyone in this company, but I must mention Mary Bacon, who plays the supposedly central character "Kitty", for I'd enjoyed her work so much earlier this season in The Late Christopher Bean and she could not be playing a more different character this time out, with equally good results.
"Structure," Ms. Coxon – if there's a course out there in structure, I'd advise you to sign up.
Happy Now? has been extended thru Mar 21, 2010 at 59E59th St Theatre, NYC.
————
Noel Coward's Present Laughter is a gift for the romantics.  Particularly in this particular season in which the best of the plays are concerning themselves with race (Race), jealousy and incest (A View From The Bridge), political unrest (Fela!), bi-polar disease and mental illness (Next to Normal)among other dark and disheartening subjects. For Coward's bon-bon deals with nothing more dangerous than the solipsistic but charming Gary Essendine, star actor/playwright/director and the tangled web into which he's caught himself by allowing ex-wife, secretary, maid, butler, ex and present mistress and apprenticing playwright into his "glamourous life" (phrase courtesy of Stephen Sondheim.)
Set in the 1930s in a drawing room in London's Mayfair with a magnificent staircase, one that would be suitable in a movie palace of the period, the play takes us to a world unknown to us now in a matter of seconds as the curtain rises (and this is one play that would not be helped by having the curtain up as the audience gathers.) That would rob us of the  gasp, and the applause that greets our first view of the room onstage.  Moments later, after three or four pages of delicious dialogue which used to be called "exposition", we get to know comical maid, free-wheeling butler, last night's lady conquest and acid-tongued very loyal and discreet private secretary before the Master himself appears from his bedroom at the top of the stairs. Applause for Victor Garber who is playing  Garry Essendine, welcoming Garber back from a long stay in television. He earns the welcome, for he appears to be having the time of his life collapsing onto sofas in expensive dressing gowns, bouncing about in Saville Row suits, sipping cocktails and smoking long cigarettes in full evening dress, even singing us a song for no reason at all, and delivering the Coward philosophy, replete with bon mots and salutary soliloquies, very much as the Master himself did in the original production of the play in the late 1930s.
The plot, which is complicated and inconsequential, involves Essendine's impending 3 month tour of Africa in which he will be appearing in 4 plays in repertoire. Before he can leave he has lots to sort out. It takes him 3 full acts in which to do so, and before final curtain the 3 months in which he'd planned to restore himself, to prepare himself for another London season, has proven that wherever Garry Essendine is, there will be utter chaos of the most joyous sort.
Nicholas Martin, the director, and the Roundabout Theatre Company have impeccably cast this joyous revival. One must be very careful in seeking actors who understand the rhythms, energy, style that Coward requires, and  they've come up with some pips. As above, Garber is a  master at comic timing; here he is  aided and abetted by Harriet Harris, this time out in red wig and veddy British accent which brings laughs on almost every line she speaks, Lisa Baines as the ex-Mrs. Essendine, Holly Fain as last night's dalliance "Daphne Stillington", on down to the small role of Lady Saltburn, played with the right amount of hauteur mixed with good humor by Ms. Alice Duffy.  And then there is Brooks Ashmanskas as "Roland Maule" the overly exuberant, madly obsessive satellite to Essendine's star. I've seen this role played three times previously, and this one character seems to lend himself to very original choices. The last time out he was played in the nude! (in one scene only, but still….).  Here, Mr. Ashmanskas, who's brightened half a dozen comedies in New York alone (The Ritz, Martin Short:Fame Becomes Me, Gypsy come instantly to mind) is on a roller coaster ride. I have no way of knowing if the Master would have approved, but I'm fairly certain he would, for Ashmanskas is downright hilarious as he leaps about on, under and over all the furniture in the room. How he lands safely on stomach, bottom, side or feet is his own business. Incapable of remaining still (except when he's listening or waiting on the sidelines for his next leap, for he's not a greedy actor) his every contortion of face and form seems based on some deeply hidden truth. When listening to Essendine or anyone else berate him or encourage him, his face reflects reaction after reaction for he's chosen to play Roland Maule as an enfant terrible and it works. He may not quite be in the same play as everyone else, but the audience and I welcomed his every visit from his particular planet, somewhere between a Marx Brothers riot and Charley's Aunt. A welcome  treat, seeing this rare talent on Broadway again.
So – as an antidote to most of the dramatic fare gracing our fair city, if you want 2 hours and forty minutes (yes, and three full acts) of merry mirth, spend some time with Noel Coward and his gang of crazies.
———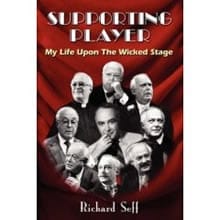 Richard Seff is author of Supporting Player: My Life Upon the Wicked Stage celebrating his lifetime on stage and behind the scenes, available through online booksellers, including Amazon.com.
Richard Seff chats with Joel Markowitz:
Present Laughter runs thru March 21, 2010 at the American Airlines Theatre, 227 W 42nd St, NYC.