August Wilson was a master playwright and Fences was his biggest success. It ran for 525 performances during its initial Broadway run, and was a feather in James Earl Jones' and  Mary Alice's caps, for it was they who then played Troy and Rose Maxson, its central characters.
The play is back now, 23 years later, with Denzel Washington and Viola Davis playing this married couple; it is still set in 1957 in the back yard of the humble home in Pittsburg that the Maxsons share with their son Cory. These are ordinary folks, this black family and a handful of others that include relatives and friends. They are decent enough, hardworking and struggling just as the civil rights movement is about to ease their burden slightly at first, more clearly in the distant future.
August Wilson is able however to transform the ordinary into the singular; he takes the stuff of which soap operas and melodramas are often made, and elevates it into tragedy, giving it mythic size with the power of his language and the depth of his feeling. Fences takes its place alongside Death of a Salesman, Long Day's Journey Into Night, Our Town and You Can't Take It With You in the pantheon of great plays dealing with family life in our disparate America.
Troy Maxson is struggling to find meaning in his difficult life and in his job  as the tail end of a trash collection truck; his small dream is to be allowed to become the driver, a job seemingly reserved for his white colleagues. When he  achieves this, he is triumphant and satisfied that he's doing his bit for the advancement of his people. He has plans for his son Cory that don't sit comfortably with the boy. When we first meet Cory, he's about 16; the play takes us well into his twenties, by which time he's acquired a half-sister, has walked out on his parents and has begun his search for his own identity by joining the Marines.
Mr. Wilson has the courage to paint Troy as a far from perfect parent and husband; and his confrontations with his wife Rose over the raising of their son are written with the power of a playwright in full command of his enormous talent. Washington and Davis hurl themselves into these roles, and stun us with the power of their performances. Chris Chalk as Cory also manages to convey all the pain he's managed to contain through adolescence into young manhood, and when he relieves himself of some of it by confronting his father, the catharsis is extremely moving.
In a more ordinary work, one would expect closure at the end; the journey would take us through troubled times to a quiet and happy or at least hopeful resolution. In a sense the play does just that, but in a surprising  and satisfying way. The perfect production helps of course, and credit goes to Kenny Leon who brought his firm directorial hand to this and to the Tony winning revival of Lorraine Hansberry's A Raisin In The Sun and to other plays of August Wilson, including Gem of the Ocean and Radio Golf. Santo Loquasto has designed us a house and yard that is specific down to the detritus and broken wood planks lying about under the porch. As a result we know a lot about the Maxsons long before they open their mouths to speak.
As with all of Wilson's illuminating and enthralling work, I always feel he'd have been well served by a dramaturg who could have stimulated him into cutting just a tad of the material. The monologues are powerful and haunting, but I humbly suggest they'd be even more effective if they weren't quite so loquacious.
Conclusion: I'd much rather hear Mr. Wilson overdoing it a bit than sit through another of the "90 minute wonders" that constitute much of the  current intermissionless and skimpy dramatic offerings on the bill of fare.
Fences is playing at the Cort Theatre, 138 W 48th St, NYC.
———–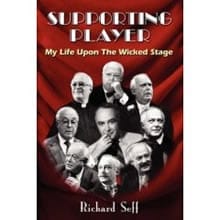 Richard Seff is author of Supporting Player: My Life Upon the Wicked Stage celebrating his lifetime on stage and behind the scenes, available through online booksellers, including Amazon.com.
Richard Seff chats with Joel Markowitz: