Here is one oldie but goodie that is rarely seen. Dr. Knock or The Triumph of Medicine was, in its native France, a smash hit opening late in 1923, when it caused a sensation in a production starring Louis Jouvet. It was revived six times between 1923 and 1933, and seven more times between 1935 and 1949. Jouvet called it his "magic play" and even appeared in three film versions. New York had a glimpse of it in 1928, but it only managed 23 performances. I think perhaps it was perceived as satire (which it is)  and you know what happens to satire on Broadway. As George S. Kaufman once said, when asked to define satire, "Satire is what closes on Saturday night."  In this instance, he was on the nose.
Jules Romains was a playwright whose works were staged almost as often as Shaw's and Pirandello's in the 1930s all throughout Europe. His prose embraced a 27 volume novel, "Men of Good Will", comparable in scope and ambition to the works of Zola and Proust. He began his career as a poet; his first volume was called "La Vie Unanime", which outlined his new philosophy of Unanimism. It envisioned "the interconnectedness of all people, that groups possess a sort of collective soul, generated by disparate individuals who make up the group." These thoughts influenced a generation of avant-garde artists and writers and philosophers, and they also inspired Romains' own plays and novels. This might explain why he did not have commercial success in the United States – we were too young to be interested in a French poet/dramatist/novelist's thoughts on human behavior. So we owe Jonathan Bank, the Mint's artistic director,  a heartfelt 'thank you' for unearthing this very funny satire, for dusting it off, for serving it up with his usual taste and ardor.
In dealing with health care reform (not health care insurance, just plain health care) it remains a perfectly viable subject for our times. Gus Kaikkonen translated and directed it for the Mint with the same care and talent he brought to The Madras House, and to the New York premieres of The Voysey Inheritance and Farewell to the Theatre. In Thomas M. Hammond, he has found a leading man who plays it straight, perhaps a bit too straight, for the drawings we have of the Jouvet production in France indicate the characterizations were heightened and look closer to The Cabinet of Dr. Caligari than to an episode of "Dr. Kildare" or "Marcus Welby".
But Hammond's interpretation is in keeping with the style of the production, which goes for the basic truth in the material, rather than in its larger comic possibilities. And the rest of the company follows him in terms of style. Patti Perkins' "Lady in Violet" (one of three roles she plays, all of them distinctively) is a grande dame of the first order, but she does not attempt to enlarge her into an Edith Evans "Lady Bracknell," an Angela Lansbury "Madame Armfeldt" or a Martita Hunt "Miss Haversham."   The same applies to the wonderfully varied Chris Mixon who plays three parts, the most outstanding of which is the Town Crier, a role he clearly relishes, and as a result we relish him too.  Patrick Husted, the only member of the company other than Mr. Hammond to play only one role, give us  the departing Dr. Parpalaid honestly and more in the manner of a drawing room comedy than a topical satire. I would have preferred turning up the level of the comedy a notch or two (as I say, the photos of Jouvet and company indicate that's how they played it) but even as presented, it was engaging and I'm delighted to have made its acquaintance at this late date. I mean the play is 87 years old, and we're just meeting, and I say "better late than never". For the good Dr. Knock is an original character who manages somehow in the course of three short acts to turn a bunch of unhappy healthy people into much happier invalids. And that's no mean trick.
I've not bothered you with much of the plot, so to help you unravel what I've said about the play, it basically deals with one Doctor (Parpalaid) selling his practice in the tiny town of  St.Maurice to a younger Doctor (Knock) . Knock has an original idea about what medicine should accomplish and he proceeds to practice it in a most unorthodox manner. He can't help it. As he tells us: "I look into a face and I see a diagnosis." Various locals resist him for a brief time, then succumb totally, and he is a great success.
We know he won't remain in St. Maurice for long – he's interested in a larger canvass on which to paint his life story – but Mr. Romains did not opt to write a sequel set in Paris, though he lived until 1972 and had lots of time to create one. Romains had great success in several genres, but late in life he remarked " "It is a source of great regret to me that no one has ever valued my poetry higher." He died in Paris at the age of 86,  and now 38 years later his unusual Dr. Knock is bringing pleasure to a new audience once again.
Dr. Knock, or The Triumph of Medicine plays thru June 6, 2010 at the Mint Theatre, 311 W. 43rd St, NYC.
———–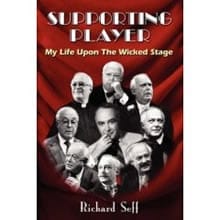 Richard Seff is author of Supporting Player: My Life Upon the Wicked Stage celebrating his lifetime on stage and behind the scenes, available through online booksellers, including Amazon.com.
Richard Seff chats with Joel Markowitz: