Bringing us to the light:
Caroline Jane Angell on directing Kensington Arts Theatre's production of Violet
and actresses Autumn Seavey and Allie Bannigan on playing Violet and Younger Violet
There  is something about the Jeanine Tesori and Brian Crawley musical Violet that always grabbed me, puts me through an emotional wringer, and makes me wipe away tears when the character of Flick reprises the song "Promise Me Violet" at the end of the show.
My first encounter with Violet occurred on a frigid wintry Saturday afternoon in March 1997. I was looking for a new musical to see when I was in NYC for a weekend. I slid into Playwrights Horizon and bought a ticket to a new musical that all my friends were raving about. The story about a young girl disfigured in a horrible accident, journeying on a bus – yearning to be healed – was hardly a way to spend a light-hearted afternoon in the theatre. But, what I saw and heard on the stage that afternoon not only moved me, but also forced me to examine the journey I was taking at that moment in my life.
Since that performance, very few productions of this unique musical have been seen on DC area stages, so what a treat it was to have two productions of Violet open recently – at Teatro 101 in Baltimore in January 2010, and now a new production playing at Kensington Arts Theatre ("KAT"), through May 22nd.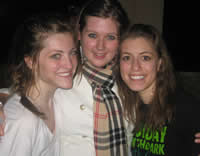 Director Carolyn Jane Angell takes us on her personal journey directing, casting, and bringing her own vision to KAT's powerful production of Violet, while actresses Autumn Seavey and Allie Bannigan enlighten us about playing Violet and younger Violet.
Caroline Jane Angell (Director)
Joel: Why did you want to direct Violet? Take us on the journey of putting this production together.
Caroline: I'm a big fan of Jeanine Tesori. I loved her musical Caroline, or Change – and so when I heard she had another, smaller musical, I listened to the cast CD. As with any show I aspire to direct, the music evoked an immediate, visceral reaction. I started picturing all the things that could be done with staging, thinking about the characters in my head, and imagining the relationships dictated by the music – and from there, I met with Kensington ("KAT"), made the suggestion, got together with Eric Scerbo (my producer), and we ended up assembling an incredible team of designers, crew, actors, and musicians.
Joel: Why did you want to direct the show at Kensington Arts Theatre?
Caroline: I have worked with KAT once before, as an actor in Nevermore, and I think the quality of productions they put on is pretty stellar. Plus, they are accessible to a particular community that would otherwise have to venture into DC or Arlington to see the kind of work that's put on, and I love that they have found that niche. Kevin Garrett (my production manager and sound designer) and I had been working together on a show at Imagination Stage, and he mentioned to me that they were looking for a director in a spring slot at KAT. He set up a meeting for me with Artistic Director Craig Petinatti – and away we went!
Joel: What were auditions like, and why did you select Autumn and Allie to play the two Violets in the show?
Caroline: Auditions are always tough for me – but exciting. It's a lot like putting a jigsaw puzzle together. As a director, I usually have a pretty good idea of the energy quality I am looking for in actors – it's not about what they look like for me, because in theatre you can always sort of make people look the way you want them to – but I know what kind of vibe I want for each of the characters. Then of course, there are other factors – chemistry with other actors, ability to interpret direction, bravery with approach to the character and text – and both Autumn and Allie had those things (plus "kick-ass" voices). Eric (Scerbo) and I would joke around at first about how the two girls didn't really look anything alike – but in rehearsals, we would do some staging and physical work and the resemblance would become uncanny. We were all a little bit floored by it – but happy, of course!
Joel: How would you describe Jeanine Tesori's score, and how do musical directors Valerie Higgs, J. Michael d'Haviland, and Leah Kocsis bring her incredible score to life on the KAT stage?
Caroline: As I said before, the music is what initially attracted me to the piece. There are gospel, bluegrass, folk and blues roots to it, and it's always kind of surprising, in terms of the directions it can take – which of course makes it fantastically theatrical and dramatic.  Valerie took us through the rehearsal process. After the teaching part was over, she focused on some of the things that make this music special – the particular dynamics, the style and how it fit the concept of our production, phrasing and timing and too many other things to name. It's a complex show. Leah and J. Michael stepped in for tech week and to play/lead the performances. They have worked as a team before, and they're really incredible at pulling it all together with the orchestra, setting the appropriate tempos, gaining the trust of the performers, and taking it through a successful performance cycle.
Joel: What challenges did you face in the KAT space?
Caroline: The town of Kensington has been wonderful to KAT, but there are intrinsic issues involved in space sharing (we use the Kensington Town Hall) that inevitably arise.  Set designer Evan (Hoffmann) and I had thought initially that we'd like to do the show in the round, but it proved too difficult to set up and tear down every weekend because the town still needed to use the hall during the week. We decided to go with a thrust set-up instead (three-quarters round), so we could keep the environmental feel we were aiming for.
Joel: How does Evan's set design help tell the story of Violet?
Caroline: We wanted to audience to really connect to these characters, to really feel emotionally invested in their journeys, but we also wanted to make the audience feel like they could connect in a personal way as well, and not necessarily have what they should think spelled out for them. The set that Evan designed is a bit abstract, in order to serve the multi-location, but also to let the audience put their own interpretation on the details – what does a nightclub look like in your mind? A bus? A truck-stop diner? A cheap Memphis hotel? We added some dressing and painting (aided greatly by our scenic painter, Lenora Spahn) in order to suggest how Violet was experiencing the journey, but ultimately, we were aiming to keep it pretty simple.
Joel: What challenges did rehearsals pose for you?
Caroline: In all honesty, our rehearsal process for this was relatively uneventful. KAT was incredibly supportive, Eric was an amazing coordinator, and everyone on the team was eager and willing to contribute to what we were aiming for conceptually. We did have one exciting moment, about a week before tech, when the lighting designer decided he needed to back out of the production. The team really rallied behind me, and we were able to get Chris (Kelly), who I had worked with before, to come up from North Carolina and design the plot. He did a wonderful job, so in the end it worked out for the best, but the day we had to work that out was pretty nerve-wracking. Other than that, we had a few scheduling issues – it's harder when you're working in unpaid theatre – but it all ended up just fine.
Joel: What was the most difficult song or scene to stage?
Caroline: I wish I had a better answer, but quite honestly, we had a lot of issues with the sex scene. I'm laughing as I write this. The sheer mechanics of it on a three-quarters round stage are baffling, but in addition, we wanted to make sure the scene told a story and wasn't just gratuitous. We must have tried to make it work a dozen different ways. It's a good thing Autumn and Eric Jones (as Monty) are such good friends! Coming in a close second is Violet and Preacher in the chapel. It's always tough to get the turning point of a play just right.
Joel: What is your favorite song in the show?
Caroline: Wow! I really love them all.  If I have to pick, I'd say "Bring Me To Light."  I think it's so moving and interesting that the show ends in a question.
Joel: What do you want audiences to take with them, when they leave KAT after seeing Violet?
Caroline: I hope the audience leaves with some questions, some disagreements, and some points of discussion for the car/metro ride home. That's what I always hope.
————–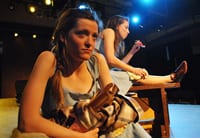 Autumn Seavey (Violet) and Allie Bannigan (Younger Violet)
Joel: Tell us about your appearances on our local stages.
Autumn: After college and then completing a year-long acting residency in South Carolina, I moved to this area, knowing that it was one of the top theatre cities in the nation. I've been here for almost two years now and have been auditioning like crazy! It's hard to get a break anywhere in this field, but thankfully, KAT gave me my first big opportunity with RENT and now with Violet. I'm so grateful!
Allie: Well, I've been doing theatre since I was 12, and it was all children's theatre and a little bit of auditioning for professional theatres. This is my first production with KAT and it is my first production being the only kid in the show so it has been a great growing experience as an actress and a young adult.
Joel: Why did you want to play Violet?
Autumn: Violet is a character that's on most girls' "dream role" list. I feel like the stars aligned and I was given this amazing opportunity. I wanted to play this role for the obvious reasons of the depth of the character and the amazing music, but when other things happened to not quite work out to where I was free to do the show, I felt like it was meant to be.
Allie: Well, being in high school you meet a lot of different people and everyone has different problems and relationships – and everyone is trying to make people see them for who they are. In the show, all Violet wants is to be beautiful and she wants people to look past her scar. So I think my everyday experience as a teenager really helps me understand why the healing is so important to the character.
Joel: What personal experiences did you bring to this role, and how did these experiences inspire your performances? Have you traveled on a similar journey as Violet?
Autumn: Fortunately for me, I have not had my face slashed open by an axe blade.
Joel: Thanks for giving the "accident" away. I shouldn't have "axed" you that question.
Autumn: However, I think everyone has had a similar journey as Violet to some degree. The story is all about self-discovery and finding true, inner beauty, and as a woman, that's a never-ending journey.
Allie: I am definitely on a journey now. As a young adult – I'm faced with a lot of different challenges with trying to find myself as an individual.
Joel: How did you prepare to play your roles?
Autumn: There's no way I could possibly know (at this point in my life) how it feels to get my face slashed open, so I had to take another approach. I definitely did a lot of soul searching, finding my own personal "issues" (or those of the people I care most about) and relating them to Violet. Just using the experiences of the character isn't enough. I had to find something of my own that I could emotionally attach to. It was a difficult journey, but in the end, I found my way.
Allie: To try to prepare for this role I really tried to put myself in her shoes and try to really imagine how she felt and how the scar affected her not only physically, but emotionally.
Joel: What is the most difficult challenge about playing Violet?
Autumn: Wow! Violet goes on such an emotional journey. She's a very intense girl. In Act I, on the bus, she is dead-set on getting her miracle. That's the only thing she's after, and she will do anything to get it. In Act II, she makes it to the preacher and essentially begs for her life, for the one thing that will make her whole again – a new face. The rest of the show she goes from way low to an extreme high to the most extreme low. I definitely leave the show at night needing a beer!
Joel: Both of you appear simultaneously in many songs and scenes. What challenges have you had in being on the same stage at the same time?
Autumn: Personally, I don't see any challenges when Violet and Young Vi appear on stage at the same time. It has only helped me… immensely. "On My Way" and "Bring Me to Light," the first and last group numbers, were the two most effective scenes to have us on stage together. Those are the times Violet needs the most reassurance. Caroline did a brilliant job in staging the two Violets to be the most effective.
Allie: The biggest challenge for me is knowing that there is no scar on my face. It would be so much easier to put myself in her shoes if the scar was visible to the audience.
Joel: What is your favorite song in the show, and which is most difficult to sing?
Autumn: Well, Tesori's music is both a delight and a hardship to sing. Once I learned it, it was great, but it's very tricky to learn. I could say that one of my favorites to sing is "Lay Down Your Head" at the end of Act I. All of Violet's songs are very belty and emotional, but this is the "softest", and it's a nice contrast.
I'd say the hardest to sing from a technical and also emotional standpoint would be "Look at Me." Technically, the song itself changes about every ten measures or so, different rhythm, key, feel, everything. It's like five different songs meshed into one. However, I think it exemplifies Violet's journey all in one song. She goes through so many changes, that it's only fitting for the turning point song, where she's finally "healing," to change as well. The song ends with a heart-wrenching scene where Violet confronts her father (who is holding the axe that slashed her face open). It's just brilliantly written and a pleasure to allow myself to "go there" emotionally.
Allie: My favorite song is probably "Let It Sing" because I love its message of hope and celebrating who you are. The most difficult song to sing is probably "Raise Me Up" because the music was really difficult to learn and all the different parts can get a little confusing.
Joel: You both appear with Patrick McMahan, who plays your father in the show. What's it like working with him, and which scene with him is your favorite and the most challenging emotionally?
Autumn: Patrick appears in the show as multiple characters, but most notably as Violet's father and the preacher. I find it interesting that the script is written for that character to double in those two particular roles since the father is the one who "gave" her the scar and the preacher is the one who will supposedly rid her of it. It's very clever that way.  Patrick does a great job of morphing himself into those roles. He brings a certain vulnerability to the father that is a fantastic contrast to the fiery preacher. The harder of the two scenes emotionally for me is the one with the preacher. It's a huge, climactic scene that really puts Violet in a position where she is begging, essentially, for her life, for the one thing that she thinks will give her life back.
Allie: Working with Patrick has been a great experience. I've learned so much from him and he really has looked out for me over the past few months. Working with him has been a pleasure and he is a really nice guy. My favorite scene with Patrick is probably "Look at Me" because not only is it emotionally challenging, but it's really a turning point in Violet's relationship with her father.
Joel: How did director Caroline Angell help shape your performances?
Autumn: Caroline is an actor's director. She knows how to lead you in the right direction and different tactics to use to get you there. She provided me with multiple resources: a  "Violet Mix Tape" (songs that she felt correlated to the mood of my songs in the show), articles, pictures, and just old fashioned know how. Plus, the level of passion she has for her work is so inspiring and makes me want to be a better actor.  She really is a GREAT person to work for.  I would work with her again any day, on any project.  She just gets it.
Allie: The best advice Caroline gave me for playing this role is just too really feel everything that is going on with the character and to just try as hard as I can to put myself in Violet's shoes – and become her.
Joel: Which scene gave you the most trouble, and how did Caroline help you with that scene?
Autumn: The scene that gave me the most trouble was definitely the discovery of the scar at the end. I'm a very internal person, so outwardly expressing anguish is a challenge.  Through exercises and visuals, Caroline was able to very clearly and effectively get me to where I needed to be. I have a joke with friends that "crying = good acting", which is obviously not true. It's one thing to be able to cry on stage when it's needed, but it's another to cry on stage when you're completely taken over by emotion and feeling the pain the character feels and relating to it. Caroline was essential in my discovery of the true meaning of Violet's journey and why this particular scene is so crushing to her.
Allie: The first scene I have with Patrick was probably the most challenging to figure out because we were still trying to develop our character's personalities and relationships. Caroline really helped us figure out how we wanted the father-daughter relationship to be portrayed.
Joel: What do you want audiences to take with them after seeing Violet?
Autumn: I hope that after seeing Violet, the audience will leave feeling something.  It's a very heavy show, an emotional rollercoaster for the actors, and I can only hope that the audience goes right along with us.  The script leaves the ending wide open for interpretation. Does Violet live happily ever after with the love of her life?  Is he the love of her life? Does she go back home and continue living the life that she had? So, my hope is that people leave thinking about the show and interpreting it for themselves. My favorite is when people come up to me afterwards and say "So, did you go with him in the end?" And I say, "I don't know, what do YOU think?"
Allie: After audiences see Violet, I really want them to know that life is a huge journey and self-acceptance is such a huge part in our happiness.
Violet plays through May 22nd at Kensington Arts Theatre, in Kensington Town Center, 3710 Mitchell Street, in Kensington, MD. For more information, directions, and to purchase tickets, click here.