The theatre can be a great venue for envisioning life through metaphor. But, sometimes, a cigar is just a cigar. And a man can, at times, find it best to be thoroughly naked, regardless of whether he's feeling emotionally exposed. So writing out a justification for Naked Boys Singing – a droll little cabaret with some not unsizeable talent – is probably best done by mentioning what it is not.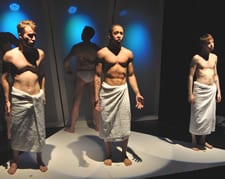 –  It ain't a costume drama. You've read the synopsis, right? Maybe you've seen a promotional poster? These six admirable men (James Finley, Matt Gillette, Steven Joseph, Aaron Alexander, Chaz Starkey, and Jonathan Simmonds), performing with nary a self-conscious twitch, find clothing a little restrictive. In fact, the few costume pieces that do turn up – a hat and tie here, an apron or a waistcoat there – somehow manage to make everyone look even more naked than they did before. It's one of those mysterious laws of theatre: we are often furthest from whom we dress ourselves up to be. Or, put another way, Naked Boys Singing follows Murphy's Law, with a twist: Everything that can be worn, won't.
– It's not a show with matinees. That's probably for the best.
– It's not a show for the critic. No points lost there. For this reviewer it's actually rather refreshing – if a little unorthodox – to find that the trustworthy notepad hasn't been flipped open for an hour or two at a time. This one earns a personal record for Fewest Notes Taken during a performance, and maybe that's not so bad after all. Given that this rather arresting portrait of the modern man runs at Playbill Cafe – a performance space with barely enough seating to host a Thanksgiving dinner – it's probably best to sit back, smile, and not draw attention to yourself. There will be no averting of the eyes, gentlemen. It's all or nothing.
– It's not Broadway. When we get extra lucky with a show like this, we find not just actors who've got singing chops, but singers with some instinctive theatrical grasp of visual storytelling and body language. Not so across the board here, but the soft spots aren't weak enough to sink the ship. They each, in fact, have a distinctive charm that keeps things afloat, from the locker room joke-pop song "Fight The Urge" to a nostalgic ode to film icon Robert Mitchum.
But even so, here's another thing Naked Boys Singing is not: Too much. Really. It may even be, at times, too tame for its own good. The perfectly enjoyable musical numbers, some with names like "The Bliss of a Bris" and "Perky Little Porn Star," have a goofy candor to them without being ostentatious, and it's this composed cool – this lack of interest in the brash and gaudy – that maintains our attention.
Granted, it's not always consistent. That irreverent pulse trails off during a few of the slow ballads, which find suitably strong voice onstage but pander to pretty ho-hum romantic language. The moonlit serenade "Window To Window," for example, tells it all in the title. I can see you through the glass just as I can see the true feelings in your heart, etc? Please. It's a bit of a sucker-punch to our talented cast, since the other tactic – to do it all tongue-in-cheek – would come off even worse. If only the libretto could bear the weight of more than a few ounces of cheeky zing at a time, the evening could serve up more food for thought than just dessert.
In short? Perhaps it's not always well-polished, but the show's got more going for it than just less clothing. It's not sloppy. It's not splashy. It's not showy. It's not snarky.
And in short-short? It's not too much to ask for a good night, out, with the boys.

Naked Boys Singing!
Conceived by Robert Shrock
Written by Stephen Bates, Marie Cain, Perry Hart, Shelly Markham, Jim Morgan, David Pevsner, Rayme Sciaroni, Mark Savage, Ben Schaechter, Robert Shrock, Trance Thompson, Bruce Vilanch, and Mark Winkley
Directed by Jeffrey Johnson
Produced by Ganymede Arts
Reviewed by Hunter Styles
Naked Boys Singing! is schedule to close June 13, 2010.
For Details, Directions and Tickets, click here.
Reviews:
NAKED BOYS SINGING!