Somewhat like the poetry of e.e. cummings—whose lower-case, typographically bizarre verse forms promised to shake up literary convention but actually built upon it—the lower-case "dog & pony dc" ensemble aims to take accepted canonical texts and re-scramble them. Case in point: their current production of Courage: A Political Theatre Revival.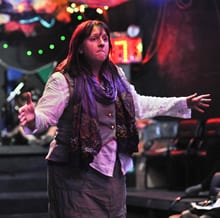 Now running in the black-box performance space of the Capitol Hill Arts Workshop (aka CHAW), it's an intriguing, chaotic, in-your-face re-imagining of Bertolt Brecht's well-known Mother Courage and Her Children.
This production isn't for everyone. Seasoned theatergoers expecting a smooth, polished, well-lubricated show may be tempted to slip out the back exit early in the game as if they find interactive anarchy uncomfortable. But socially active individuals open to getting involved in guerilla theater may find themselves getting an excited, cathartic rush as the story unfolds.
Brecht's original Mother Courage, which premiered in Switzerland in 1941, was based upon a pair of much-earlier literary works, Hans von Grimmelshausen's novel Simplicissimus (1669) and his follow-on play, Courage: An Adventuress. In our current understanding of things, Mother Courage was a war profiteer, an itinerant salesperson peddling goods and day-to-day necessities to soldiers and civilians enmeshed in what later became known as the Hundred Years' War.
Brecht's take on this old story shucked dramatic convention—as many of his works tended to do—adding music, asides, anything to break down standard audience preconceptions to make people think more critically about the issue at hand: in this case the dialectic of armed conflict and its pervasive influence on the status quo.
An avowed Marxist, Brecht was already on the Nazi government's short list of artistic foes as the Second World War broke out. (Hence the Swiss premiere.) But aside from the dialectical nature of its action-reaction format, Mother Courage relates the picaresque adventures of a down-but-never-out proletarian pragmatist who doesn't really take political sides. While she makes a tenuous living from a crude form of capitalism, neither capitalism nor socialism can save her in the end—only her wits and her will to live.
dog & pony's version of Mother Courage takes the original play's essence—and indeed many of its original lines—and updates them. The result, intentionally or not, directly addresses our own 21st century Hundred Years' War—a battle against serial totalitarianism and its industrial enablers whose story arc cruises through two World Wars, an amorphous Cold War, and the current hydra-headed Middle East conflicts.
Courage offers recognizable snippets of Brecht's original that are thickly clotted by the controlled bedlam of improv. For example, the musicians start jamming roughly half an hour before the show starts. The players are already involved in various merriments as patrons enter the performance space.
It's immediately clear that the cast wants you involved early and often. Theater's "fourth wall" is already long-gone when you walk in. You're handed zany forms to fill out and offered free, ice-cold Pabst Blue Ribbon brewskis, a nice touch for thirsty proles enduring an early and very steamy Washington summer. And, oh yeah, would you like to enlist in the army? Any army?
Out of this chaos, the regularly scheduled pandemonium begins.
Mother Courage herself enters with her three, young-adult children in tow, dragging her bedraggled wares on a huge cart. She's almost undistinguishable from the homeless bag ladies you might see pushing junk-laden Safeway carts on DC's city streets. What's on the cart is all she owns, and it's all for sale to support her and the kids. She makes it clear early on that the kids need to play along to survive.
But like kids everywhere, they know it all and don't listen. One by one, they succumb to someone else's "ideals" with ultimately unfortunate consequences. Mom may be a snake oil salesman. But she knows what she knows. Survival.
Brecht's chronology is pretty much retained. So, in a way, are his unconventional conventions. In Courage, for example, the audience gets to vote on things, is free to join a kind of Germanic conga line, and is invited to sing along with the players as the production morphs into rolling anarchy.
Just when the anarchy is in danger of getting somewhere, it's time for a break. Here comes a song from the show's lively band members. They play a moderately amped amalgam of punk, post-punk, country and western, and klezmer-tinged tunes commenting on the action like a classic Greek chorus before allowing the proceedings to advance.
The production is surprisingly poignant. It's a virtual certainty that the hearts of dog & pony's youthful cast and musicians are closer in spirit to Karl Marx than they are to Adam Smith. They're far likelier to have voted for Barack Obama than for John McCain in 2008. But their restless vision of Mother Courage oddly transcends the original. It embodies a disillusionment with the downward spiral of "hope and change" as profound in 2010 as was the conservative disgust with out-of-control Congressional spending in 2006 and 2008. No matter what a given political leadership promises, John Q. Public always seems to get screwed in the end.
You can feel that disillusionment in this production. Its surface hilarity masks a profound sorrow and disappointment, always felt more strongly by idealistic young people than by hardened and cynical old-timers who've seen remakes of this political movie before.
Brecht, at least most of the time, was convinced that socialism was the way out of the political morass. Now, no one—other than true believers on the left or on the right—is certain there's any way out at all. The "alienation" or "distancing effect" that Brecht aimed for in his own Mother Courage seems to reach its final form in this production. dog & pony's Courage diligently searches for answers but doesn't find any. Perhaps there aren't. Maybe everything is gradually melting down into an entropic puddle. It's not a happy picture.
Paradoxically, the dog & pony ensemble maintains a sense of genial good humor throughout. While audience members are often invited to get into the action, it's not pushed aggressively. Those who need their space are allowed to keep it. The production initially seems to promise an evening of agitprop. But its cast is disarmingly gracious, perhaps an enlightened recognition by the company that no matter where their audience is coming from, it's a fine mess we've all got ourselves in.
Hat tips to dog & pony's cast, including Wyckham Avery ("Mother" Courage), Mitch Mattson (Eilif), Jacob Yeh (Swiss Cheese), Betsy Rosen (Kattrin), Augie Praley (the Cook), Colin Hovde (the Chaplain), and Yvette (Jessica Lefkow). Helping out by serving as "greeters and facilitators" (the ones who climb into the audience) and minor characters were additional cast members Josh Drew, Jonathan Gadsden, Ariana Hodes, Farah Lawal, and Jon Reynolds.
Led by John Milosich, who also put the show's music together, the stage band had a decent, folksy quality and presented their politically tinged tunes in a straightforward way that permitted the audience to actually hear most of the lyrics. The entire cast erupted on two occasions into a capella numbers that, while not operatic, were quite inspired.
Courage is ably directed by Rachel Grossman, who proved amazingly adept at keeping the show's wide-ranging action safely contained in a very small performance space without allowing it to seem cramped.
The major downside to this show, ironically, is that it's dynamic is very, very dependent on audience feedback and involvement. We caught last Thursday evening's show, which was sparsely attended, even in a space that doesn't have a ton of available seats to begin with. What audience there was became reasonably involved but not vociferously. With hardly anyone to buttonhole, some of the actors fumbled to find appropriate ad libs and some things fell flat that shouldn't have. There simply weren't enough people in the seats to start throwing lines back at the actors and to make those creative juices flow.
In the end, this is first and foremost political theater, hearkening back to the kinds of things that now-aging Boomers used to put on in the late 1960s. It's a show that really needs a full house and a few audience screwballs and rabble-rousers to liberate its subversive, mosh-pit-frantic potential. Courage just didn't have that going for it Thursday evening.
Well before the time of Karl Marx, the poet William Blake wrote:
"Without Contraries [is] no progression. Attraction and Repulsion, Reason and Energy, Love and Hate, are necessary to Human existence."
More than Marx, more than Brecht, that's what dog & pony is trying to get at in this production. If you're the open-minded type who likes to get enmeshed in socio-political "Contraries," you'll like this show. If you're not, it might be better to try something more conventional.
Courage: A Political Theater Revival

Based on Mother Courage and Her Children by Bertolt Brecht. New version by David Hare.
Directed by Rachel Grossman
Original music composed by John Milosich
Produced by dog & pony DC
Reviewed by Terry and Fran Ponick
Courage runs thru June 26, 2010.
Click here for Details, Directions and Tickets.
Reviews:
COURAGE