Darin Ellis, a gifted actor and singer who had a featured part in the Capital Fringe show Assembly Required: How to Write, Produce and Stage a Musical, the Musical, died on July 22. According to his aunt, the cause of death was congestive heart failure.
Ellis was a student at Signature Theatre's musical training program, Overtures, and local talent evaluators had predicted a promising future for him. No Rules Theater Company co-artistic directors Joshua Morgan and Brian Sutrow, who had cast him in Assembly Required, spoke expansively about both of his skills and his cheery backstage presence.
"He was a fabulous guy with incomparable talent," Morgan said. "While developing our most recent Fringe show…we came up with a bit just for Darin to showcase his remarkable voice. He was game right from the get go and always brought so much joy to the rehearsal room and his performances. He was only able to perform 3 out of the 5 shows and stopped the show every night…He was a friend and a colleague who I admired and looked up to. He will be missed but never forgotten."
Sutrow concurred. "Darin was a lovely and talented guy.  We were looking forward to collaborating with him more. At our auditions for You're a Good Man Charlie Brown, he blew me away with his rendition of 'Run Away with Me.'  While we realize we were lucky to have had him for as long as we did, we are all incredibly sad at his passing."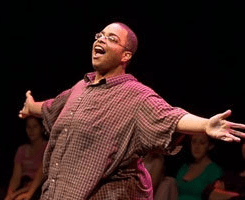 "Darin was one of the most personable young singers I have met since I have been writing about the young talent in our area for DCTS," said DCTS columnist Joel Markowitz said. "I saw him last week…The audience went nuts when he finished (a song in the show). He had this broad smile, great charm, and his voice was simply gorgeous. It's a great loss for our theatre community, his family and his friends at Overtures…."
Signature Theatre Artistic Director Eric Schaeffer is organizing a celebration in his honor at the theater on August 9 at 8 p.m. For more information, call 703.820.9771.
Friends are leaving messages on Ellis' Facebook page.
"The evening his aunt called to tell me he had passed, she told me that he was having a 'fabulous time in the show' and that she was grateful he passed doing what he loved.," Morgan said.