I'm certain Bernard Shaw's plays will pop up regularly well into the future. They are replete with ideas that were in their time disturbing and provocative, and Lord knows they offered stunning roles, particularly for women. His Kitty Warren, Candida Morell, Eliza Doolittle, Jennifer Dubedat, Saint Joan,  Raina Petkoff, Cleopatra and others have given bright stars an opportunity to shine all over the world. This year alone  Mrs. Warren has been inhabited by Felicity Kendall in London, Elizabeth Ashley in Washington and currently we have Cherry Jones in New York at the Roundabout's American Airlines Theatre.  I say " hooray!" for it's always a joy to watch these ladies go at their craft with full sails billowing in the wind.
Mrs. Warren is a lady of passion, an Eliza Doolittle without benefit of Professor Higgins, so instead of becoming a fake duchess, she ends up running a series of brothels in various countries, earning her enough to raise a daughter in great comfort and to educate her at Cambridge. The fly in the ointment is she's never told her daughter ( Vivie) where the  money came from, and when Evie finds out, she is livid and banishes her mother for good. Well, not for good, but until  she hears mother explain how she had no choice; coming from abject poverty, other than to be slave labor in industry, a char woman  for poor wages, or spend time in debtor's prison. She makes a good case (at least from her point of view) for why she moved into prostitution, the oldest profession of all. Then, when daughter learns that Mom's business is an ongoing thing, she kicks her out again.
Both ladies are left on their own at play's end, and neither is the better for it. Vivie is last seen about to start working at her bookkeeping chores, much as Henry James' heroine in The Heiress was left alone with her embroidery.  Along the way, Shaw presents all points of view eloquently and to do so he includes an ardent suitor for Evie (Frank Gardner) , a reverend with a checkered past (Reverend Gardner, Frank's father) , an old friend of  Mrs. Warren's with a waspish tongue (Mr. Praed), and a very practical other suitor for Evie (Sir George Crofts),  a middle-aged man who makes his plea for her hand with great logic and little success.
Financing a play was clearly not a problem in the early twentieth century, so Shaw gave his play four settings – a garden outside Evie's home, the interior of that home, another garden nearby, and an elaborate house in Chancery Lane, London.   He  wrote Mrs. Warren in 1893 but  the Lord Chamberlain kept if from the public stage until 1902, and even then it was not allowed to flourish, for frank discussion of the benefits and inevitability of prostitution was not a subject for public discussion at the time. The renegade playwright didn't give a fig about the Lord Chamberlain and eventually that keeper of the code lost his power, and after that, anything went.
Roundabout has given the play its usual A-1 production under Doug Hughes' meticulous direction. Cherry Jones is dressed as an elegant tart, replete and resplendent with feathers and furbelows and she's found herself a manner of speech that indicates a well-traveled lady, with seasoning of cockney, Mayfair, Belgium, Burgundy and Wherever scattered throughout.
Ms. Jones is well on her way to playing Lady Bracknell, and she's never been more beautiful than she is here in her colorful gowns and attractively groomed red wig.  Hughes has wisely chosen to present the play for what it is – a Victorian-Edwardian lecture on the hypocrisy of society and religion.
His staging is equally, and I assume intentionally, old-fashioned in that principal actors are always placed front and center as their monologues approach, and some even play in that once-upon-a-time correct manner of glancing occasionally at their partner, but playing most of the speech out front to us lucky recipients in the house. Edward Hibbert, as old friend Praed, is the one actor who seems rooted in that tradition. It is everything that John Osborne's Angry Young Men swept away with a broom, but it suits this material. I found  Sally Hawkins' Evie a bit more unpleasant than need be; she always seemed to be shouting at someone, and her very strong voice doesn't lend itself well to shouting. The others, Mark Harelik, Adam Driver and Michael Siberry were fine, wrenching all the humor out of Shaw's comments and observations.
This revival gives us an opportunity to visit or revisit one of the Master's keenly felt theses. It's four acts have been re-arranged into two, with zippy incidental music used to keep us involved during the extended scene changes.  Cherry Jones is always a joy to have around, and she's in top form, playing a character unlike any I've seen her do before. That should be reason enough to encourage you to come visit us if you can, if only to compare Ms. Jones to Ms. Ashley, who played the very original Mrs. Warren in Washington earlier this year.
Mrs Warren's Profession continues thru Nov 28, 2010 at the American Airlines Theatre, 227 W. 42 St, NYC.
————-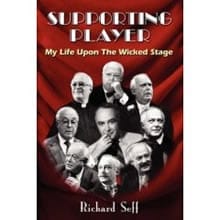 Richard Seff has written the book for Shine! The Horatio Alger Musical!, making its debut at the Theater at St. Clements Oct 7 – 17, 2010 as part of the 2010 New York Musical Theatre Festival.
He is also author of Supporting Player: My Life Upon the Wicked Stage celebrating his lifetime on stage and behind the scenes, available through online booksellers, including Amazon.com.
Richard Seff chats with Joel Markowitz: