It was a dark and stormy night.  Suddenly the Monroe family returns home from the movies with an abandoned rabbit.  Yet this is no ordinary rabbit — it's Bunnicula! Will this fanged creature pose a danger to vegetables and mammals alike?  Can the other family pets make the obtuse human family understand the threat?  The answers to this mystery can be found at Imagination Stage, where Bunnicula (previously produced in 2004) has risen again to delight children and adults through Halloween.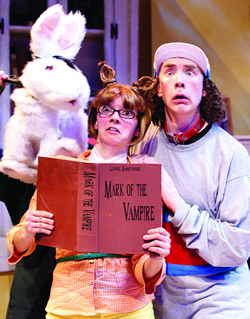 True, Bunnicula (operated by puppeteer Bette Cassatt), red eyes gleaming,  makes some eerie nocturnal sojourns.  Yet the real stars of the story are Chester the Cat (Tia Shearer), an intelligent and fussy feline, and the sloppy and skeptical Harold the Dog (Michael John Casey). They are a comedy team right up there with Abbott & Costello. An odd couple, indeed, they partner to protect the Monroe family, who have been finding their vegetables drained of their fluids (a white tomato?!?)
The clueless Monroe family is composed of the professorial Mr. Monroe (James J. Johnston), the warm yet take-charge Mrs. Monroe (Brittany Parker), and two rambunctious boys, Toby (Josh Strickland) and Pete (Mikey Cafarelli).
The witty script has a nice blend of humor designed to appeal to varying ages.  The physical behavior of Chester and Harold as cat and dog entertains the younger children.  There's fun to be found in scary moments accented by a neighbor's violin practice.  Other entertaining wordplay involves insults and quips and a pun is the payoff for a sequence involving the potential use of a "stake" in the chest of a vampire.
The music is serviceable, with a warm opening number describing how "there's nothing like a pet in the house."  Another early number claims there's "plenty of room for all" in the house (setting the stage for the ultimate happy ending that promotes tolerance).  Adults are likely to appreciate the jazzy take on "Poor Cat" in Act II complete with a finger-snapping chorus in dark glasses.  Some of the cast members are more enthusiastic than melodious, but always entertaining.
The creative team does an excellent job supporting the show.  A carousel set designed by Elizabeth Jenkins McFadden rotates between the living room (with a glowing fireplace) and the kitchen (featuring an unusually ominous refrigerator).  Sound designer Christopher Baines produces some nice sound effects, starting with the initial stormy background.
While the story and the music may not meet the high artistic standards of Imagination Stage triumphs like Heidi and The Dancing Princesses, Bunnicula offers an abundant share of fun.
Despite its vampire bunny theme, Bunnicula is a humorous mystery that is suitable for little children with only a few mildly scary moments.
At one point Chester sings "Be scared.  Be very scared."  A more likely outcome for families attending Imagination Stage's production of Bunnicula is "Be charmed.  Be very charmed."
Bunnicula
Based on the book by Deborah & James Howe
Adapted and Lyrics by Jon Klein
Music by Chris Jeffries
Directed by Nick Olcott
Produced by Imagination Stage
Reviewed by Steven McKnight
Bunnicula plays thru Oct 31, 2010 at Imagination Stage in Bethesda, MD.
Click here for details, directions and tickets.
REVIEWS
BUNNICULA
DCTS review