Joe Calarco on his new play Walter Cronkite is Dead
This year has been a very busy one for playwright/director Joe Calarco: he's directed three plays – In Transit for Primary Stages, Burnt Part Boys for Playwrights Horizon,  both in New York, and The Memory Play for Barrington Stage Company in Massachusetts and picked up a Barrymore Award for his direction of last year's The Light in the Piazza at Philadelphia Theatre Company. Here he reflects on writing and directing the Signature Theatre production of Walter Cronkite is Dead.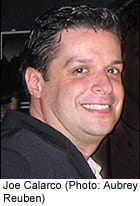 Joel: What's Walter Cronkite is Dead about?
Joe: Simply put, I think it's about how, once you hear someone's story, it's harder to demonize them.
Joel: For those who don't know – who was Walter Cronkite, and what does the title mean?
Joe: Well, hopefully most people know who he was (laugh) but… He was the anchorman for The CBS Evening News for twenty years (from the 60s to the early 80s). He was called "the most trusted man in America." The title refers to the idea that when Cronkite was a news anchor, the news and America itself, was a more civil place. There was disagreement, wild disagreement to be sure, but there was also debate. Now the political and social landscape seems to consist of people screaming at each other and calling each other names and no real discussion of issues. So the title is basically referencing the idea that civil discourse seems to be dead in America.
Joel: When did you get the idea of writing this play?
Joe: Well to make a very long story short… (laughing). These two characters were in a larger play of mine called Holding Pattern. That play had 8 characters in it, which is pretty big these days for a play, and the play also was very much a Bush era play. It dealt a lot with paranoia and what happens to a community when a constant state of terror becomes the norm. I decided to discard the play, but my sister Renee, who is also a writer, really encouraged me to find a way to save some of the characters from that play. I decided to extract Margaret and Patty because they were my favorite characters in the play. They had no interaction in Holding Pattern, and I wrote a new play for them.
Joel: You wrote the play before the 2010 election. As you saw these results unfold, did you change the play?
Joe: I think if anything it made the show even more pertinent, and sadly I think the play will remain timely for the foreseeable future.
Joel: You wrote the play for two actresses you and I admire – Sherri Edelen and Nancy Robinette. Why did you write the play for them?
Joe: Well they're two of the best actresses I know of. They did readings of Holding Pattern for me, and I started writing the characters with them in mind. I know they both understand comedy instinctually, and they both also have deep wells of emotion that they are not afraid of accessing.
Joel: You've worked with Sherri for over a decade. What is it about Sherri Edelen that makes you cast her in so many of your shows?
Joe: Well, she's ridiculously talented. She has that amazing voice, but honestly what makes her really special are her skills as an actress. And she's pretty fearless. She's not afraid to try things, and she works incredibly hard in the rehearsal room.
Joel: Have you worked with Nancy before?
Joe: We've only ever done readings together, so this has really been a huge treat and thrill to finally get to work with her during a full rehearsal process. I've admired her for so long from afar, so it's very satisfying to finally get to work together.
Joel: Let's talk about the characters Sherri and Nancy play in the show: Patti and Margaret.

Joe: The two women come from very different worlds. I think it's too easy to say that one is blue state and one is red state. I purposefully played with stereotype so that we quickly think we know who these women are, but as the play progresses we learn very surprising things about them. The play is more about what things they have in common as opposed to the things that differentiate them. They both are at a crossroads. They are alone in the world. And they're both wrestling with the relationships they have with their children.
Joel: What do you admire about each of these women and what do you not admire about them?
Joe: I love these two characters more than any I have ever written. It's not about admiration for me. I just like that they are both incredibly human. They both have preconceived ideas about the other, and they judge the other because of their prejudices. It'd be very easy for either one of them to get up and leave, but neither does. They each have the impulse and the desire to, but they both stay. I think that's brave and loving and generous especially at a time when people with opposing outlooks on the world can't stand to be in the same room with each other let alone actually talk with and listen to each other. It's very easy to shout your beliefs and opinions at another person and then walk out. It's much harder to stay and listen to the other person's point of view. That is what these two women do, and I think that's incredibly refreshing at a time like this.
Joel: How do Patti and Margaret change during the show?
Joe: I think they both learn that once you sit down and really listen to someone's story, you learn that you probably share some very important qualities and experiences with that "enemy."
Joel: How much of Joe Calarco are in these two characters?
Joe: Everything I write is personal for me. I don't know how many qualities I share with these two women, but I do hope that I am as passionate and as hopeful as they are.
Joel: You've had an incredible year in the theatre. What were some of your favorite moments?
Joe: Well this is a huge one. I have really been focusing on my writing, which can get put on the back burner because I am (thankfully) so busy directing. And directing The Light in the Piazza at The Philadelphia Theatre Company was a totally satisfying experience from the first rehearsal through closing night and ending at the Barrymore Awards this past Fall where we won so many awards.
Joel: What's coming up?
Joe: I'm in the midst of writing the Signature in the Schools piece which I have done for the last 5 years. It's called Image is Everything, and it's about propaganda both during World War II and also today. I'm working on two new plays of my own on top of that. As a director I'm working on several new musicals, and next year is shaping up very nicely.
Walter Cronkite is Dead plays through December 26th at Signature Theatre in Arlington, VA.
Details here.
Related:
Hunter Styles reviews Walter Cronkite is Dead here.
Joel's interview with The Light in the Piazza's director Joe Calarco here.
Joel's podcast with Sherri L. Edelen and Matthew Scott at The Light in the Piazza here
Joel on Joe Calarco and Sherri L. Edelen receiving The Barrymore Awards for their work in The Light in the Piazza here.
Visit Joe Calarco's website here.