I have interviewed dozens of performers for DC Theatre Scene, but my chat with David Pittsinger is one of my all-time favorites.
DC audiences will be hearing one of the greatest baritones in the world when David sings the role of Emile de Becque in South Pacific at The Kennedy Center's Opera House.  As I learned during an 80 minute phone interview – David is a friendly, articulate, talented, intelligent, funny, down to earth, and caring man. What impressed me most is his passion and respect and love for music, his family, his fellow cast members, his co-star Carmen Cusack, and this role.
Joel: Welcome back, David, to DC. Many people don't know that you lived here for a while.
David: I came to DC after high school trying to get into the 'political world'. I was a Republican intern with and was playing around with some Jr. speech writing under Senator Lowell Weicker. One of the first things I remember seeing at The Kennedy Center was Death Trap, and it was one of the finest plays that I saw. And I saw Amadeus there some years later.
Joel: Have you performed at The Kennedy Center before?
David: I actually did. I've also sung in The Concert Hall with The National Symphony Orchestra, where I've sung The Messiah and Beethoven's 'Ninth' there. I did a concert of I Puritani there. I love that venue.
Washington DC is a special place for me. My father was a guard at The Tomb For the Unknown Soldier, so it was always a special place to take us. I've always believed that singing and performing in our nation's capital is equivalent to being on Broadway for me. I am especially happy that I will perform here during the holidays.
Joel: Why did you want to play Emile de Becque in the National Tour of South Pacific?
David: I love going back to places like The Academy of Music in Philadelphia, or The Kennedy Center, or the Ahmanson Music Center in LA. These are all places where I have performed opera and concert works before – and in DC I performed with The National Symphony with Leonard Slatkin, and The Washington Concert Opera with Placido Domingo.  Placido has brought me out many times to LA and has been a big supporter of my career and my work.
It's the perfect role because it was written for an opera singer. French is my second language. I lived most of my professional career in Paris, and have maintained my ties there for twenty years. I have a wife of French ethnicity. I'm the age of the character, I have two kids who are the same age as Ngana and Jerome – the kids in the show. So there were so many things that allowed me to inhabit this role. In addition to the fact that is so perfectly written – the most iconic height of musical theatre writing.
Every single song in this show is a major 'hit': From "Twin Soliloquies", to "A Cockeyed Optimist", to "Some Enchanted Evening", "Bali H'ai", to "Younger than Spring Time", to "There Is Nothing Like a Dame" to "This Nearly Was Mine", to "You Have To Be Carefully Taught"…
Joel: It's amazing isn't it?
David: To "I'm Gonna Wash That Man Right Outta My Hair," and I could go on and on. All these songs were so iconic that they were taken out of the context of the book and were recorded by all the top artists of the day, and continue to be interpreted by the artists of today.
In this production, I get to perform my songs as they really were intended and the way they were written for an opera singer. It just fits so well, and to have that as part of my musical legacy – and to be a part of the musical legacy of Rodgers and Hammerstein, and the revival and now part of this National Tour – it's been the time of my life. It's given me a lot of exposure, and it has led people to ask me after seeing me in the show, "What are you doing at The Met?", and I tell them what I have coming up there, and then they contact me on facebook.
To be in a revival sponsored by The Rodgers and Hammerstein Foundation that hasn't been done in 60 years – and its timelessness and how it depicts human nature – well it's just fascinating to me.
You see parents and grandparents, and kids and grandkids and great-grandkids all sitting in the same show, and are all enjoying it equally.
Joel: Others who have played Emile de Becque before you – like Enzio Pinza and Paulo Szott, who won the Tony Award for his performance in this revival – were opera singers. Why is your voice well suited for the role of Emile de Becque?
David: Enzio Pinza (who played Emile De Beque in the original 1949 Broadway production of South Pacific), and I have sung the same repertoire. The part was written for my type of voice which has a true emotional quality as well as a gravitas. Here, you have a character that is really defined by his music and his particular situation much like King Philip is defined in Don Carlo or Don Giovanni in Don Giovanni. It suits my voice very well.
Some people have called me a bass and a bass-baritone, some people on Broadway call me a baritone, and in the opera world I have done a lot of baritone roles, from Scarpia to Nick Shadow and the deepest of bass roles including Sarastro (The Magic Flute), and other more 'Profundo' roles. This shows my voice to all of its best qualities in terms of 'Sotto Voce' and the true bind that's required to sing this piece. You have to be able to spin a line out and really allow yourself to take chances with dynamic variations that allow for great interpretive variations, while always being true to the style.
I have had great help from my Musical Director Ted Sperling as well as Fred Lassen (Ted's Assistant), who was our conductor.
Joel: When was your Broadway debut?
David: I believe it was December 2, 2008. I played Emile for about 6 months of the two-year Broadway run. I was engaged for a 'limited engagement'. It's different with opera. When you do something with The Metropolitan Opera, like Don Giovanni and The Marriage of Figaro – you are 'doing' it. It's strange when you so these crossover things. Paul had operatic engagements and I had operatic engagements so we sort of shared the role. I just finished my 400th performance two weeks ago on tour.
Joel: I saw your debut in the show and that's why I really wanted this interview.
David: Let me tell you a story about my debut performance. My wife Patricia Schuman was Peter Brooks' first Carmen, in his La Tragédie de Carmen, which actually took place in The Vivian Beaumont (where this South Pacific played). So when it came to pass that Lincoln Center called me to come and take a look at the show and see if it was something I'd be interested in doing, I was sitting next to Patricia and I asked her if she'd come with me and she said, "Listen David – your family is behind you and now is the right time to really take a risk and sing one of the great American musical parts ever written for your voice, and whatever happens tonight when you see the show – you're going to do this!" Because you are going to love to sing in this theatre." And I said, "Oh, okay."
We saw it and I got excited and I was very proud of my friend Paulo, and I thought, "I think I can do this!" I agreed to step in, and got a release from The Met. I was supposed do Thais with Renee Fleming and they gave me the release. They weren't thrilled about it, but anything under the auspices of Lincoln Center – we all have to work together. Then my wife started worrying, "What are you going to do surrounded by these professional actors?" We worked together- we sang Don Giovanni before, and we've done some Handel operas together in Germany and in Vienna and elsewhere, but it's a different kind of acting.
To make a long story short, she came into my dressing room while I was getting off my costume. She closed the door behind her – there were people outside the door including Elaine Stritch, – and Patricia had tears in her eyes and she said to me, "Is this going to be a problem?" And I said, "What? What are you talking about?" And she said, "You and Kelly (O'Hara)…I saw her fall in love with you when she sang "I'm In Love With a Wonderful Guy". I saw you fall in love with her… Oh my God!" And I said, "Thank You. You just gave me the highest compliment". We were laughing about it later. It moved someone who has known me for quite a long time professionally.
Joel: How long have you been married?
David: Twenty years now.
Joel: Congrats! That's a long time in this business.
David: Isn't it the truth! And then Elaine Stritch pokes her head in and says, "Hey kid – how they treating you?" It was surreal! That's my opening night story. It made me feel like I had accomplished something.
Joel: When you hear Ted conduct that amazing overture, what goes through your mind?
David: I am so excited when I wake up in the morning because I know I get to go to the theatre, because no matter how I feel – when you hear those chords – it's exhilaration every night: "BA DA DUM!" (Bali H'ai)
Joel: I always get goosebumps when I hear those first chords.
David: Me too – every night! I pray that the audience has that same feeling. Every audience is different so I try to hook into the psyche of the audience and try different things or tweak it for them. It's such a living thing. You take an empty slate and you add those chords to the overture and you add the audience, and you add who may be playing opposite you on that given evening – and because I have a dear friend Carmen Cusack who I adore –playing Nellie opposite me – I have never missed a performance of this tour, except to keep some of my opera commitments at The Met and in Vienna.
Joel: How did Director Bart Sher help you shape your performance?
David: Bart is brilliant!
Joel: The whole world learned that from his direction of The Light in the Piazza – also at Lincoln Center. I'm glad he did it because a lot of that beauty from Piazza translated into the South Pacific revival.
David: I think that is absolutely true. Having Mary Rodgers and Alice Hammerstein around helped also. They were champions of mine, and they were the ones that  convinced me that they really wanted me to do this.
During my audition when I was singing for them – I could hear them say, "Oh, he's a tall stick of gum isn't he? I don't think we should make him wear a wig. I think we should let him be just like that! He looks like a Frenchman doesn't he?" It was like I wasn't even in the room.
Joel: I am so glad they didn't make you wear that wig.
David: Me too! I was happy not to wear it. Look how it worked for someone like Yul Brynner!
Joel: With the recent opening of his new musical Women On the Verge of a Nervous Breakdown, Bart Sher has been spending a lot of time in NYC. Was he there when you rehearsed the tour show? Who 'directs' the show when he is not with you on the road?
David: I never rehearsed the tour show because the tour show is basically the same as the New York show. What was interesting is that when I rejoined the tour – I did a stint in Chicago. Rod Gifry opened the show in San Francisco. He started the tour because I was opening The Met's brand new Tosca. Rod then went off to do The Sound of Music where his daughter was also in the cast.
I haven't seen Bart on the road, but other casts have – during the second half of LA and when I came back in. When he's not there, Sarna Lapine (daughter of Director James Lapine) runs the show. I don't think it's because he hates me – I think it's because our schedules have just not worked out.
Joel, it's a fascinating and exhausting, and exhilarating time for me right now  – whether it be on the opera stage or on the musical theatre stage. It has opened my eyes to so many roles that I am most suited for.
Joel: Any specific roles you have in mind?
David: If they ever did a new movie version of South Pacific – which I think they have announced they are going to do – I would position myself to make a case that I recreate my role as Emile. The last time they made the movie for TV they had a bunch of actors who couldn't sing, and it didn't serve the show well. And in the 1958 movie version Rossano Brazzi  was dubbed by Met star Georgio Tozzi.
Joel: Do you know that of all the leads in the movie only Mitzi Gaynor and Ray Walston used their own singing voices? Juanita Hall (Bloody Mary), John Kerr (Cable) and Ken Clark (Stewpot) were all dubbed.
David: That's right! These are character where if they are not defined by the musical values and the emotions one can bring through this music – then you don't have any business doing the part. It's like when they did Sweeney on the big screen – so you agree with me?
Joel: Of course I do. I cringed every time Johnny Depp, Helena Bonham Carter, and Alan Rickman started singing. And Sondheim liked it! It's like Rosalind Russell singing "Some People" and 'Everything's Coming Up Roses" before she was dubbed by Lisa Kirk. It's on YouTube here and here. To the day she died Rosalind believed it was her vocals used in the movie.
David: (Laughing loudly). I have to watch these videos!
Joel:  Is this production of South Pacific different from the Broadway version?
David: The set is almost exact. The only difference is that we don't have the fact that it's not a thrust and we don't have that reveal of the orchestra, which was such a great part of the New York show. There are some mirrored images of the staging because it is in a proscenium. We don't have the 'exit down'. Everything is made in two dimensional unlike three dimensional as we had in New York.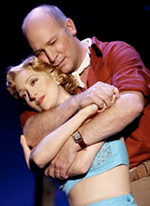 Joel: How would you describe Carmen Cusack's performance as Nellie Forbush?
David: There are not enough incredibly wonderful adjectives to describe this wonderful artist. First of all, she does a very gritty interpretation of a girl who is very gritty. She's very independent and an independent thinker. She also has a very big heart. Carmen immerses herself in that, and with me I've never seen Carmen do her Nellie opposite anyone else. I think I've seen a couple minutes of it, but not a whole performance. I always feel like I am the only one. She makes me feel special and brings the best out of me, and I hope I do the same for her, although she is very capable all on her own. I can say as an opera singer – she's got the 'chops'. She's operatically trained.
Joel: She lived in London.
David: She's an American but she lived in London. And she's done that difficult role of Elphaba in Wicked. I get to fall in love with her eight times a week. We have something special on the stage that I have found very few times in my career, or have had the opportunity to find. I've always enjoyed performing with my wife, but we've never performed roles that were inextricably entwined.
Carmen has a way of bringing everyone into her show and you can see the battle her character has awakening to the fact she is a racist. And by the end of the piece you can't help but fall in love with her Nellie. She volunteers to take care of the children of the man she loves. That's pretty touching. She accomplishes that emotionally, physically, and intellectually. Her line readings, her accents are spot on. We both feel we have to always be on our toes because there's no telling where a scene can go, because it's all grounded and comes from the right place, and we understand the backstory and what's at stake. Therefore, I feel that she has my back.
Joel: You are both watching out for each other.
David: That's right, and that's something Bart always says to me, "Take care of her. Take care of her". I never knew what it meant, but now I know that what it really means is that if I'm not sure what to do – just listen and put it on her. Throw it back on your colleague – see what they do with it, and let them run with it. That's what keeps it alive for us.
I hope you can hear in my voice the attitude of gratitude I have for working with Carmen and for this experience, and how my life is forever changed. The biggest gift that I can give her is to return the gift that she gives me in kind, which is to draw me in every night. I've introduced her to my family and we spent Thanksgiving dinner together down in Philadelphia (where the show was playing). She and her husband were there with my twins and my wife, and my mother-in-law. It's a very wonderful symbiotic relationship that keeps developing.
Joel: This year's PBS Live South Pacific performance looked beautiful, but it wasn't the whole experience you got of sitting in Lincoln Center watching this incredible production.
David: You know why – because it's made for the theatre. Whenever you try to bring the big theatre to the small screen it's even different than bringing it to the big screen – because you have more techniques. Basically, you are looking through a looking glass when you are seeing it on television, and not in the theatre. You are not experiencing it with everyone next to you. And yet if you are seeing a movie at home – it's the same thing. If you go to the movie theatre and see it with five hundred other people – the experience is very different.
Theatre is a living thing. That's why when you explain to children today why they need to see live performance or if you are listening to a recording of a live performance – it's so much different than going to a movie or something that's been pre-recorded or recorded just for its sound.
Joel: Was it difficult following Paulo Szott, who had just won the Tony for his performance as Emile?
David: People come up to me and say, "I saw Paulo do it" and I tell them how I adore Paulo. We are different performers and have different voice types. We have performed together a lot and will continue to perform together a lot, in upcoming years and at The Met and elsewhere. When the project was starting to surface and when I came into the show – there was a sense that there were a lot of things going on in my career, and I was taking a lot of risks with my repertoire – singing my first Scarpia and things. I was so proud of what Paulo did – but I was also a bit envious too, because it's just that kind of a piece that everybody wants to do. I am in the point in my career where I'm just trying to dispel preconceived ideas that opera singers 'don't have it'.
Joel: The problem is that when many opera singers sing in English it's hard to understand what they are saying or singing. That's what I liked about your performance – I could understand every word. Your diction is wonderful.
David: I'm very particular about it because I am a linguist. My Italian I studied in Italy, and my German I picked up from some courses in college and spending a lot of time singing in the German houses. My French I studied as a young child, and I could never understand why South Pacific was always cast with Latin men – Georgio Tozzi, Rossano Brazzi, etc. I think that's what Alice and Mary liked when I walked in. They weren't trying to clone any of them, so it really allowed me to define my interpretation of this character within Bart's beautiful staging. Bart said to me that, "Paulo was going to be my Maurice Chevalier and you are going to be my Hemingway."
I always thought that the reason Emile was on this island was because he has a temper and he paints in those big brush strokes. He's passionate, has a big temper, and he lives big.
Joel: So, are you that kind of person?

David: Yeah, I really am. I am a real outdoorsman. I live on the ocean here in Connecticut. I love to be around water. I love to see the movement of that. I love to fish. I love all those things but I also love culture and good theatre and good wine. I love cuisine and am a bit of an 'eatophile'.
Joel: And you bring all of this to your performance?
David: That's right. I was allowed to do that.
Joel: Do any of your songs – "Some Enchanted Evening", and "This Nearly Was Mine" for example – remind you of any arias that you have performed?
David: "This Nearly Was Mine" is "Ella giammai m'amo" from Don Carlo. And when I first sang 'Some Enchanted Evening" Bart said, "What are you doing? You are blowing it out too loud. You are trying to seduce her not impress her". The light bulb went off and I sing it differently to the eight different Nellies I have played with to date.
I can tell you that when Carmen turned around at me on stage last night her eyes were completely welled up as they are some nights. When I see her eyes all welled up it just inspires me to try and get her to look at me, because as I start the aria, I am singing to her back.  She's just sung "Cockeyed Optimist" and here I am insinuating marriage already.
Joel: So when you're done you have to ensure that she is falling in love with you.
David: Exactly! The stakes are very high. So "Some Enchanted Evening" has the same feeling as Don Giovanni singing "Deh vieni alla finestra", really trying to woo a woman to his bed. The only difference is that Emile is really in love with Nellie and he thinks it's his last shot at real love. And it is.
Joel: Where did you receive your operatic training?
David: I got my Bachelors in Music at The University of Connecticut and my Masters in Music at Yale University,
Joel: How did you land your first operatic role at The Metropolitan Opera?
David: My debut season was in a new production of The Rake's Progress done by Jonathan Miller (by Igor Stravinsky, with the libretto, written by W. H. Auden and Chester Kallman).  I played Truelove, which is a role I had never done. I had done 4 or 5 other productions of The Rake's Progress, but had always sung the role of The Devil – Nick Shadow. I was covering Sam Ramey in that role and singing Truelove. It's not a role I would like to do again after singing 120 performance of The Rake's Progress. Nick Shadow is one of my 'calling card' roles, as is Faust in Gounod's Faust and Gounod's Mephistopheles, or the villain in Offenbach's The Tales of Hoffman – all devilish characters. I also went on to do Don Carlo at The Met and La Boheme, in that first season.
Many of those roles are considered a Bel Canto style, but certainly in the French Romantic repertoire like Don Quixote by Massenet, these are roles that really allow great expressions of color. If an artist has a lot to say – it always makes for an interesting performance. If it's only about the artist just showing his vocal and technical ability – it becomes a little less interesting for me. Technique is what we all hope to arrive at and leave behind. It's there to serve us and to be able to take chances and take risks in a performance, and allows us to have some success when taking those risks
It really all came about at The Met. After performing so many years in Europe, I felt my name was out there as an American, and I felt like a 'prophet not in my own land', so I wasn't singing much in my own country.
I started in The San Francisco Opera right after graduating from Yale, and my first season in the Main House was in 1987. I sang almost 30 performances there my first year in three or four different operas – I was a very busy singer there. And then I went back there for three years and then didn't appear there for almost fifteen years, because I was in Europe in Italy and spent a lot of time in France, and at The Paris Opera and The Royal Opera in Brussels. It was great to finally come home and to sing in what is everyone's 'bucket list' – to get a Metropolitan Opera debut.
Joel: I remember reading that you performed South Pacific and the opera Hamlet in the same day.
David: Yes! David Itzkoff in the NY Times wrote an article that I was the first performer to perform on Broadway and The Met in the same day, where I went from the matinee of South Pacific to the high definition broadcasts (which I have been part of for the past year – which The Met has produced that have played in theatres all over the world) to The Met's Hamlet, where I played The Ghost of Hamlet's Father. It's a beautiful scene which I sang with a friend of mine Simon Keenlyside, who was playing the role of Hamlet. It was great to go from one Frenchman to another in one day. Being thirty feet from another really helped. This helped enhance my operatic career because it allowed me to inhabit my operatic roles much more – like I inhabit Emile de Becque.
Joel: Have any of your children inherited your vocal genes?
David: Last week I sang with my 11 year-old son Richard who is a professional boy soprano at Saint Thomas Choir School. We sang the Fauré Requiem together with Saint Luke's Chamber Orchestra. I sang the solos and Richard sang with 4 or 5 others boys in a semi-choir, and Richard sang the "Pie Jesu". It was so inspiring and humbling to be around this choir of incredibly good musicians in addition to my son.  Two weeks ago he  performed Leonard Bernstein's Chichester Psalms, and I was very proud of his use of the language and his musicianship. Bernstein is one of my favorite American composers and musicians.
Joel: Tell me something about you that only your friends and family know?
David: I have a fear that I have to overcome about what people might say about me or think about me for becoming a 'crossover' artist. There used to be a stigma that I was worried would be attached to me.
Joel: Richard Tucker and Jan Peerce did pretty well 'crossing over'.
David: Yes, as did Enzio Pinza. It was my genuine fear that many of the members of my cast didn't see. I am a nurturer. I believe in treating people with respect. Actors work so hard and don't complain. I have worked with others who feel an entitlement to their career. My family knew how seriously I took this and how high the stakes were for my career. I can't believe now that I 'poo-pooed' it for so long. It just never came up.  I can't thank The Lincoln Center theatre staff enough for giving me this opportunity. I am so proud of what we have accomplished with this show.
Joel: What has been the craziest thing that has occurred so far on this tour?
David: Sometimes during "I'm Gonna Wash That Man Right Outta Might Hair" water gets into Carmen's mic. When that happens I just delight in it because I am so used to singing without mics that I would love to have the opportunity of just 'pumping it out'. That being said we need them to keep the intimacy of the dialogue and the piece. When her mic went out I just remember not leaving her side. They were picking up her voice out of one of my mics, so I got to stand close behind her during the whole thing. There she is dripping wet and here I was all wet – and when I came offstage they had to use a hairdryer to dry me off. That was in LA.
Joel:  What do you want DC audiences to take with them when they leave The Kennedy Center's Opera House after seeing South Pacific?
David: A memory that they will never forget. I hope that everyone that sits in that audience allows himself to be self aware of how this affects them and relates to them. We have been a country at war and are a country at war – we're still battling the same human conditions. We have parallel love stories going on. How does racism affect you? I hope it forces people to look at themselves and say, "Gee, I found some things I like about myself and some thing that I don't, and those things I don't like about myself I can change – just like Nellie and Emile did. I hope they can experience all these emotions: solace and comfort, passion and happiness, lovesickness, and heartsickness, and that they have seen it with someone or alone but that they take away a memory that says, "Wow! This is what live performance is supposed to do!" It's supposed to ennoble the human spirit.
South Pacific plays from December 14, 2010 – January 16, 2011 in the Kennedy Center's Opera House, 2700 F St NW, Washington, DC.
Show details.
Buy tickets.
Related:
South Pacific on tour.
To see David and Carmen sing "Some Enchanted Evening" click on that segment from the show's videos.
Watch David perform in Hamlet at The Met here.