Direct from its world premiere at Lyric Stage, Irving, Texas in October 2009, where it won the coveted Best New Play or Musical award from the Dallas-Fort Worth Drama Critics Forum, The Road to Qatar! began previews on January 25th at The York Theatre in NYC.
Being a big fan of the Bob Hope/Bing Crosby 'Road' movies and lyricist Stephen Cole and composer David Krane's work, I was thrilled when I came across David's two-part documentary on YouTube documenting their musical Aspire – which they wrote for The Emir of Qatar and his many friends. I mean – what an unbelievable story! I wish I had been a fly-on-the-wall when they got that first email and then when they first met the producers of Aspire.
What were these two Jewish guys thinking when they accepted this challenge and flew over to the land of camels, hummus and beaucoup gelt?
Stephen: I am Stephen Cole, an award-winning short Jewish musical theatre writer who has been an actor, a singer, an extra in dozens of movies, a Broadway press agent, a licensing agent for Rodgers and Hammerstein, a flunky for Andrew Lloyd Webber and is best known as Marni Nixon's ghost writer for her "I Could Have Sung All Night: My Story." I graduated from the school of hard knocks and the Ethel Merman School of Dramatic Arts but really learned my craft from seeing the great Broadway musicals in the late 60s and 70s (Hello Dolly, Mame, Cabaret, Fiddler, Company, 1776, Promises, Promises, Follies…)
I was a born a 'ham' and became a professional performer in summer stock when I was 14 years old. I started writing musicals at 15 and had that first show produced when I was 16. I wrote, directed, choreographed, and played a feature role. After that there was no holding me back. My first professional big time musical was produced in 1995: Dodsworth starring Hal Linden. Since then I have seen my musicals produced from NYC to London to Qatar to Australia (and all over the country) including After the Fair, Grossinger's, The Night of the Hunter, Rock Odyssey, Merlin's Apprentice, Aspire, Piano Bar, Casper-the musical, Time after Time. I have written for Chita Rivera, Gavin McLeod, Marlo Thomas, Christine Baranski and many other stars including Ruta Lee!  I have also written five published books.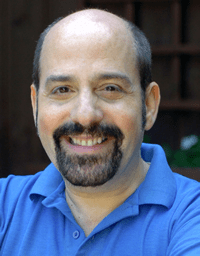 David: I'm a composer who has worked as an arranger for Broadway, Film and TV, including the Oscar winning movie of Chicago, and the movie "Nine", as well as shows like Kiss Of The Spider Woman, Ragtime, Showboat, Oklahoma!. I have been composing since the age of 14, attended The HS of Music & Art (the 'FAME' HS),  was first published at the age of 17, and as a native NYer, loved the theatre from the first show I ever saw, the original Sound of Music with Mary Martin at the age of seven.
Joel: How did you both meet?

Stephen: We met when the production company in Dubai decided to pair us to write the first American Musical to premiere in the Middle East. We met, we immediately clicked, and wrote the musical Aspire in 5 weeks (they had told us we had to have it done in 6!) The incredibly funny crazy and insane experience of writing and producing this enormous musical led to us writing The Road to Qatar! The true musical comedy about it all. We are searching for our next property now…any ideas?
Joel: What 'aspired' you to choose the title 'The Road to Qatar!?
Stephen: The title came after I made a list of lots of funny titles like Middle East Melody of 2005, The Boys from Dubai, Doha-ha! But this title really said it all and suggested that the characters were in their own private Bob Hope-Bing Crosby Road picture.
What is the true story of how you both got invited to write a musical for the Emir and his thousand best friends?
Stephen: An email appeared one day saying "we want you write musical…how much? Call this number in Dubai." I wrote back telling them to call me and the phone rang immediately. Thus began our amazing journey. It took a few months to finalize the deal and for them to tell me that I would be writing the show with David. After that, things got crazier.  We went to Dubai to find out what kind of show they wanted. We went to Qatar to see the largest domed soccer stadium in the world being built (this was to be our theatre) and after figuring out (sort of) what the show needed to be about, we wrote the show, presented it in London, had it orchestrated for the 70 piece Bratislava Symphony orchestra, pre-recorded it there, went to home and waited and waited…then we were invited to see the show in Qatar… three days before the opening in from the Emir and 1000 foreign dignitaries.
Why did two nice and very talented Jewish guys agree accept this assignment?
Stephen: Why? Why? The Money! And the adventure. And to bring peace and love to the other side of the world. And the Money!
Did any of those Middle Eastern producers remind you of famous Broadway producers?
Stephen: Our Middle Eastern producers turned out to be just like any other producers we have worked with (except that they didn't know what they were doing).
Camel walk us through your first meeting with the Emir and his 'team'.
Stephen: We never met the Emir formally. We only dealt with the production company, which was hired to bring them their own American Musical. The first meeting was hilarious and is all in the show. Come see it!
Joel: I am seeing it on February 19th.
Stephen: Great! We met and got a premise, a one line plot, and tons of ingredients that MUST BE in the show: The dessert, the sea, the gulf, Egypt, Ancient Greece, the Stone Age… Muhammed Ali.
How long did it take you to write that musical? Where was the show performed?

Stephen: The 90 minute show took 5 weeks to write. It was performed in the largest domed soccer stadium in the world in the Aspire Academy in Doha, Qatar. We have no idea what the budget was, but it looked BIG! It was a full score of about 13 songs. The cast was top West End actors, Russian Ballet dancers, Croatian Acrobats…
What were the craziest challenges that happened during writing the process?

Stephen: The craziest thing was creating a whole plot out of very little and yet many demands. It was challenging and fun and ultimately gave me great freedom to create a magical musical that could never be produced again. The authors (and this is crazy) were not included in the casting or the rehearsal process. It was directed by an Italian Opera director who spoke no English in Doha, Qatar.
Were you ever worried what would have happened if the Emir hated the musical you created for him?
Stephen: Nah! We knew we wrote a great show and we had no idea if he spoke English or not.
Take us through opening night. Did the Emir and his friends like it?
Stephen: The opening night was the first time the authors ever saw the show. We had never even gotten through a dress rehearsal or tech. It could have been a disaster, but because the orchestral music had been pre-recorded in Bratislava and there were long musical sequences, the show could not stop, even when the flying actors didn't quite get on stage or the camels pooped and people slipped and fell. We loved the show (despite seeing a complete 10 minute traditional Qatari rope pulling dance that we didn't write) and the audience was very appreciative. We were called on for the bows and watched as the Emir stood and cheered. This meant everyone stood and cheered. We were a hit!
How long after you returned to the States did it take you to decide that it would be a great idea turning that experience into a zany musical?
Stephen: I think it took a few months to really figure it out, but once we did, we wrote it fast and rewrote it even faster…again and again and again…I think we are still rewriting it now.
Does the Emir know about this musical?

Stephen: We have no idea if the Emir or anyone involved in the adventure know about the show, but we would be thrilled to see them all again and, since we were never presented, maybe finally meet the Emir.
Talk about the score.
David: It's first and foremost a comic score to illuminate the incredibly funny and unusual situation we found ourselves in when we had this adventure. It also incorporates a few songs and themes from our original show, Aspire, in our 'show-within-a-show'.
When I compose, my inspiration comes from the lyric, the character, and the situation. Rather than arbitrarily impose a melody on a song, I allow the themes and tunes to reveal themselves, as I look to 'paint' and heighten each dramatic situation this way. I also use harmony and rhythm to create individuality among the characters. For the Middle Eastern characters, I use colors I learned from having been given a tape of Qatari music that I was asked to incorporate in my original score for Aspire.
Stephen: The score is pure and joyous golden age of musical comedy. Tuneful, Middle Eastern flavored, Jewish flavored, but mostly the great mix of Jule Styne, Jerry Herman, Jerry Bock, and every other great 1950's-60's composers who knew what a tune was. Yeah, even Sondheim.
David: I am a classically trained musician, having been a protégé of Leonard Bernstein, and having graduated from the Curtis Institute of Music. The styles vary from the fabled sound of 50's – 60's Broadway shows, Homage to Copland, Bernstein, Pop, Latin Rhythms, A bit of Jewish music as well. A real mix, sophisticated musically, but direct and catchy as well.
What's your favorite song(s) in the show?
David: It's a remarkable experience to compose a show that is about a true story that one actually lived. I guess, my favorite would have to be the only ballad in the show, where the Boys bond, "The Other Side of the World". When I was asked to write the show, I had the hope that my music would in some small way help bring some peace and understanding to the Middle East conflict, and this song expresses that perhaps there was some greater plan in our extraordinary experience.
Stephen: That's so hard to choose between your children. I love the title song because it's so vaudevillian and also pushes the plot forward and it's funny. I love the song "Doesn't Matter" because it addresses comically the question of Jews and Arabs. I find it hilarious because we are both the same. Favorite lyric in that song is "and our weenies all are cut"
What was the most difficult song to write?
David: There were no difficulties in writing any of the songs. It flowed very quickly and with a sure hand, since the situation and characters were so clear, there was no need to search for anything. The journey here was in the refinement of the dramatic arc, which required revisions through the readings and Dallas production.
Stephen: Nothing is ever difficult when you are writing the RIGHT musical. It's hard work, sure, but hard work is fun. It's a joy to write lyrics for this show. If a song gives you too much trouble there's a reason, it's not the right song for the show or the character or the spot. Write a new one.  That's what Cole Porter would do.
How would you describe Stephen's book and lyrics?
David: Stephen is one of the most brilliant writers I've ever worked with, in that he has total command of his craft. He so understands structure that he was able to take this true life situation and write a wonderful show about it. His lyrics are a joy to compose to. He is equally at home with writing both comic and serious lyrics as required of character and situation. I feel that we have found a creative partnership that is so compatible that we will be writing much more together in the future. Indeed, we've written a movie musical short that has been shown in many film festivals, and special material for stars since our writing this show.
Why do you enjoy working together?
David: Our theatrical viewpoint and cultural references are amazingly similar, and our manner of quickly assessing a situation, and making sure-handed decisions together. A very rare connection.
Stephen: David and I have the same sense of humor and we both like to laugh and joke while we work. But we also both work very hard and fast. We both love to get a draft and polish it, whether it's a song, a scene or the whole show. We click because we complement each other. Neither does what the other does, but we both help each other. We are very, very lucky. I mean look at Sondheim, all alone writing music and lyrics…poor man, no one to laugh at and make fun of. We have a blast and it shows in our work. All Sondheim has is genius, money and fame and…wait a minute, maybe I should write alone more often.
What came first-the music or the lyrics?
Stephen: With David it is almost always lyrics first. He's so lazy. Or maybe I am a control freak… either way, lyrics first.
Is any of the book or the lyrics you wrote for the Dubai production still in The York Theatre production?
Stephen: We sing the title song of Aspire, but use it in a completely different context. It was written to be purely the curtain call moment in Aspire but in The Road to Qatar! we actually see the songwriters writing it in front of their producers. In real life it took about the same time to write it as it does in stage time.
Did the Bob Hope/Bing Crosby 'Road musicals" influence the way you wrote the book and lyrics – and influence David's score for The Road to Qatar? If so, which Crosby/Hope musicals did you borrow from?
Stephen: Only in a vague sense. We had to tell our story, but our characters who love these movies (and all musicals both stage and film) realize the irony that they are now in their own musical movie. That they are living a Bob and Bing Road Musical.
When did you get the invite to mount a production at The York Theatre?

Stephen: We told Jim Morgan, the artistic director [at York Theatre Company], about the real life story and our idea for a musical version of it when we had a couple of songs to play for him and he responded immediately. It took four years of work to get to this full NYC production. Both David and I have a long history with the York before we ever met. I did the NYC premiere of After the Fair here after doing readings of Dodsworth and Grossinger's. David was the musical director for several shows including Sweeney Todd.
Did you workshop the show?
Stephen: We did four readings over a period of four years from 2006 in NYC. The first was a sit down reading with a great cast (including me playing David…the names hadn't been changed yet…Brad Oscar played me.) This first reading taught us a lot and we wound up showing more and telling less and we also found out that our 3 Arab characters were the "comic gold" of the show. So we wrote new songs for them. Our third reading (at the York) taught us that the two act musical form was not right for this incredibly fast paced comic musical and we cut the intermission and 25 minutes and had our 95 minute romp. It wasn't easy to do, but so worth it. It was that 95-minute version that we performed in the first full production in Dallas. It's what the show wants to be.
Who will we see performing your show on The York Theatre stage?
Stephen: James Beaman is playing Michael (based on me), Keith Gerchak is Jeffrey (based on David), Bill Nolte is Mansour, Bruce Warren is Farid, and Sarah Stiles is Nazirah.
Any bites about touring The Road to Qatar!?

Stephen: We are opening Off Broadway…we are more than thrilled about this…after this the world is our oyster! And then we want to do this at the National in London. Why not?
Why should theatergoers run to The York Theatre to see The Road to Qatar!?
Stephen: This is a limited engagement so get here to see it before it sells out and before it moves to another maybe less intimate space…the show looks so great in this theatre and it's like being part of the story. There's not a bad seat in the house. Coming to the York is the ideal status symbol…it's a way to be the first on your block to see a new musical comedy.  Don't you wish you saw Avenue Q before it moved to Broadway? Of course you do.
The Road To Qatar! began performances on January 25th at The York Theatre, 619 Lexington Avenue (at the corner of 54th St.), in New York City. Purchase tickets here, or call the box office: (212) 935-5820.
Related:
The Road to Qatar! website.
The York Theatre website.
Stephen Cole's website.
David Krane's website.
David Krane's documentary "The Road to The Road to Qatar!" captures the rehearsals and lavish private production of Aspire from the domed soccer stadium in Qatar.
Part One
Part Two