Richard Seff, on vacation, leaves the beach to see the West Side Story touring company
The Broward Center of the Performing Arts in Ft. Lauderdale is currently presenting the recent revival of West Side Story, following its two year run at the Winter Garden on Broadway. When it closes here on February 27th, it will tour the nation, and I'm giving you a heads-up. If it comes within 50 miles of you, see it. It's brilliant.
After ten days of idyllic sunshine and white puffy clouds, I needed a theatre fix, so I took a chance on what I thought would be a scaled down road show, something that would look feeble and lost in the vast cavern that is the Center Theatre with its endless orchestra and its two large balconies. Well, apologies to everyone for my cynicism and arrogance! We were offered a production with a cast of 35 and 19 in the orchestra. Granted, I had 11th row center seats (and I swear there were about 60 rows behind me), but with a sound design by Dan Moses Schrier that made everything clear and undistorted (except for "America" and "Officer Krupke" which, due to shrillness, lost many laughs from those inspired lyrics of the young Sondheim), even the tenderest of moments in the dialogue and score of this masterwork projected beautifully.
Arthur Laurents, its librettist, this time out directed as well, and he's cast it magically, right down to the smallest of roles – to Doc and Anybodys and Lieutenant Schrank and Officer Krupke. His young cast is thrilling — dancers who can sing, singers who can act, always a requirement in a Jerome Robbins musical (Robbins of course directed and choreographed the original back in 1957). But here, under the direction and choreography of David Saint and Joey McKneely which follows the original Robbins staging, and the re-conceived direction of Arthur Laurents for this revival, we have a less lyrical, more visceral staging of the angry and violent modernization of the Romeo and Juliet legend. It's great fun to note how Laurents made use of some of Shakespeare's plot devices, how he twisted them to suit his own needs. He uses Shakespeare's Nurse to Juliet to feed Maria's friend Anita, he uses Anita as the messenger dispatched by Maria (Juliet) to Doc in hopes of reaching Tony (Romeo). Laurents creates his own reasons for diverting Anita which are right up there with Will Shakespeare's and if that's high tribute, fine. That's what it's meant to be.
From the opening moments, when we are introduced to the rival street gangs, (Sharks, Jets) on the streets of Manhattan's pre-Lincoln Center west side, the orchestrations and arrangements of the Prologue and Jet Song by Leonard Bernstein himself with the collaboration of Sid Ramin and Irwin Kostal merge with the evocative set and lighting by James Youmans and Howell Binkley, and we instantly know we are in for a night of pure magic.
The actors who appear in twos and threes to play Action, A-rab, Baby John on one side, Alicia, Bernardo, Chino on the other, are for real — not Broadway gypsies wearing designer jeans and jackets. As the principals emerge, we hear authentic voices giving vivid life to Bernardo and Riff (the gang leaders), to Anita and Maria.
When we finally meet Tony whose instant love for Maria will drive the story, we are relaxed and ready for the color he brings to the proceedings. For Tony has already overcome his bad beginnings on the sidewalks of a tough section of New York, has begun to realize his future could be full of promise, as he sings "Something's Coming", as he tells us who he is and what he hopes will happen for him. Tony is played by Kyle Harris and he's the best I've ever seen including the original's Larry Kert in New York and Don McKay in London, both of whom were good and I still have happy memories of some of their finest moments in the role. But young Harris has a softer than velvet sotte voce, and a blaring baritone for the high notes of "Tonight" and "Maria" and "Somewhere." He plays with total conviction, and the chemistry between him and the lovely Ali Ewoldt as Maria is palpable.
There is only one Chita Rivera and her dancing of Maria in the "Mambo" and "America" stopped the show cold on both sides of the Atlantic. But Michelle Aravena has grace and panache as a dancer, is a fine actress fully equipped for the savagery of her role, particularly in the second act, and she sings with great flair. If there'd never been a Rivera (God forbid,) this Aravena lady would be the best Anita I've seen. As is, I'm sure Rivera would be the first to say "Well done, girl!"
OK, it's back to the poolside for me. I would not have written at such length about a run that ends here in Ft. Lauderdale in a few days, but it is just beginning its national tour, and it's worth keeping an eye out for. If you do get to see it somewhere along its route, you will never forget it. I'll see you soon in the frozen northeast. Broadway's Spring looks more promising than usual and I hope I'll have good news about that in the weeks ahead.
[Editor's note: This production of West Side Story is coming to the Hippodrome in Baltimore, MD April 12 – 24.  More details here.]
———–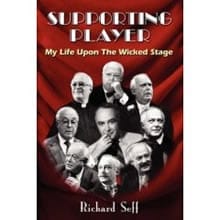 Performer, agent, writer: among his many accomplishments, Richard Seff has written the book for Shine! The Horatio Alger Musical!, which debuted at the 2010 New York Musical Theatre Festival.
He is also author of Supporting Player: My Life Upon the Wicked Stage celebrating his lifetime on stage and behind the scenes, available through online booksellers, including Amazon.com.
Richard Seff chats with Joel Markowitz: