Charles Busch as playwright has a most distinctive voice. It is somewhere between Kaufman and Hart, George Abbott, Jean Genet, Samuel Beckett, Mel Brooks, Charles Ludlam and S.N.Behrman.
His plays have elements of high comedy, psychosexual inferences that cover the entire spectrum, a dose of Theatre of the Absurd mixed liberally with bits of early 1930s fast paced comedy, both low and high. The resultant dish, when properly prepared and cooked, is almost pure delight.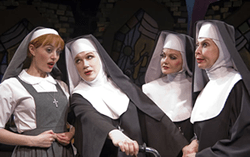 Charles Busch as actor in his own plays (and I've never seen him in one he didn't write) is not acting quite so much as he is presenting the material in the only way in which it can be effectively delivered – in a slam bam thank ya ma'am meat and potatoes pie in the face style. He can talk as fast and funny as did Rosalind Russell in comedies like "The Women" and "His Girl Friday", he can supply facial tics that bring back happy memories of Mary Boland and Marian Lorne, he can lash out with the fire and sparkle of Bette Davis at her meanest. Sometimes his face seems to be asking us (and he does include us, the audience in his performance):"Am I the only one up here who's not insane?"
We know why he's asking , for he usually surrounds himself with five or six characters who are indeed loony and his company of players knows just how to inhabit them. If these wildly courageous actors are as nutty backstage as they are on, it must be bedlam back there. But I suspect the talk is more about mortgages, tired feet, agents' fees, casting calls, proper care and feeding of little ones and elderly parents, that sort of everyday "normal" talk. I've heard Charles Busch in interviews, and he seems like a really likable everyday sort of fellow, someone you'd really enjoy at lunch. I can't speak for the others, but like seems to attract like, so I'm going to put them all in the same category.
In this latest from the prolific pen of Mr. Busch, he is socking it to all the Nun films of the nineteen forties and fifties, the ones that brought us Rosalind Russell, Julie Andrews, Cherry Jones, Amanda Plummer, Barry Fitzgerald and Sally Field. Mr. Busch is the Mother Superior at an almost bankrupt convent called St. Veronica's near Pittsburgh, having arrived there through the unusual route of the secular world where she'd been an ace reporter. With her at the convent is friend from the prior life, now known as Sister Acacius. Into their lives comes the pure and innocent postulant Agnes and Sister Walburga, who seems to be slumming during her visit from the Mother House in Berlin. There are others, but I'll only confuse you if I get into the plot, which finds its source in "The Bells of St. Mary's", Agnes of God, The Sound of Music, The Trouble with Angels and the richly inventive mind of Mr. Charles Busch.
It's a 90 minute whiz-bang of a play, and if a line isn't funny, you'll laugh anyway at the way in which it's delivered. Besides the star, who is generous in offering great comic moments to each of his characters, you'll love Julie Halston whose Sister Acacius will undoubtedly play "Vera Charles" when the convent puts on the musical Mame. If they ever do a sequel to" Golden Girls", she'd make a swell "Dorothy", for she delivers in much the same way as did Bea Arthur.
Alison Fraser is a two time Tony Award nominee for perfectly sane characterizations in Romance, Romance and The Secret Garden, all the more remarkable since here her Sister Walpurga is ten feet off the grouind. I have a feeling a touch of longrunitis has set in, for Ms. Fraser's German accent has taken off to the point where subtitles are required under most of what she says – but I found myself laughing anyway, only occasionally wishing I'd understood her. As most of her outbursts are directed at Mr. Busch as Mother Superior, I'm surprised he hasn't had a quiet chat with her between shows, saying "I wrote your lines in hopes you would speck them clearly. You're funny darling, but you have to be funny AND understood!"
Occasionally Amy Rutberg goes a little over the top with her "Agnes" but both ladies just need a rehearsal to put them back on track. The rest, Jonathan Walker as the only male in the madhouse and Jennifer Van Dyck as a wealthy potential donor are absolutely solid in keeping the nuttiness going through each of the play's ninety fun-filled minutes. Carl Andress (the director) must be thanked for having a stylistic vision (right down to the cartoon set) for this production, and for communicating it to the entire cast. Mr. Busch deserves his sole star billing, for he sets the bar very high. Keep your eye on him at all times, because he doesn't take time off when it's someone else's turn to speak. He listens. His reactions, the grunts, the gurgles, the body English – all worth watching if you want to have a really good time.
The Soho Playhouse is the right size for this sort of work – but if they continue to make money, I'd like to suggest they separate the rows of seats by six inches or so.If you're over 5'7", at the moment you sort of have to sit sidesaddle in order to avoid knee surgery. But don't let that discourage you from this very funny hour and a half.
The Divine Sister is performing at the Soho Playhouse, 15 Vandam Street, NYC.
Buy tickets.
———–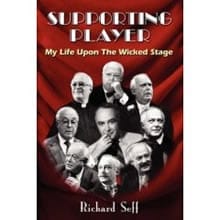 Performer, agent, writer: among his many accomplishments, Richard Seff has written the book for Shine! The Horatio Alger Musical!, which debuted at the 2010 New York Musical Theatre Festival.
He is also author of Supporting Player: My Life Upon the Wicked Stage celebrating his lifetime on stage and behind the scenes, available through online booksellers, including Amazon.com.
Richard Seff chats with Joel Markowitz: