I'm sure you've read by now that this original musical by the creators of "South Park"  and Avenue Q is the first offering of the New York season to enjoy unanimous raves from the press. I happily join my sibling critics in telling you that it was a most jolly experience for me as well.
It's a cockeyed wonder of a score, long on wit, some of it adolescent, most of it anything but. Sadly, the authors have opted not to list the musical numbers in the program, perhaps because some of their titles were unprintable, or perhaps because they thought they would reveal too much of the story they had planned for us. In any case, the music is deliciously light and frothy, not particularly haunting melodically, but totally suited to this tale of two young Mormons whose mission is to turn a small village in Uganda into a bunch of baptized believers in the Church of Jesus Christ of Latter Day Saints.
No one and nothing is spared as authors Trey Parker, Robert Lopez and Matt Stone toss their verbal and melodic darts at just about everyone walking the planet. I don't see how anyone can take offense, for the darts are not poisoned, merely stingingly and good naturedly sharp, and anyone who can't have some humor about himself should be ashamed, not belligerent. The two innocent protagonists, who would rather have been shipped to Paris, Rome, London, or even better, Orlando, make just as much fun of themselves as they do of everyone else, in their passionate attempt to fulfill their obligation to deliver converts to their faith. What they have to say about gay men (closeted and un), lesbians, blacks, Asians, Jews, Catholics, Muslims, short people, frogs, rich people, poor people and any other kind of people will have you laughing all night long (unless you have no sense of humor and in that case, stay home).
The show has received 14 Tony nominations (almost a record; The Producers had 15) and deserves them all. I don't expect they will win in every category,for this is not a show about scenery, costumes (the missionaries are all dressed in white shirts, black ties, and white or black slacks, looking like happy department store mannequins to a man. The natives are colorfully wrapped in sarongs and togas, but only rarely is the costume responsible for the constant laughter). It might lose the best Tony score to The Scottsboro Boys, though it's a fine score which allows choreographer and co-director Casey Nicholaw to provide a number of lively and funny dance sequences topped by one number set in Mormon hell, which has among its residents Jeffrey Dahmer, Adolph Hitler, Johnnie Cochran and Genghis Khan.
The cast is top notch, but it's the two central actors, Josh Gad (plump and short) and Andrew Rannells (slim and tall) who sub for the likes of a 20 year old Nathan Lane and Tommy Tune. Each of these central characters has a show stopping number of his own, but not wanting to paraphrase (remember, the titles are not listed) I can't name them. They both also figure prominently in half a dozen other musical sequences beginning with a "Hello" song in which they lead nine or ten other young Elders in a riotous musical introduction to their faith.
There is a category in the Tonys called "Best Sound Design" and one of the four nominees is Brian Ronan for The Book of Mormon. Another nominee is – Brian Ronan for Anything Goes. Now, that's odd, because the one negative at the very small Eugene O'Neill Theatre where Mormon is packing them in is the quality of the sound. What's odd is that over at the even smaller Sondheim Theatre where Anything Goes is also filling the house, the sound is spectacularly undistorted and vibrant. I am not alone in my complaint (you've heard me before on this subject), for I literally heard 3 couples discussing the overamplification on the way up the aisle after the show. So fixable, but it'll take help from you folks who see the show, if you agree that the sound level is a mild irritant.
But you mustn't miss this genuine winner of a show – you might bring some ear plugs; I'm certain that unless they turn down the decibels, even with ear plugs you won't miss a lyric, and as they are priceless, that's a good thing. If you agree with me that less is more when it comes to sound enhancement, you might do as I did – drop a note discreetly on the sound console as you leave the theatre. Then go out into the street and call all your dear ones and suggest they book seats – even if they have to accept same for the coming Christmas season.
Hooray, a blockbuster at last — always good for Broadway and the nation at large.
———–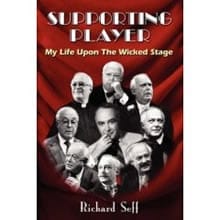 Broadway performer, agent, writer, and now librettist, among his many accomplishments, Richard Seff has written the book for Shine! The Horatio Alger Musical!, which debuted at the 2010 New York Musical Theatre Festival.
He is also author of Supporting Player: My Life Upon the Wicked Stagecelebrating his lifetime on stage and behind the scenes, available through online booksellers, including Amazon.com.
Richard Seff chats with Joel Markowitz: