Even in this age of iPads, mobile apps and handheld computer games, show-and-tell still holds an irresistible allure for grade-schoolers. The Day John Henry Came to School, a world-premiere play by Eric Pfeffinger debuting at Imagination Stage, affirms the triumph of man over machine.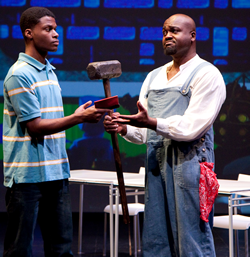 Johnny Henry (Nickolas Vaughan), a withdrawn fifth-grader fixated on computer games, connects to the world beyond cyberspace when his great-great-great-grandfather John Henry (Dereks Thomas, displaying brawn and bafflement as a visitor to the modern era) departs the 19th century to pay a surprise visit to his progeny's classroom. Carrying a 12-lb. hammer as if it were an umbrella and speaking of his supremacy over a steam-powered drill in roof-raising gospel tones, John Henry is a "steel-drivin' man," a mythic folkloric figure imparting the lesson on the importance of using your uniquely human strengths and talents to perform extraordinary deeds.
Boy, do the students and educators in John Henry need this type of schooling. Johnny can't relate to anything but a computer screen, which is reflected in his lackluster grades and his inability to socialize with the ebullient Jeanie (Kate Guesman), a classmate and American Idol aspirant. Their teacher, Miss Gellert (a pixilated Sandra L. Murphy) is being replaced by a computer—a fancy quiz machine guaranteed to boost standardized test scores—according to the school's Big Brother-like administrator, Mr. Huntington (the amusingly dictatorial Michael John Casey.)
Jeanie is aghast at the lack of human interaction, but Johnny is stoked at the news and shares Mr. Huntington's techno-geek enthusiasm for the latest gizmology. Imagination Stage's videographer Erik Trester has a field day with the loopy digital graphics and inane survey answers burped out by the computer—for example, in "art class" students are asked to click-and-drag ears and eyes to the proper places in Picasso paintings.
John Henry arrives just in time to thrill the children with his working-on-the-railroad epic and also save them from a life dictated by buttons and buzzers. He speaks of the glorious feats men can do, but computers cannot—things like aspire, dream, and exert human will.
This all sounds worthy and inspirational but John Henry, intended for audiences 7 and up, has a hard time finding its way, especially in the dull and slow-moving first act. There are few things less theatrical than a kid staring into a handheld device for nearly an hour and Johnny's life story being told by other characters in rap songs fails to enliven the situation. You actually welcome the pesky gusto of Miss Guesman's Jeanie, who is persistent to the point of wondering if she's a little bit OCD, but at least she's animated.
This muted vibe lasts into the second half, even when John Henry tells his tale and the show gets mired in Mr. Huntington's insistence that the whole story be told, meaning that John Henry lays down his hammer and dies right after his amazing feat. "What's the point?" Mr. Huntington hammers, and the children look on crestfallen as John Henry scrambles to pinpoint the meaning in his accomplishment. "I used my hands! My hands!" just does not seem entirely convincing.
The play finally springs to life when Johnny pays homage to his ancestor by taking on the computer in a showdown of smarts. The computer graphics are lively and comical, and the uses of cell phone cameras cleverly bring about a satisfying denouement between Miss Gellert and Mr. Huntington. If the show exhibited more of this irreverent poking fun at mythic figures and digital obsessions, John Henry might have successfully bridged the old world and the new.
The Day John Henry Came to School plays  in repertory with George & Martha: Tons of Fun through May 28 at Imagination Stage, 4908 Auburn Ave, Bethesda, MD.
Details here.
Buy tickets.
The Day John Henry Came to School
by Eric Pfeffinger
Directed by Janet Stanford
Produced by Imagination Stage
Reviewed by Jayne Blanchard
Somewhat Recommended
Running time: 1 hour, 30 minutes with 1 intermission
Other review