It pains me to say it, but the new Spidey musical, which finally came to rest at the Foxwood Theatre on 42nd Street after a very tough start, should more aptly be called Spider-Man: Turn off the Noise.
You know how I oppose over-amplified Broadway musicals, but this time I am not giving you only my own take on the disastrous sound design of Jonathan Deans.  No, I am including the charming young lady – she told me she was 8 – on my immediate left in the fifth row of the orchestra, and the young husband on the right of my companion. Both joined me in spending  much of the evening with our fingers in our ears to avoid leaving the theatre with hearing impairment.  From the first crash of the opening note in the overture, it was clear that everything the authors could not accomplish in the writing they would try to compensate for with the volume.
But enough of that. I don't want you to think that the noise was the only  problem – because that would be instantly fixable were the management of a mind to fix it.  The problem is that the words and music being hurled at us all the long evening (2 ½ hours) are banal, predictable, repetitive, simplistic.
To give this piece of drivel importance, they've planted a "theme". It would seem to be "absolute power demands absolute responsibility" so, with the help of a Spider Lady named Arachne, who is Peter Parker's mentor, that's what Peter sets out to do.  Only he can't accomplish much of anything because he is such a nerd, the victim of all the bullies in his high school. But wait. On a visit with his schoolmates  to a lab devoted to studying mutants run by Norman Osborn, a mutant spider escapes and – bites him.  But of course we knew all that before we arrived ; even the little girl on my left knew that. During the intermission, she and her mother and I chatted and I asked her what was her favorite thing about the first act. Her answer, after much deliberation:  "I liked it when the spider bit Peter".  "Anything else?" I asked her. She couldn't think of anything. Clearly the young lady has taste.
There are so many problems on the back of this overweight spectacle of a musical it's hard to know where to begin. One clear problem is that it's obvious there were two very different directors involved at various times in the show's development.
For nine years or so that director was the wildly gifted but equally wildly erratic Julie Taymor.  So we have grotesque masques, bizarre costumes, scenery that never stops moving, and of course lots of what she would call "flying around the theatre".  Alas, it's not really "flying", it's more like a Coney Island ride in which you attach a huge halter to your torso, then move your arms about as some computer offstage pushes you hither and yon.  When Spidey landed on the balcony rail which contained about 300 youngsters from a Yeshiva, there were hoots and hollers, the kind of noises you hear in the Haunted House at an amusement park.  Saving for the flash finish, Ms. Taymor has the Green Goblin (that's what happened to Dr. Osborn when he downed a potion and turned from Jeckyl to Hyde) fighting to the death with Spidey but if you've ever seen the Wicked Witch melt in Oz, you can guess who gets to die.
Yes, there are actors onstage, about 40 of them. And yes, young Reeve Carney and Jennifer Damiano are appealing and ardent as the young lovers who are having a hard time getting together because Peter has to be Spidey every night, which doesn't give him much time for courting.
And even worse, he can't tell Mary Jane Watson (Miss Damiano) who he is, any more than Superman can tell Lois Lane. But MJ (that's what Peter calls her) is no dope, and she figures it out about half way through the second act. But she doesn't care. She's ready to stick by him because he's got that responsibility to save the world from bad guys, and she's seen what havoc was caused by his taking just one night off to sit on a fire escape with her (which looked like it was sitting in the sky above the Chrysler building – don't ask!) so they could sing the one song that actually has a tune. I wouldn't exactly call it an upper, as you can tell from its title – "If the World Should End" but it was nice to have these two personable players left alone for a few minutes, not having to run or jump or yell or – fly.
When first getting a look at the lovely T.V.Carpio (she with the unfortunate initials) I hoped that "Arachne" would lend some quiet dignity and maybe a nice lyric or two to the proceedings, but frankly I was more concerned with her falling from the flies as she was suspended on two fragile looking cables which left her no options to move, except to wave her arms now and then. In addition, she was so badly sound-enhanced that I won't know any of  her lyrics in "Behold and Wonder" or "I Just Can't Walk Away" until I hear the cd of the score.
On meeting up with Patrick Page, I thought "well, at least he's understandable, and he has energy and charm and a sense of comic timing." I suspect he had one director in Act One, and another in Act Two, for when he turns into the Green Goblin in the second half of the show, he went quite mad and he was about as scary and funny as a limp  wet towel. Lots of noise, sort of a continuous growl, but nothing to engage us, to make us want to root for or against him.
Of course these poor Equity members were up against it from the getgo.  The films that Tobey Maguire made as Peter Parker/Spider-Man had the advantage of the special effects that only film can supply, so that when he took off into the night sky, he really did appear to be on his own – no cables, no harnesses, no tricks. Just magic. Not true here. I did hear a young man say to his mother, right behind me, "If anyone falls on you, where did you put the keys to the apartment?". I swear that's what he said. I do think a small part of the motivation to buy a ticket had to do with that secret wish – "Maybe something bad will happen tonight, and won't that be a kick in the pants?"
But in every department there were schisms that had to be caused by the totally different viewpoints of the two in charge.  Example: Uncle Ben and Aunt Mary and others are played totally realistically, and could be right for an episode of "Little House on the Prairie".  The Goblin and his newly created freaks could only be in a comic strip. The scenery is for the most part psychedelic, lots of tall buildings soaring into the sky with forced perspective.
But now and then it turns totally realistic and on occasion, totally High School Drama Club. For example, Peter's bedroom, once he's been bitten, is a fine place to show us how he is "bouncing off the walls", and that's the song that tells us what we are already watching. But the walls, seemingly made of cardboard, swing and sway each time he bounces in to them. High school, not Broadway.
Every musical requires a score, and this one doesn't have one. Mr.Bono and Mr. Edge (I don't know how else to address them; those are their names) are clearly bored with the music of the past 75 years, even though it includes everything from rock opera (Hair) to grand opera (Carmen Jones.) They will have none of any of that. What they've given us instead is humongous flourishes (which sadly all sound exactly alike) to end at least four of the big numbers. "I'll Take Manhattan" seeks to diminish the joy of that Rodgers and Hart hit by riffing on it, but what comes out is forgettable; however, it does lead to the one genuine laugh of the evening – something to do with a cell phone, but that's a book joke, not a lyric joke.  Mr. Bono has been heard to say he had no idea how tough it would be to tackle a Broadway musical. I don't think we'll be hearing from him or Mr. Edge again.
After all this ranting on my part, I conclude by telling you that yes, there are moments that are good to look at. There are some stunning pictorial arrangements, it's nice to discover two young talents in Carney and Damiano. But until composers learn to turn away from those dreadful telephone operator mics (the sort that sort of crawl down the singer's cheek, looking much like a caterpillar on the loose) the faster they will be more warmly welcomed on and off Broadway.  I'm all for change, but when something ain't broke, (the thrilling sound of a live voice, or one that is only minimally enhanced) don't try to fix it.; Not if you're trying to create something memorable, something that will have a life long after you're gone, as we've seen time and again with the truly theatre-oriented musicals.  But have no doubt about it, Spider-Man is not one of them.
Alongside Mme.Tussaud's, The Empire State Building, Times Square, the Statue of Liberty, I assume Spider-Man will be on many a summer tourist's wish list, but mark my words – tourists may enjoy pop entertainment but they can smell oversell in a minute, and many a big starter with a huge advance sale has limped to the finish line, an artistic and financial mess.
The one Tony Award  to which this show can aspire next season.:.  "The Biggest Flop in the History of Broadway; $75,000,000 down the Tube."
Spider-Man: Turn Off the Dark is at the Foxwoods Theatre, 213 West 42nd St, NYC.
Tickets.
Related:
DCTS interview with Spider-Man's Green Goblin, Patrick Page
———–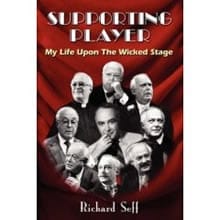 Broadway performer, agent, writer, and now librettist, among his many accomplishments, Richard Seff has written the book for Shine! The Horatio Alger Musical!, which debuted at the 2010 New York Musical Theatre Festival. He is also author of Supporting Player: My Life Upon the Wicked Stagecelebrating his lifetime on stage and behind the scenes, available through online booksellers, including Amazon.com.
Richard Seff chats with Joel Markowitz: