Pulitzer Prize winning playwright Tony Kushner (Angels in America) continues to make me question that I was valedictorian at PS 139 once in the long ago. I usually leave theatres in which his plays are playing feeling intellectually inferior, for I have not been moved to laughter or tears at any of his subsequent works.
His book to the musical Caroline, Or Change, his very angry family and friends in last season's The Intelligent Homosexual's Guide to Capital and Socialism with a Key to the Scriptures and now his take on a 1656 Pierre Corneille play called The Illusion bring me to the conclusion that the brilliant Mr. Kushner is living in a world of his own, trying desperately to welcome us smaller brains, to stretch and enlighten us.
But I continue to try very hard, on my return home after the curtains have fallen, to find much meat on which to chew, and ultimately I must admit I'm left hungry and unsatisfied.
This latest, actually written in 1988 when he was working on Angels, is his free adaptation of the Corneille piece which was taking pot shots at the Church for being unkind to the Theatre, and he was making the point that Theatre is necessary, that illusion is too, that life would be unlivable without both, which caused a bit of a fuss in the Catholic Church. That doesn't sound all that profound or earth shakingly new to me. And though Mr. Kushner's take on this theme is served wrapped in the most delicate and colorful language, I need more than the proper use of metaphor and rhythm to hold my attention.
With a fine production and a willing cast, one shows respect to Kushner's efforts, and that wasn't hard to do. But he takes himself very seriously, believes art should be difficult, and in this he succeeds.
The tale told here is a simple one; a father, "Pridamont of Avignon" takes himself to the cave of the magician Alcandre near Remulac, a small town in the south of France. He employs her to help him find the son he had banished 15 years earlier, in hopes of arranging a reconciliation. She takes him, with the aid of her deaf and dumb amenuensis, on a journey that includes three examples of the son's romantic life, played in different times and with three different women (who happen to change names each time they change clothes, but they remain the same character throughout). This is all very theatrical I suppose, but it might also be called pointless.
The three scenes would show us three aspects of the missing son's personality – in one he is a poor lad in love with a wealthy princess, in another he is a brave and stalwart suitor, in a third they have already married, but he is carrying on with another woman and that leads to a very angry confrontation. One of his lady friends has two other ardent suitors, one a serious contender, the other a very wealthy fop who deludes himself that his beloved returns his ardor.
There is some humor in these confrontations, especially those involving Peter Bartlett who has made a career of playing self-deluding grandees like "Matamore", his current character. Sean Dugan, so fine last season in the very contemporary Next Fall, once again brings good looks, charm, and charisma to all three of his supporting roles.
As the central lovers, Calisto and Melibea, Finn Wittrock and Amanda Quaid bring youth and beauty but not much else. Mr. Wittrock is the classic handsome suitor, sort of reminiscent of the prince who must fight the Beast for the hand of Beauty in that fable, but Beauty wisely prefers the Beast. Ms.Quaid looks good, but she has one color for all three heroines, and it makes her a bit of a shrew. Merritt Wever gets all the laughs unclaimed by Peter Bartlett, but she seems to be in a different play, a comedy perhaps from the George Abbott era, or a sitcom from this one. As the gifted Michael Mayer is at the directorial helm, this conflict of acting styles is confusing.
David Margulies and Lois Smith, two accomplished veterans who have been delighting us for decades, are in full command as Pridamant and Alcandre. They have the difficult task of sitting around watching the three illusions played out, but they even do that well, always attentive and involved, though very much out of the light. That is no mean achievement considering the play runs 2 ½ hours. When, between scenes, they return to center stage, they know just what to do with it. Crystal clear (without benefit of enhancement from a sound engineer), they extract all the juices that Mr. Kushner's linguistic skills bring to the play.
But in the end I look on The Illusion as more of a textbook than a play. There are ideas to discuss on the way home, but I don't think a play should require a post-performance Q and A session to make it resonate.
With all his gifts, I'd like to see Mr. Kushner tackle something that would invite his audience more into his own world, I'd like to share his vision of that world more readily than this play allows. Of course he'd warned us that art should be difficult, so I suspect he really likes The Illusion. I just thought you should know that if you plan to see it, think of it as something that is good for you, like bicarbonate of soda.
Signature Theatre's produciton of The Illusion runs thru July 17, 2011 at The Peter Norton Space, 555 West 42nd Street, New York, NY 10036. All but the last 8 performances are sold out.
Details
Tickets
———–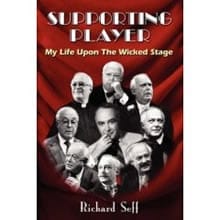 Broadway performer, agent, writer, and now librettist, among his many accomplishments, Richard Seff has written the book for Shine! The Horatio Alger Musical!, which debuted at the 2010 New York Musical Theatre Festival. He is also author of Supporting Player: My Life Upon the Wicked Stagecelebrating his lifetime on stage and behind the scenes, available through online booksellers, including Amazon.com.
Richard Seff chats with Joel Markowitz: