Alberto Casella's play, as re-written for the American stage by Walter Ferris for the Shuberts of Broadway, produced in 1929, is rarely if ever revived.  It is set in 1921 in the palazzo of the Duke and Duchess Lamberti and nothing could seem more removed from the New York of the 21st Century.
One wonders what attracted Maury Yeston, Peter Stone and Thomas Meehan to it. These three have worked on the material on and off for several years, long enough for Mr. Stone to have gone off (perhaps to do more research) on his own, to "the other side".
The Roundabout Theatre Company has given it two workshops, and now here it is, fully staged as part of its 2011 season, the third musical to pop up on its schedule this year. Not known for musicals, this alone is unusual, but according to artistic director Todd Haimes, he could not resist the beautiful execution of the play's theme, "Love is stronger than death."
The musical certainly stands alone in a season that includes jukebox musicals, rock 'n rollers, revivals and The Book of Mormon. Were it not for the tragic ending, this would seem a throwback to the days of Sigmund Romberg, Rudolf Friml and Victor Herbert.
Maury Yeston has put together a collection of tunes filled with humor, melody, varied rhythms and three or four soliloquies that reach for the stars.  With a cast of Broadway stalwarts, and a firm hand from the director Doug Hughes, they have delivered a refreshing and rewarding evening, though it may have trouble finding its audience. Surely the one that joined me at this Saturday matinee preview responded and gave welcome even though it required suspension of disbelief, acceptance of romantic fantasy.
"Death", curious as to why everyone fights him so, curious to learn what it is about life that makes most ancients cling to it, curious to know why death to the young brings such grief to the families left behind, decides to take his holiday by joining the Lamberti family for two days only, with the promise that he will leave at midnight on the second day provided the Duke keeps his secret.
During his visit, nothing on earth dies, not even attempted suicides who jump from bridges, not even our leading lady who survives a lethal auto crash during which she is hurled into the air, and from which she returns unharmed.  An unexpected turn causes Death and Grazie (the young lady) to fall desperately in love,  but after realizing why life is so precious to those he has visited, he wishes to honor his promise by leaving without her, though she has begged him to take her along.  Which one wins out in the end?  I don't dare tell, for there is indeed a good deal of suspense built into the writing, and you'll have to discover the victor on your own.
Along the way, there is ample room for a very varied and melodious score. Perhaps comparing it to the scores of yesteryear when melody was readily available, it wouldn't match the best, but in the current drought, it's a gem.
And Jim Carnahan (the casting director) and Doug Hughes have cast with impeccable taste to deliver a company that is playing this lush melodrama for all it's worth. In the center as Death (who assumes the persona of Prince Nikolai Sirki of Minsk) the British Julian Ovenden makes a rare American appearance, and is totally effective. Possessed of a thrilling lyric baritone voice, he sails effortlessly through "Centuries", "Why Do All Men", "Alive", "Alone Here With You" and others in the true tradition of the great operetta stars of the past. This actor, with vast experience on the other side of the Atlantic, is welcome indeed. He holds the stage with the best of them, and brings back memories of Alfred Drake. Richard  Kiley, John Raitt   and other genuine musical theatre stars.
Rebecca Luker, another fine musical star, was out the day I saw the show, but her understudy, Glory Crampton, played well, looked right, and sang beautifully.
Stalwarts Matt Cavenaugh, Simon Jones and Michael Siberry gave strong support. Cavenaugh, who was marvelous in West Side Story and Grey Gardens entered late in the proceedings and scaled the heights, stopping the show with "Roberto's Eyes", a marvelously complex soliloquy in which he tells us of the terror he feels at the presence of the Prince, in whose eyes he sees something from his past that was very painful.
Jill Paice, who helped light up Curtains two seasons ago, understands how to handle romantic melodrama, and would be fine in New Moon, Naughty Marietta or The Merry Widow. An excellent ensemble helps enormously, but I would like to have seen  Jay Jaski, who is just a bit over the top as the Duke's butler, turn his comic performance down a notch or two. I always admire actors who are free enough to move toward farce; if he or Doug Hughes will note that less is usually more, then Mr. Jaski will be delivering a comic gem.  Joy Hermalyn, in the small role of Cora the Cook, mimes her way into a funny and arresting characterization.
I enjoyed this piece.  If original musical theatre in the operetta tradition works for you, you will have a fine time at the palazzo of the Duke and Duchess Lamberti.  And it will be nice to know that while you are there, not even a rose will perish.
Death Takes a Holiday plays thru Sept 4, 2011 at the Laura Pels Theatre, 111 West 46th St NYC.
Buy tickets.
———–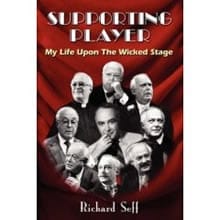 Broadway performer, agent, writer, and now librettist, among his many accomplishments, Richard Seff has written the book for Shine! The Horatio Alger Musical!, which debuted at the 2010 New York Musical Theatre Festival. He is also author of Supporting Player: My Life Upon the Wicked Stagecelebrating his lifetime on stage and behind the scenes, available through online booksellers, including Amazon.com.
Richard Seff chats with Joel Markowitz: