Francis Menotti and Ran'D Shine brought their impressive array of magic tricks and the somewhat less successful comedic plot to The Bedroom at Fort Fringe this weekend.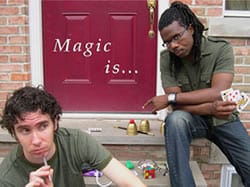 The roughly 45-minute show is written to give a glimpse into the creative process of the two magicians as they design the performance the audience is watching. It's tough to figure out how the story unfolds because of the way it wanders between different tricks.
And the dialogue is slightly predictable.
"It's our job to challenge the audience," Menotti says at one point. "You've got to push the envelope. I feel like we're stuck."
Shine replies, "I think you're on to something my friend."
But the plot and the dialogue are not the reason to see How to Write a Magic Show. Simply put, the magic is great. For one trick Shine refers to as "psychic surgery," he stops paging through a book at a page selected by an audience volunteer. Without looking at the page, he correctly guesses the first word on the page. How he did it is anyone's guess.
During another trick, Menotti makes first an egg, then his own cell phone appear in an empty bag. A third trick involves a lime and a $20 bill given to them by an audience member on which they write the volunteer's name.  Later, they cut open the lime, and tucked inside is that same $20.
These are experienced magicians, as seen by the ease with which the pair make things appear, disappear or get transported from one place to the other. Both are full-time magicians, Menotti for the past 11 years and Shine for the past seven years. The Philadelphia natives perform nationwide and internationally, most commonly for corporate and college shows. Both of them frequently perform at Monday Night Magic, New York's long-time off-Broadway magic show.
How to Write a Magic Show is one of four magic shows Menotti has written or co-written in recent years.
How to Write a Magic Show has closed.
tom rates this a 4 out of a possible 5.
Click here for more Fringe reviews